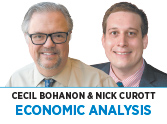 We are both vaccinated. We both think getting vaccinated was the best option for keeping us, our families and those around us healthy. We encourage others to get vaccinated.
But as economists we have no expertise in either virology or epidemiology so who cares what we think? Can economics add to the discussion? Yes, with a simple point: value is subjective. This means we cannot know the reasons other people make the choices they make.
An anecdote from the 1920s tells of a poor rural family that lacked bathing facilities. When they came on a financial windfall, they spent it buying a car, not a bathtub. When asked why, they replied "you can't go to town in a bathtub." Many think their choice was foolish. But most can honestly see their point.
A friend of ours works in small rural towns in the Midwest. At a local festival in one of them he chatted with a middle-aged lady. She inquired about his vaccination status and he responded that he had received both doses of the COVID vaccine.
She indicated that she had not been vaccinated and was not sure if she ever would. When he politely inquired for her reasons, she responded that her mother had died of a heart valve problem after using the weight-loss drug fenfluramine/phentermine, commonly known as Fen-Phen, in the mid 1990s. She noted the drug combination was FDA approved until September 1997. It was years before her family received any compensation from legal action against the producers.
Our friend did not agree with the lady's assessment. He saw no obvious link between the COVID vaccine and Fen-Phen, but he immediately "got it." COVID vaccine developments were fast-tracked. Drug manufactures are shielded from legal liabilities. Adverse long-term effects of vaccinations are unknowable. Add this to her first-hand experience of an untimely loss of a parent and her choice begins to make sense.
This is not a policy criticism but an explanation of an apparently "irrational choice."
We are tired of the acrimony; we don't want to add to it. Suffice it to say other human beings make decisions for reasons that we cannot directly observe. This is a major economic insight. Therefore, we try to be very, very careful about judging what others choose, perhaps especially if it is contrary to the choice we think they should make.
Value is subjective.•
__________
Bohanon and Curott are professors of economics at Ball State University. Send comments to ibjedit@ibj.com.
Please enable JavaScript to view this content.