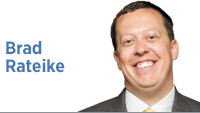 Have you ever been asked a question where the answer appeared to be "yes" or "no," but the true answer was not that simple?
Many years ago, a friend asked me about a situation that was neither publicly controversial nor publicly complicated but was personally "tricky" (to put it kindly). It was a situation many of us have experienced in one form or fashion.
His fiancé, while getting ready for a work holiday party, asked if a specific outfit was flattering/appropriate. *ALARM* Despite the fact that the two had been together for several years and were scheduled to be together "as long as they both shall live," and even though he is a smart (albeit immature at the time) person, he felt compelled to speak the truth.
He did not like the outfit.
It is what we call in the public relations business an unanswerable question. Instead, just spin. Pivot to "home base" talking points. Tap dance … literally or figuratively. Run out the clock. Regardless of the question you are asked, no matter how direct it appears, your delicate evasion will salvage anything available to be saved of someone's feelings.
The person will get the point, and whether they like it or not, their feelings will be in better shape for it. It is not that my friend's fiancé really cared (not long term) whether he liked the outfit, but she did care that he felt compelled to share that he did NOT like the outfit.
In that moment, he blacked out and forgot the playbook, which I thought he should have memorized.
In the workplace, there are many questions for which we want to hear the answer "yes," but "no" is not the second-most-preferred answer; there are plenty of options in between. Let us call them "modified" interpretations. If you do not believe me, ask the couple referenced above. They are still married … to each other, integrity be damned.
If we are honest, we all prefer to hear the truth over what we view as a lie. But if we are realistic, an answer that lets us feel good (or at least not feel bad) is better than one that causes us to walk away mad or with hurt feelings. As children, we were taught that "little white lies" were wrong, period. It was only when we grew up that it became a little more complicated.
Most of us are given the chance on a daily basis to make people happy, disappointed or mad. When it comes to being asked direct questions—which many of us are trained to do in our jobs—some of them cannot and should not be answered with a "yes" or "no."
It can be frustrating to watch someone "dodge" a question, especially when you think the response should be simple. A business writer once said you should never explain yourself, because your friends do not need an explanation and your enemies will not believe your explanation.
We can debate that strategy on the business side another time, but when it comes to personal relationships, sometimes an explanation, even without a "yes" or "no," is the answer that person needs to hear. Just ask our happily married couple.
Some of us admit to being human occasionally. As part of that humanity, we might prefer to be let down easy. The delivery, both style and (lack of) substance, is what matters most.•
__________
Rateike is founder and owner of BAR Communications and served as director of cabinet communications for President Donald Trump. Send comments to ibjedit@ibj.com.

Click here for more Forefront columns.
Please enable JavaScript to view this content.