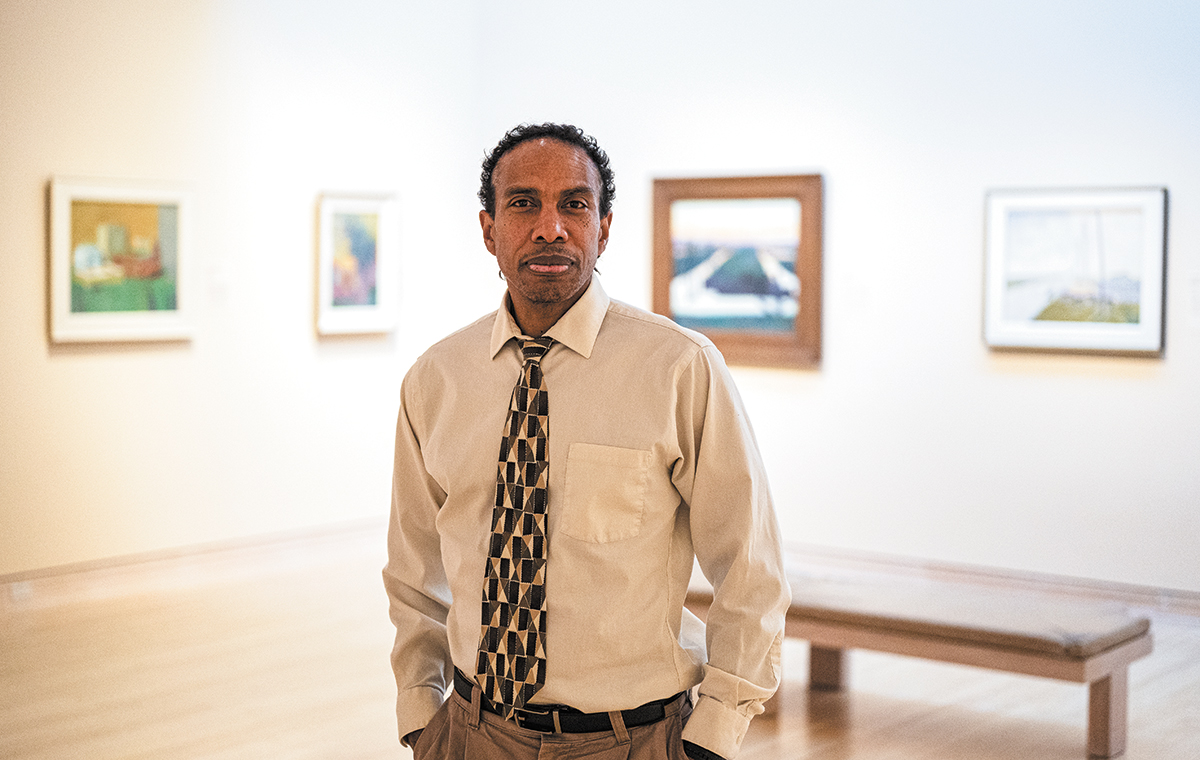 Fred Wallace oversees the Indianapolis Museum of Art's art conservation efforts. Hired in August, he leads a team of conservators and conservation scientists to ensure the facility's artwork is kept in tip-top shape.
What is your role?
As a unit, we're responsible for preserving collections and getting them in as good a condition as possible, for the public, our guests, researchers and historians—all individuals who have an interest in art.
Why did you pursue this career?
I first became aware of art conservation when I was getting ready to start my senior year as a painting major at Virginia Commonwealth University. Even though I was an art student, I had never heard of art conservation. … I always had an interest in science, and art conservation is a strong marriage between the sciences—physics and chemistry—as well as art and history, of course.
What goes into conserving a piece of artwork?
One of the most important things is to have an understanding of the artifact itself. What is it? What is it composed of? How was it made? Sometimes you don't know that information and sometimes you do. There's a great deal of investigation, research or examination that's required.
In addition, you have to be fully aware of how that material changes or reacts to what might be necessary to preserve the piece or correct whatever problem there might be.
What is your most memorable experience preserving or stabilizing a piece?
Working in the art world as a conservator is quite rewarding. Sometimes it means being an art courier, who accompanies pieces as they are transported to new facilities. You may be sitting in the cargo area of an airplane or in the back of a truck for 10 hours. But it's a thrill to be part of that process.
In terms of a specific piece, I was working on a painting by 18th century British artist Thomas Gaines that was considered to be in fairly good condition. The treatment basically involved removing a varnish layer that had yellowed over time and skewed the piece a bit. … I discovered during the course of this work there had actually been a lot of repainting done to the work by someone else. We were able to examine the painting and determine what was original art and what was not original and restore it to its original condition using a similar portrait Gaines had painted around the same time.
What's your advice for displaying art at home?
The best place is a cool, lit hallway or room with programmable track lights or heavily diffused natural light. People often put paintings over a fireplace, but that's one of the worst places you can hang a piece, because an operating fireplace can cause a lot of damage. You'll also see people put a singular light directly above a piece of artwork, or put it in an area where it's exposed to direct, harsh sunlight. You don't want to have that much light on your art all the time.
You certainly don't want to have a piece of art you like—one you care about and want to preserve—in your bathroom. And putting art in the attic or basement for storage is no good, either, because of all the climate extremes that can occur in those places.•
Please enable JavaScript to view this content.