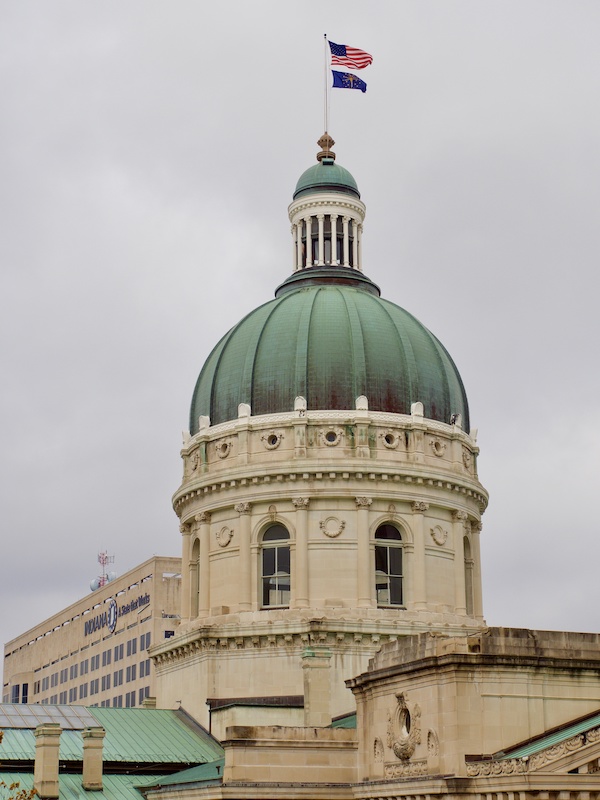 From legislation to restrict employer vaccine mandates to a bill trying to control the wholesale price of non-alcoholic beverages, business leaders say they had to play defense with the GOP-dominated state Legislature for most of this year's legislative session.
But once the dust settled, most of their defensive moves prevailed as opposed legislation was watered-down or killed by the time the session ended on Wednesday.
However, one high-profile offensive maneuver, a push to cut the business personal property tax, failed. 
A big defensive win for business came in House Bill 1001. Originally, it would have forced employers to accept requests for exemptions to workplace COVID-19 vaccine mandates, provided workers cited any religious objection or a medical reason attested to in writing by a health care professional.
Pushed by social conservatives, the bill exemplified the increasing tensions in the Republican Party between business interests and and social concerns.
The state's largest business organizations, including the Indiana Chamber of Commerce, the Indy Chamber and the Indiana Manufacturers Association, heavily opposed the measure, saying it meddled in business decisions and would discourage employers from implementing vaccine mandates.
The bill was watered down when it made it to the Senate, which removed language that would have forced employers to accept all religious exemptions. That version of the bill ultimately was approved by the Legislature and signed into law by Gov. Eric Holcomb.
Still, Indiana Chamber President and CEO Kevin Brinegar, said the HB 1001 set an ominous tone for business going into the legislative session as the bill was first introduced in November, weeks before the session was set to begin.
He said the chamber soon found itself playing more defense this year on several issues it saw as bad for business.
"We had legislators who thought they knew how to run businesses better than the people who've been hired to run those businesses. And so, you know, we had to fight that back," Brinegar said.
Brinegar compared the majority of session to a game of Space Invaders, but instead of aliens falling from above, the chamber was trying to "shoot down bad bills before they landed on the governor's desk." At the halfway point, there was a long list of bills many businesses still opposed, he said.
The state chamber also opposed a bill that would have prevented the state from doing business with banks or companies that wanted to divest from fossil fuels. It also pushed back against legislation that would have prevented distributors of packaged nonalcoholic beverages, like soda, from offering seasonal promotions and other discounts to Indiana retailers unless they were are extended to every store in the state.
Neither of those bills made it out of the Legislature.
"Those things went away, and we patted ourselves on the back, or  the chest, here a little bit for that," Brinegar said.
The Indy Chamber also credited most of its wins for the session this year to playing defense on bills it initially opposed.
In addition to opposing  the original HB 1001, the Indy Chamber helped quash controversial school curriculum transparency bills and bills that targeted scaling back Indianapolis's mass transit system, IndyGo.
"Frankly, yeah, we were not encouraged by some of the the anti-business issues that were introduced at the beginning of session," said Taylor Hughes, director of strategy, policy and special projects at the Indy Chamber. "I will say … there were a number of those things that ended up not getting passed. And that's not the case in every state, and not the case in every state that looks a lot like Indiana politically."
A significant loss for business interests was the failure to win approval for a cut in the business personal property tax, despite strong support from House Republicans and the governor.
Throughout the session, Senate Republicans opposed the move over concerns that it would reduce revenue for local governments. And, ultimately, that view prevailed.
Lawmakers instead went with a gradual cut of the state income tax rate from 3.23% to 2.9% over seven years, and the elimination of the utility receipts tax.
The state chamber and the Indiana Manufacturers Association were strong supporters of eliminating the minimum property tax that businesses pay on new equipment, also known as the 30% depreciation floor, saying it inhibits new investments, especially in capital-intensive businesses.
Brinegar expressed disappointment that it failed to win approval, but he still sees the income and utility tax cuts as a win that will save individuals and businesses millions once fully implemented.
He said he will continue the push for a cut in the business personal property tax next year.
"We need to sit down with individual legislators, and walk them through all the numbers … and try to cut through the simplistic, oh, we're losing revenue, and, you know, this is gonna hurt us, etc. argument," Brinegar said.
Brian Burton, president and CEO of the Indiana Manufacturers Association, said the 30% floor is one of the most onerous tax provisions in the state. As companies continue to face labor shortages, he said, some IMA members are looking to new investments in equipment to use automation to recoup labor losses, and removing the floor from the tax applied to new equipment would have helped those investments.
"It's even more important to have a incentivized climate for those investments to be made in our state. That's why we thought this was a great opportunity to take a step forward," Burton said.
The Indy Chamber, though, was opposed to eliminating the tax floor on new equipment without a revenue replacement for local governments. Hughes said Indiana already has a compelling tax climate for business and should instead focus more on investing in tools to build and better its workforce.
Several other bills supported by business interests did survive the session.
Senate Bill 411, which creates voluntary statewide standards for commercial wind and solar projects, was a top priority of the Indiana Chamber. Though he would have preferred the standards to be mandatory, Brinegar said renewable energy standards are like the "Wild West" across the state right now, and these provisions will help bring some order and predictability for solar developers.
Senate Bill 361, which modernizes the state's economic toolkit and creates new programs to attract larger companies to the state was also a business community priority that passed. It also allows local governments to create a local fund to attract remote workers to their communities with incentives.
Other approved bills the state chamber supported as good for business included legislation that would encourage more students to apply for Free Application for Federal Student Aid (FAFSA) in Senate Bill 82 and provide more access to affordable child care as outlined in House Bills 1318 and 1361.
"As my grandfather would say, we went the long way out around the barn," Brinegar said, "but in the end, it was a very good outcome and we were quite pleased."
Please enable JavaScript to view this content.