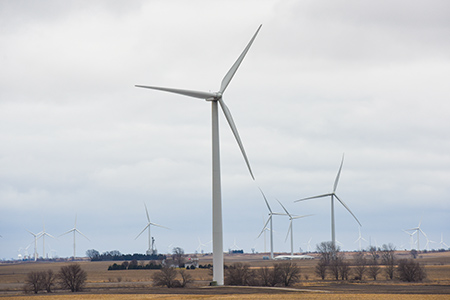 Legislation setting voluntary statewide standards for large wind and solar projects is on its way to the governor, but without a  key provision to entice local governments to adopt the standards.
Senate Bill 411 sets statewide standards on setbacks, heights and other facets of commercial wind and solar project for counties to voluntarily adopt.
A key part of the original bill was a state incentive program for communities that chose to adopt the standards, but the House Ways and Means Committee stripped that out last week.
Ways and Means Chair Tim Brown, R-Crawfordsville, had said the legislation did not make it clear where the grant funding would come from, and he didn't want to make a state appropriation for it during a non-budget year.
The Senate voted to approve the House-altered bill on Wednesday, sending it to the governor for consideration.
SB 411 now outlines the standards and allows counties to voluntarily adopt them in order to be defined by the state as a "renewable ready" community, but without any further enticements to do so.  The financial incentive was equivalent to $1 per megawatt hour of electricity generated each year from new projects.
The voluntary aspect allows local governments to continue to set their own restrictions on wind and solar projects, which could be more or less stringent than the state's.
The original bill's intent had been to address a concern of large renewable developers who had long clamored for uniform regulations across the state rather than the current hodgepodge that can make it difficult to win county-level approval.
Industry and government groups with a vested interest in the legislation say SB 411 still accomplishes the request for uniform regulations by at least helping to identify communities that are "renewable ready" for interested developers. Most agree, however, that incentives would have increased the number of communities willing to adopt state standards.
Greg Ellis, vice president of energy and environmental policy at the Indiana Chamber of Commerce, said more local governments might not adopt the statewide standards without an incentive from the state, but that was not a deal breaker on the chamber still supporting the legislation.
The chamber was a strong proponent of statewide standards because of the broad business interest in developing access to more renewable energy. One concern is that the state is falling behind in the development of renewable energy and that might deter business development in Indiana.
Ellis foresees ongoing issues with restrictive county ordinances blocking renewable developments, but he said he's heard from renewable companies that are happy with the outcome of SB 411.
"It creates some regulatory certainty, which is what we heard from some of the renewables that they needed," Ellis said.
Local governments are supportive of the legislation because it maintains home rule in communities.  They worked last year to successfully block a bill that would have imposed statewide standards and overridden any local ordinance on renewable energy projects.
Ryan Hoff, director of government relations at the Association of Indiana Counties, said he liked this year's incentives concept. But he does not think the loss of an enticement will affect how counties adopt the state standards either way.
Hoff sees the voluntary state standards as an opportunity for counties to let renewable developers know they are interested in their business. Having state standards also provides a reference point as counties continue to learn how to adopt their own ordinances for these types of projects, he said.
"It does give them something already written down for them to look at and evaluate their own standards in relation to what is the state's options are," Hoff said.
The Indiana Energy Association, the trade organization representing Indiana's utility companies, is also supportive of the legislation. Executive Director Danielle McGrath said the group supports the state laying out the framework, but ultimately leaving the decisions in the hands of local governments. She said local collaboration is key for utility companies who are working on renewable developments.
There is a chance that that incentives for communities that adopt the state standards could make a return next session. Bill author Sen. Mark Messmer, R-Jasper, said on the Senate floor Wednesday that lawmakers would consider adding the appropriation back when they draft the two-year state budget next year.
Please enable JavaScript to view this content.