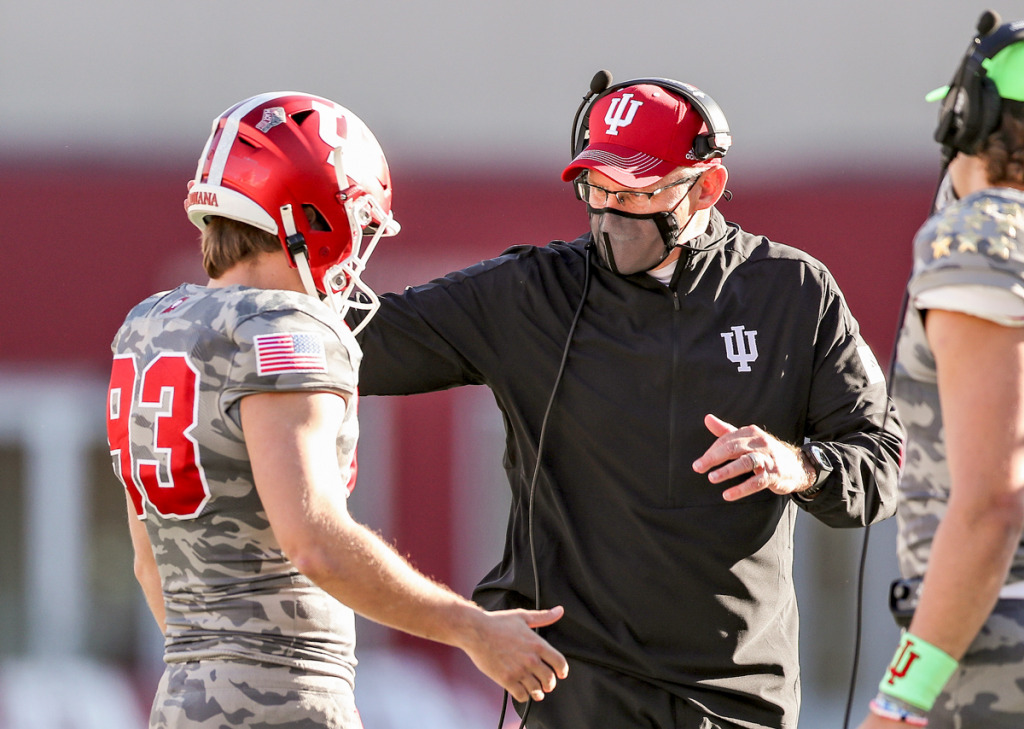 Two months ago, Indiana University football fans and athletic department officials would have said beating Ohio State University or getting into a New Year's Day bowl game would be the year's biggest challenges.
The first of those goals almost happened, and the second—with the 6-1 Hoosiers rated No. 7 nationally—almost certainly will.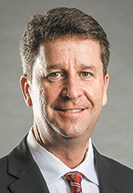 Because of that success, a more ominous challenge is now on the horizon.
If first-year Athletic Director Scott Dolson, a 30-year IU employee, fails to clear this hurdle, he'll hear a collective shriek—from Evansville to Fort Wayne—from the Hoosier faithful and, more important, from the athletic department's financial boosters.
IU's Tom Allen has become the hottest coaching commodity in college football, even more so this week when he was named Big Ten Coach of the Year, and the headhunters are circling.
"He's the 'in' coach all across the country. Not just in the media, but in coaching and athletic director circles, too. I guarantee you, search firms and athletic directors are talking to Tom Allen's agent right now," said Dan Dakich, a former IU basketball player and longtime college basketball coach who now hosts a sports show on WFNI-AM 1070.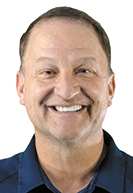 "It's not far-fetched that some of the biggest schools in the country will come after him," Dakich said. "When players show the love for him like his have and you're winning at a school that has never won before, it's hard to overstate how huge that is. Tom Allen has a really big decision to make, and that decision is going to involve a lot of money."
The question is, can—or will—IU come up with the money to compete for Allen's services?
Dolson said Allen's situation will be evaluated when the season concludes.
"The way I look at all of our contracts … you're always looking at them on an annual basis and evaluating where you are. It's really no different than any other year," he said.
IU has been notoriously cheap in paying its sports officials, with even the athletic director among the lowest-paid in the Big Ten.
Fred Glass—who retired as athletic director after last academic year—tried to rectify the stinginess on the football side.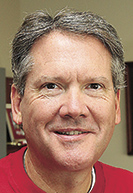 After the Hoosiers went 8-4 in the regular season last year, Glass signed Allen to a sizable contract extension: a seven-year, $27.3 million deal. This year, Allen is set to make $3.77 million before bonuses.
That's a big improvement for a program that, in 2007, paid Head Coach Bill Lynch less than $200,000.
But is it enough?
Big programs closing in
Despite the raise, Allen ranked No. 13 this year in base pay of the 14 Big Ten football coaches. He earned $1 million less than what Purdue University Coach Jeff Brohm did and less than half of what Jim Harbaugh got at the University of Michigan.
That kind of pay disparity is blood in the water for opposing athletic directors hungry for a new coach.
Among the schools interested in Allen are the University of Tennessee, Auburn University and even the University of Michigan, sources told IBJ.
Indiana is at an enormous disadvantage when trying to compete with schools like that for talent.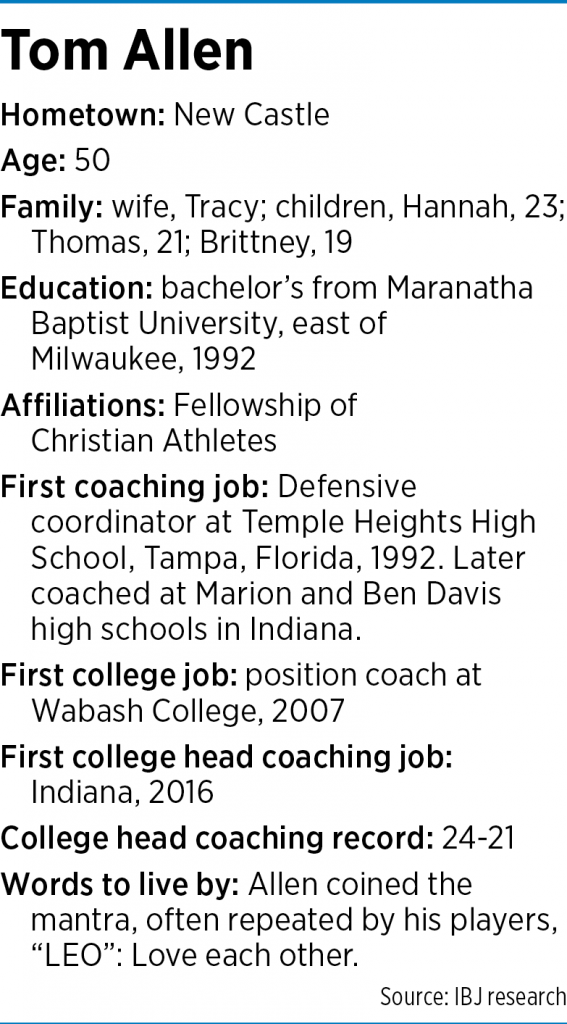 During the 2018-2019 year, IU brought in just more than $52 million in football revenue, while Michigan scored north of $122 million. To no surprise, Michigan outspent Indiana on football $47.4 million to $24.2 million.
Schools like Michigan, Tennessee and Auburn would have little trouble buying out Allen's contract, though it's a pretty stiff fee.
If Allen leaves before Nov. 30, 2021, his contract buyout would be 100% of the remainder of his contract which, including extensions, would be as high as $27 million. From Dec. 1, 2021, to Nov. 30, 2022, the buyout fee drops to half of that. On Dec. 1, 2022, it drops to $1 million, and on Dec. 1, 2024, the buyout costs $500,000.
"Big football schools could afford that buyout without breaking a sweat," Dakich said. "That's just the cost of doing business."
Despite the much larger budgets of Allen's suitors, Glass, who is now working as an attorney in Indianapolis, thinks IU can keep its prized coach.
"If it's a simple shootout at the O.K. Corral, we get outgunned. All other teams in the Big Ten East make more money in one home game than IU does in all seven home games," Glass said. "We don't cry about that; we just try to be more nimble and more creative. We're doing things a little bit differently.
"The key [to retaining your talent] is, you get people whose No. 1 goal isn't to maximize their compensation," he added. "If we make it a great place to live and work, treat kids with respect, and make it a place where players and coaches can realize their dreams, people will stay even if they're not necessarily realizing their maximum income potential."
Under Glass, IU made a major commitment to football, including more than $100 million in renovations to Memorial Stadium and other football infrastructure, and major increases to assistant coaches' salaries in addition to that of the head coach. It also improved programs for athletes, including its training table meals program, which rivals any in the Big Ten, sources said.
The school hired away a strength and conditioning coach from the NFL last year and agreed to pay him $700,000 annually—a sum that would have been unthinkable just four years ago. And it's a sign, Glass said, how serious Indiana is about football.
"I have a high degree of confidence [that], if IU is loyal to Tom and keeps making those types of investments, I think Tom will stay with us," he said.
STORY CONTINUES BELOW GRAPHIC
Invested
Just before Glass signed Allen to the contract extension last year, Allen asked Glass if he was going to remain at IU.
"I was honest with him. I emphasized to Tom, 'This isn't about me; this is about Indiana University,'" Glass said. "I told him the president and trustees are all on board. … Not only was I committed to football, but Indiana University was committed to football."
Allen, for his part, said he's focused on this season and committed to IU. Coming into this season he intimated that he's committed long term to building Indiana into a national power.
Dolson, a much-beloved figure in the athletic department who graduated from IU in 1988 and was a manager for the Bob Knight-run basketball program for four years, maintains a close relationship with Allen, sources inside the university told IBJ.
"I'm confident we'll keep Tom. I think this is a special place to Tom and the feeling is mutual," Dolson said.
"Tom and I are really close. We communicate regularly," he added. "The most important thing is, Tom knows we're really invested in him. We're invested in football and we're going to keep this going in a number of ways. Tom wants as much as anyone to keep the success of this football program going, and we as an institution are invested in that goal."
There's no doubt IU needs Allen. If IU could sell out all its home football games, the athletic department "could drop another $10 million to its bottom line," Glass said. Maybe more. Football provides more opportunities than basketball does for motivating donors, he said.
Over the past 15 years, IU has averaged at least 10,000 fewer fans than Memorial Stadium's 53,000-seat capacity. Some seasons, that average has been 20,000 fewer.
For many years, IU was one of the few schools in the Power Five conferences whose basketball team generated more revenue than its football team.
That's started to change. IU football now generates 46% of athletic department revenue. In fiscal 2018-2019, football brought in $25 million more than men's basketball.
"Football is so important to our athletic department pro forma," Dolson said. "But it's more than that. The success of the football team means so much in several ways. You just feel the momentum building. It's a rallying point. You can feel the energy it creates. You can tell, like [former coaches] Bill Mallory and Terry Hoeppner, Tom has this special connection to Hoosier Nation. You can feel it."
Allen's value is palpable, Dakich said. "IU needs him more than he needs IU. And that creates a scary potential scenario."
Deep Hoosier roots
Dolson and Allen have much in common. Both have bled cream and crimson for years.
Dolson roomed with IU basketball player and fellow Michigan City native Delray Brooks his freshman year, then later in college lived with basketball players Brian Sloan and Jeff Oliphant. He counts IU's winningest football coach, Mallory, as one of his primary mentors.
Allen is also a native Hoosier. Born in New Castle, the 50-year-old has dreamed for years of coaching at IU, several sources said.
The 28-year coaching veteran got his first college coaching job as a position coach at Wabash College in 2007. He also coached at Marion and Ben Davis high schools. Heading into the 2016 season, he became IU's defensive coordinator. When Wilson was shown the door at the end of that season, Allen took the head coaching post.
"I was derided for that decision," Glass said. "But I knew he was the right guy for the job. He was already changing the culture of the program for the better when he was defensive coordinator."
Despite Glass' confidence, Allen was paid a relatively paltry $1.8 million each of his first three seasons—$500,000 a year less than Wilson made during his last year.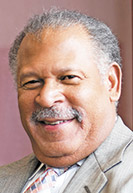 "The word is, IU is his dream job, and he's not quite [yet] built it the way he wants," said Milt Thompson, an Indianapolis sports marketer, attorney and retired sports agent. "I don't think Tom Allen has finished his journey at Indiana yet. Not by a long shot. … He could build something at IU like no one ever has before, and that has to be appealing."
But Dakich noted that things haven't gone well historically for IU football coaches. And he's sure Allen is aware of that.
"Nobody has been able to really build a winner there and have success to the end," Dakich said. "Even Bill Mallory got fired. … That has to be on [Allen's] mind."
Indeed, for all his accolades, Mallory—who won more games than anyone at IU—had a career tally at Indiana of 69-77-3. Lee Corso, now more famous as an ESPN football analyst, was at times heralded in his 10 years as IU head coach. He was 41-68-2. Jon Pont, who took IU to its last Rose Bowl appearance in 1967, was 31-51-1 in eight seasons. IU's last winning coach was Bo McMillan. He tallied a 63-48-11 record from 1934 to 1947. But in the Big Ten, he only broke even. IU has never had a football coach with a winning Big Ten record.
If IU can keep Allen, that history of futility might end. He's taken the program to heights it's never achieved, and quite frankly, that few thought possible. IU's football team is a touchdown and a two-point conversion from being positioned in this pandemic-stricken season to qualify for the College Football Playoff, where four teams square off for the national title.
Love each other
Allen, a vocal Christian who is unapologetically upbeat, has amassed a 24-21 record at IU in a style that's endeared him to many. His LEO—or Love Each Other—mantra has echoed across Bloomington and the country. It's a dramatic contrast to the bombastic Kevin Wilson, who was criticized for harsh treatment of players.
Allen's stock was already on the rise this year, but it went through the roof when, during an ABC-TV interview following the Wisconsin game Dec. 5, a stream of players ran into the camera frame screaming Allen's praises and hugging him unabashedly.
"Best coach in football, right here," one player yelled. "Recruits, come play for this coach. Best coach in America," said another. And yet another said, "We love this guy," embracing Allen in a bear hug.
After more of the same from several more players, sideline reporter Holly Rowe said: "This team's motto is, 'Love each other.' This is love like I haven't seen."
When he attempted to resume the interview, IU junior defensive back Bryant Fitzgerald ran up to Allen and said: "I just want to say something. This is the best coach in America, right here. I love this guy. Hey, [recruits], he's a players' coach. I love him and you will, too."
Many in college football are singing Allen's praises.
"Don't sleep on Tom Allen," said Gerry DiNardo, who coached IU football from 2002-2004 and is now a studio analyst for the Big Ten Network. "This guy, if he stays, is going to be the winningest coach in Indiana University history."
Some experts said Allen will not only be Big Ten Coach of the year, but will also be a finalist for college football coach of the year.
Though the hopes for IU football entering Allen's fourth full season were sky-high, this is almost certainly not a position Dolson ever thought he would find himself in—or at least not so soon.
Glass isn't too concerned about headhunters circling Bloomington because it's the price to pay for success.
For the second year in a row, the football program will pay that price. The Hoosiers last year lost Offensive Coordinator Kalen DeBoer, who took the head job at California State University at Fresno.
After this season, Defensive Coordinator Kane Wommack will become head coach at the University of South Alabama.
"The thing we've been fighting against for so long was that the IU job was a dead-end job," Glass said. "That's a real impediment to attracting talent. I'm glad Tom's name is mentioned in prominent coach searches. Trying to hold onto your coach is an awesome problem of success."•
Please enable JavaScript to view this content.