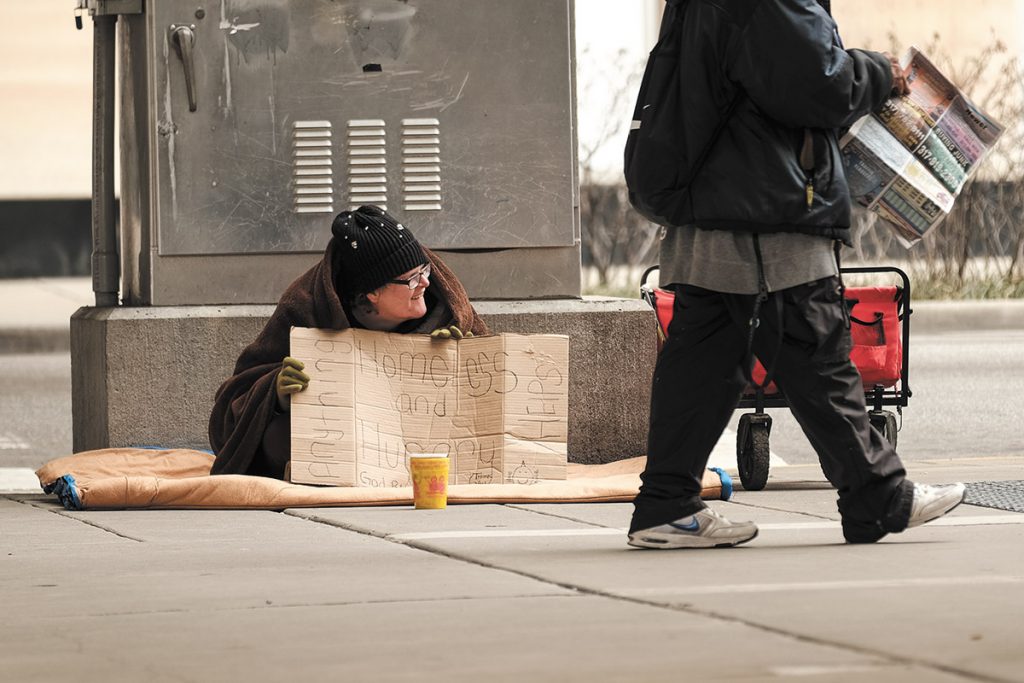 A potential new law governing panhandling throughout the state could have a big impact on downtown Indianapolis, but a legal challenge could stop it from ever being enforced.
The Republican-controlled Indiana General Assembly passed a bill March 10 that would expand the definition of panhandling in a way that effectively bans begging for money throughout all of downtown.
Advocates—who argue panhandling is out of control downtown—say they're confident the law can survive a court challenge because it's based on a similar San Antonio ordinance that has been in place for nine years.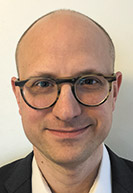 But others say that, more recently, courts have declared a number of panhandling laws unconstitutional, making it unlikely the Indiana law could survive a challenge. And they urged Gov. Eric Holcomb not to sign the bill into law.
"It would be much better to save the state of Indiana a lawsuit than to try to defend it," said Eric Tars, legal director for the Washington, D.C.-based National Law Center on Homelessness and Poverty.
The legislation makes panhandling illegal within 50 feet of any ATM; entrance or exit of a bank, business or restaurant; public monument; or place where any "financial transaction" occurs.
The definition of "financial transaction" includes any exchange of money received by a business, parking meter, parking garage, public transportation authority facility or pay station, or restaurant.
That's substantially different from current state law, which makes it a criminal offense to panhandle within 20 feet of an ATM or entrance to a bank or when the individual being solicited is at a bus stop, in a vehicle or in the sidewalk dining area of a restaurant.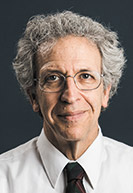 The American Civil Liberties Union of Indiana says the new bill goes too far. The group's legal director, Ken Falk, said the language violates the First Amendment.
"It's way too broad," Falk said. "It is a cynical attempt to drive the homeless population from downtown. We're going to bring a lawsuit to challenge it if it's signed by the governor."
It's unclear what Holcomb plans to do with the bill. When asked, a spokeswoman said the governor "is reviewing the legislation."
As of Wednesday afternoon, when IBJ went to press, Holcomb had not acted on the bill.
Supporters of the measure—including Visit Indy, Downtown Indy Inc., the Indy Chamber and the Indiana Restaurant & Lodging Association—argued the change is necessary to address the ongoing problem of aggressive panhandling downtown, which they say has started to make the city unattractive to visitors.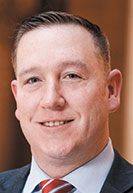 "It is about the safety of our employees, our customers, our vendors and our visitors," said Mark Fisher, chief policy officer for the Indy Chamber. "It is our hope that this legislation, paired with strong coordinated outreach on the service side, will address the most egregious and aggressive forms of panhandling."
Former House Speaker Brian Bosma, R-Indianapolis, who authored the legislation, described the panhandling situation downtown as "really intolerable" and said that's why he advocated changing the definition.
The city has not taken a position on the measure and it's unclear how it would be enforced, if it became law. The city declined to make officials available for this story, due to the more urgent coronavirus issue, and only issued a statement to IBJ.
"As with all changes to the criminal code, if signed by the governor we anticipate that these modifications will be analyzed by the city's public safety agencies and Office of Corporation Counsel as to what impact they may have on IMPD's operations and enforcement efforts," the statement said.
Indianapolis City-County Council President Vop Osili did not return a phone call from IBJ for this story.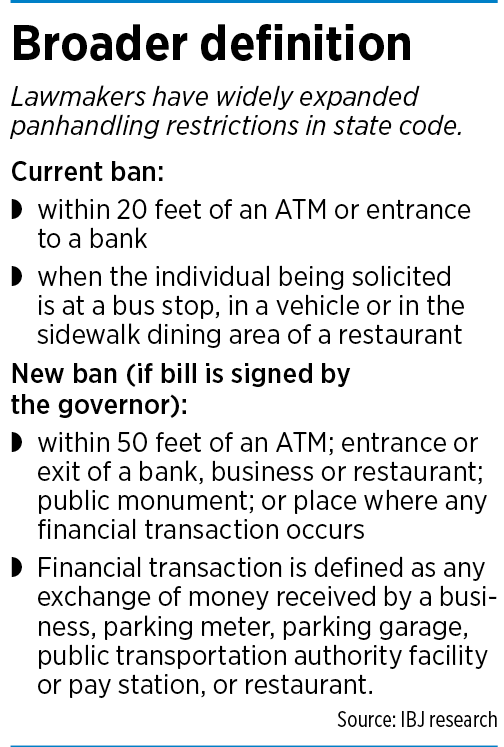 Unconstitutional?
San Antonio's ordinance bans panhandling within 50 feet of any ATM, entrance or exit of a bank, parking meter, public parking garage, entrance or exit to a restaurant or outdoor seating area, bus stop or station or crosswalk.
It also says a person cannot solicit in an aggressive manner in a public area, which is defined as a sidewalk, street, highway, park, parking lot, alleyway, pedestrian way or common area of a school, hospital, apartment or office building, transport facility or shop.
The ordinance, which passed in 2011, is still in effect in San Antonio, but some legal experts say that doesn't mean it's constitutional.
"It doesn't make any difference, because the lay of the land has changed since then," Falk said.
In 2015, the U.S. Supreme Court considered a case about how governments can regulate signage—a case unrelated to panhandling. The court ruled that treating some signs differently than others violated free speech protections under the First Amendment.
After that, the 7th U.S. Circuit Court of Appeals struck down a Springfield, Illinois, panhandling ordinance, citing that Supreme Court decision.
The 7th Circuit, which covers Indiana, found the Springfield ordinance was unconstitutional because it banned a specific kind of speech—verbally asking for money—while allowing signs requesting money.
Tars said the Supreme Court ruling put the burden on the government to provide a compelling reason for why differentiating between kinds of speech is necessary—and he said that is quite difficult to prove.
Since then, he said, every court that has considered a similar panhandling law "has said 'no.'"
"Nobody should be passing new panhandling ordinances at this point," he said. "This is a sitting duck for litigation."
Links to homelessness
In addition to the potential legal battle, advocates disagree as to whether a restrictive panhandling law would criminalize the homeless.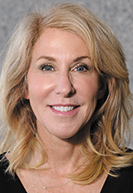 Downtown Indy Inc. President Sherry Seiwert said she separates the problems of the homeless and panhandling.
"Some panhandlers are homeless; some are not," Seiwert said.
She also said the legislation would not criminalize individuals holding signs asking for money.
"What a lot of people forget is, you have panhandling, but you also have passive solicitation," Seiwert said. The latter "is not impacted by this."
But Tars said panhandling and homelessness are linked and bans like the one the General Assembly passed would actually cause more problems for homeless individuals, because an arrest or fine on their record is going to make it harder to get a job or find a place to live.
"You are actually prolonging their homelessness," Tars said. "It's counterproductive."
According to a survey from the National Law Center on Homelessness and Poverty, 83% of the 187 cities questioned last year reported having some kind of active panhandling ordinance. Tars said there's no evidence suggesting those cities have solved the homelessness problem.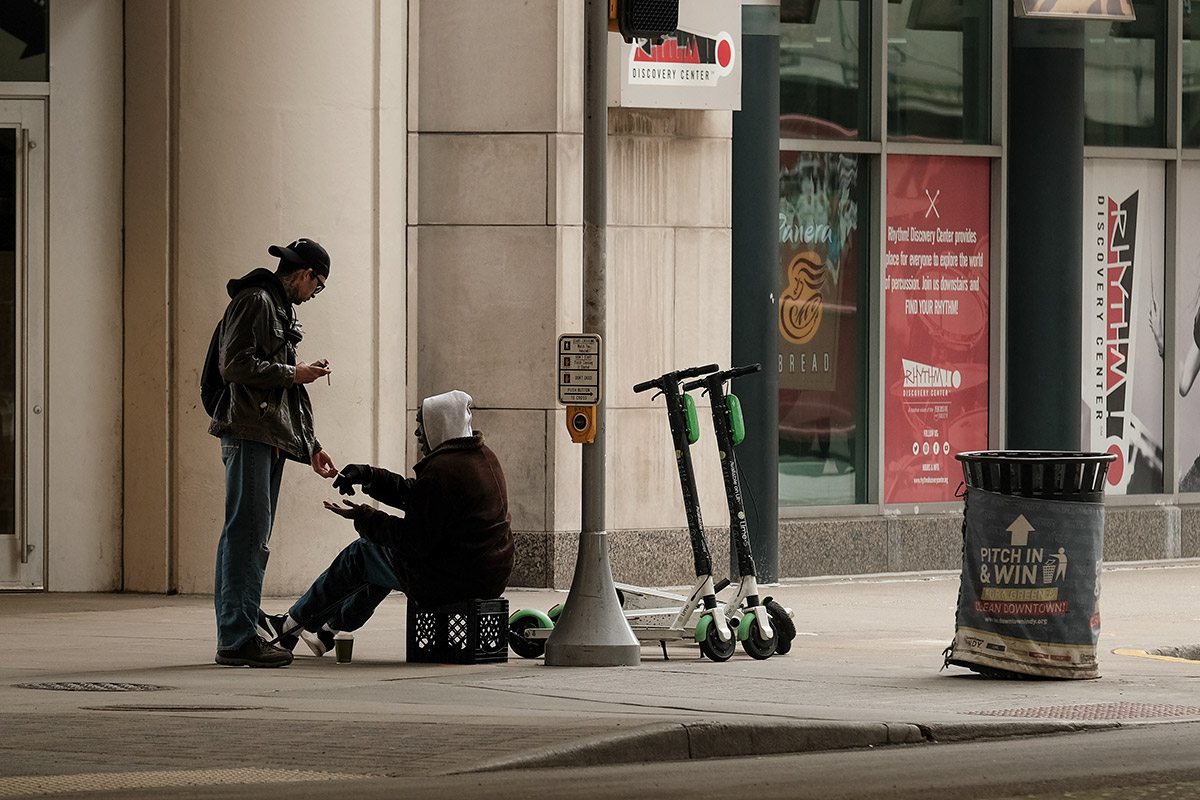 "The thing about all of this is that, if banning begging caused the need for begging to go away, if it solved the underlying problem of homelessness, then 83% of cities would have solved homelessness," Tars said. "It doesn't work."
Instead, he said, communities should be focused on providing more resources to help the causes of homelessness, like addiction problems, access to affordable housing and mental health conditions.
State Rep. Ed DeLaney, who voted for the bill, said San Antonio might have a similar ordinance, but that city also has a robust support system. He said he hopes lawmakers will help Indianapolis establish the same type of network.
"I will vote for this, but I hope that we recognize that we can't just wish this problem away," DeLaney said on the House floor before the vote on March 10.
Fisher, with the Indy Chamber, said he hopes the law will spur more coordination between homelessness advocates, the city and law enforcement so individuals can have access to the support and services they need.
"This is not a silver bullet," he said. "This is not the only solution."•
Please enable JavaScript to view this content.