Ideally, Eddie Sahm, creative director of Sahm's Hospitality Group, prefers to buy foodstuffs for specific catering jobs as close to the event as possible, so they don't take up valuable freezer space. But these days, thanks to continued supply chain problems, he must purchase some items not when he needs them, but when they're available.
"Our freezers are packed right now with turkey because we had to buy it," Sahm said. "We didn't want to run out of it in case jobs requesting it came up. These types of situations present themselves on a weekly basis."
It's just one of three problems besetting not just the catering industry but American business in general: supply chain disruptions plus inflation plus worker shortages.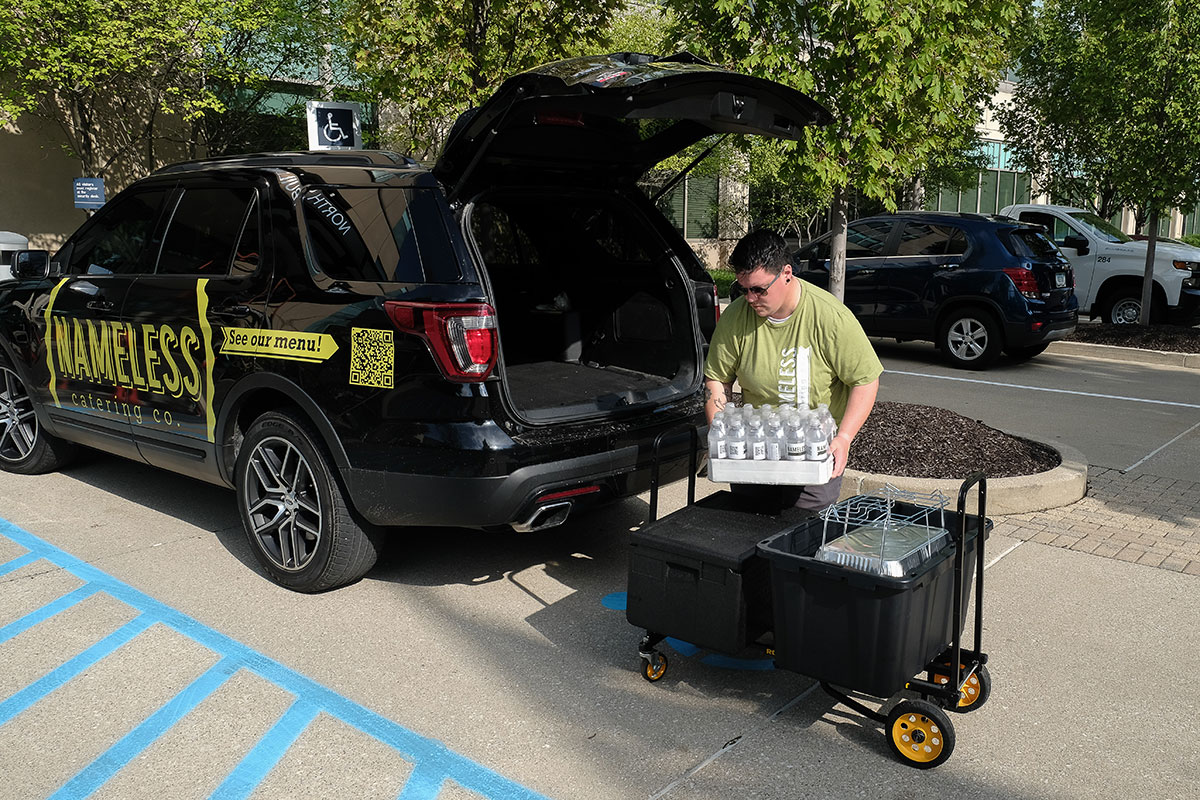 According to the National Restaurant Association, one of the biggest supply chain challenges is unpredictability. The NRA's membership reports that the items in short supply can change from week to week and might include everything from frozen chicken wings to fryer oil to kitchen-equipment replacement parts.
However, national observers say the industry has so far weathered such trials nimbly—and that the situation seems to be slowly improving.
"Caterers are in some ways better-suited to handle supply chain challenges than other food service providers, since we are able to modify our offerings based on availability when necessary," said Carl Sacks, executive director of the advocacy group Leading Caterers of America. "There's no caterer that I am aware of that has suffered any calamitous meltdown because of supply chain problems."
Sacks said businesses that do nothing but catering brought in approximately $12 billion in annual revenue pre-COVID. If you add in restaurants, hotels, clubs, warehouse stores and other operations that also cater, he estimates the total U.S. revenue pool increases to $45 billion a year.
But while the scarcity of certain items hasn't been enough to hamstring any Indianapolis operations, it's an ongoing annoyance. Catering companies report not being able to get enough of what they need and paying significantly higher prices for what they do manage to obtain. For instance, Jeremy Brown, CEO of Nameless Catering, for a long time couldn't obtain meaningful supplies of Corona beer at any price.
"We still can't get it in kegs, even today," Brown said.
One of the things that drives him nuts is that there seems to be no rhyme nor reason to which items his suppliers run short on, or when.
"It can be so random," he said. "We had a shortage of plastic tongs, and we couldn't get foil pans in a certain gauge. It's just very strange."
He said keeping extremely close relationships with the company's primary vendors has helped immensely. For instance, when a brisket shortage loomed, Nameless' supplier picked up the phone and let Brown know, so he could stock up.

"We've had disruptions here and there, but it didn't impact our clients, which is obviously the thing that would concern us most," Brown said. "We don't want our clients to have to alter their plans for a wedding because of supply chain issues."
Brown said his customers have typically shown understanding about changes to the caterer's functions forced by shortages. Not that he's been forced to do much of that.
"The only thing we've had to call about was Corona," he said.
Nameless was able to solve, or at least mitigate, that problem by supplying a similar product made by Sun King Brewing Co. This greatly shortened Nameless' supply chain. To say the least.
"Our kitchen is about 2,000 feet from Sun King, so if they can't get to us, we have a major problem," Brown said.
Brian Poonpanij, president and co-owner of Kahn's Catering, reported similar experiences—and vast improvement over the level of problems the company faced in 2020 and 2021. But the supply chain breaks continue—one strange, inexplicable, one-off incident after another.
"It could be almost anything," Poonpanij said. "It could be the uniforms that our team wears. We've been waiting for a new HVAC unit for our building that's been on order for months. Right now, one of my biggest challenges isn't food, but beverages like champagne and imported premium waters. Brands like Pellegrino or Acqua Panna aren't available or aren't available in the sizes or formats we need."
Poonpanij, for his part, said Kahn's does everything in its power to serve what clients originally select, even if the event takes place several months in the future.
"We've done everything we can to make sure we have what we've promised our clients," he said. "We learned in 2020 and 2021 to stock up on everything from Cas Amigos tequila to gloves and foil. You name it, and at some point, it's been disrupted."
"With ingredients and goods produced globally and every country touched by COVID," he added, "it's no surprise there has been such an impact on supply chains. I think the biggest takeaway for me is just realizing how interconnected and interdependent
we are."
If supply snafus were the only challenges facing caterers, their problems would probably amount to no more than annoyances. But labor shortages are also impacting the industry.
"Many of our members have found it necessary to turn down business because of a lack of certain types of staff," Sacks said. "Our industry relies heavily on part-time and seasonal personnel, which means that the current extremely low unemployment rate is a challenge, since anyone who wants a job can get one."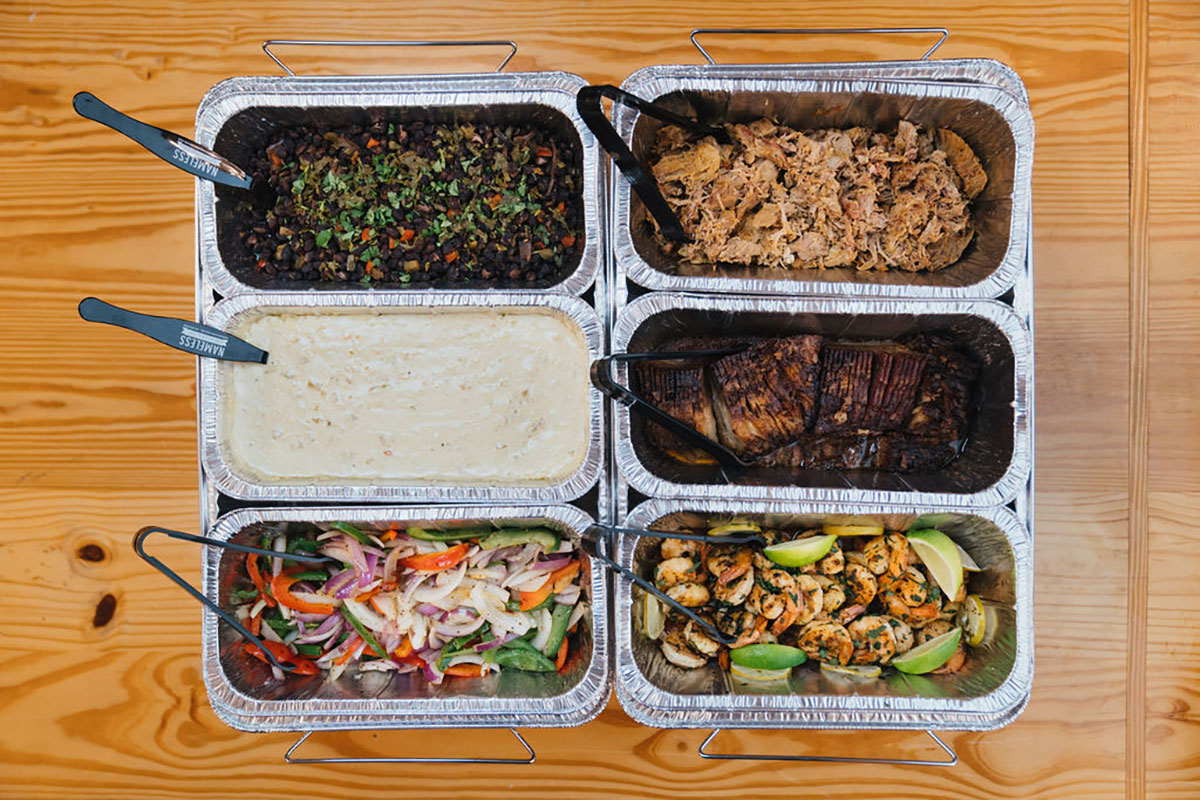 Brown at Nameless Catering has for the most part worked around this problem in the most to-the-point way possible.
"Right when the pandemic hit, prices started to rise for everyone," he said. "Well, wages in my company rose with them."
Nameless is part of the Good Wages Initiative, which certifies and showcases Marion County employers that commit to providing full-time employees with health care benefits and a wage of at least $18 an hour. According to the Initiative, raising wages by only $1 per hour over the amount paid by competitors can attract as much as 30% more qualified applicants.
It certainly seems to have worked out that way for Nameless, which pays full-timers a minimum of $20 per hour plus benefits.
"We have more employees now than we had before the pandemic," Brown said. "Our pay rates are higher than before the pandemic, but so is our job satisfaction."
At least not every curveball caterers face these days is bad. For instance, Sahm reports that, for reasons unknown, the price for frozen chicken wings, which will be in huge demand this fall
during football season, has fallen from around $170 per 40-pound case to approximately $51. Which means all that extra turkey in the Sahm's freezers might soon have company.•
Please enable JavaScript to view this content.