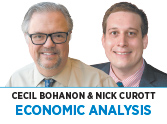 Seeing college campuses across the country shut down so rapidly and universally back in March was initially shocking. But upon reflection, after the first universities suspended in-person learning, it was inevitable the rest would follow suit.
Think about it. What would happen if a school had remained open and an employee contracted a fatal case of COVID-19 on campus? The school could be sued and held legally liable. No administrator would ever take such a risk.
Now the economy is opening back up and many universities are planning to resume in-person learning in the fall. But the fear of lawsuits could easily derail these plans. If even one school is sued, it is easy to imagine a cascade of closures all over again. To confidently reopen, universities need guidance from lawmakers about what actions must be taken or prevented to avoid liability.
Legal uncertainty surrounding the coronavirus is a significant problem for the economy, and not just for universities. Without greater clarity, it will be difficult for many businesses, health care providers, not-for-profits and other organizations to resume face-to-face operations.
Unfortunately, in this time of political polarization, the question of legal liability is becoming a divisive partisan issue. Republicans want to protect employers and health care providers from frivolous lawsuits. Democrats are eager to protect workers. We hope both sides can compromise. Whether the liability standard is strict or loose, what is needed more than anything is clarity about the law.
That said, a simple recklessness standard seems to make the most sense economically. In tort law, liability can range from a full waiver, where employers have no liability, to strict liability. A recklessness standard falls in between these extremes: To be held liable for damages, employers must engage in actions they know or should know will cause significant harm.
To illustrate how a recklessness standard works, consider a university. Clearly, there is some level of risk of contracting COVID-19 for students and employees. If the university maintains reasonable health and safety measures, it wouldn't be held liable. But a university that fails to provide well-established safety measures, such as ample hand sanitizer, could be.
To get the economy operating on all cylinders in the coronavirus world, employers need a swift resolution to the legal uncertainty facing them. A standard that requires employers to take reasonable precautions, while shielding them from frivolous lawsuits, seems feasible and fitting.•
__________
Bohanon and Curott are professors of economics at Ball State University. Send comments to ibjedit@ibj.com.
Please enable JavaScript to view this content.