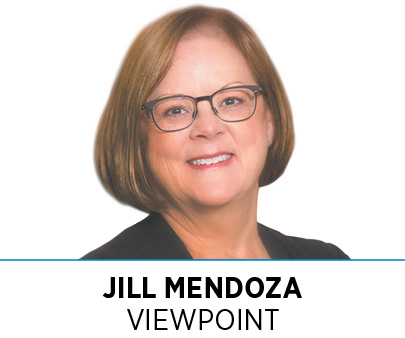 In one of our first face-to-face meetings since the pandemic began, my team and I recently visited a corporate client. As we walked to our meeting space, we passed through a large cafeteria, a cafe and several open collaborative areas. In these areas, designed to accommodate a large, diverse workforce, we could count the people we saw on one hand.
When we arrived at our meeting destination, we found only two of the five meeting participants. The others would join us remotely. Unfortunately, after 20 minutes of wrestling with state-of-the-art technology, we could see the remote participants on the large screen before us, but they could not see us.
Welcome to today's workplace, a space designed to be timeless and that now seems out of time—and a space that, in that way, might be a metaphor for the way we all do business.
A few years ago, the notion of a global pandemic that would quarantine us for months was the stuff of science fiction. Today, it is reality—and living with that reality will require thinking differently about just about everything. For me specifically, that means thinking differently about the way we design workspaces.
What's important to note is that I didn't say we need to think differently about our workspace designs; I said we have to think differently about the way we design workspaces. We need a new process, one that can respond in real time to a world in constant evolution.
We are facing a "that was then, this is now" moment. "Then" was a process in which designer and occupants collaborated on a plan intended to last for years. "Now" requires a more integrated model, one in which designer and occupants hold an ongoing conversation about the short- and long-term use of resources and space.
But, again, I'm not just talking about interior design and the corporate world. On the contrary; this shift applies to every aspect of doing business today.
We all must accept that the definitions of even the most common workplace concepts are changing. For example, the prevailing principle of flexibility dictated until recently that employees should be able to "flex" their working hours, or move from place to place within the workspace. Now, "flexible" is being replaced with "hybrid," which means granting everyone the ability to work wherever and whenever, with full access to facilities, resources and infrastructure that were forged in a pre-COVID world.
The big challenge as we shape this hybrid existence is that we won't know what the new way of working looks like until we get people back into the workplace, into regular contact and into this new rhythm. Whether we're talking about the corporate world, health care, professional services, higher education, whatever—much as we cannot return to the environments of "then" and expect them to meet the needs of "now"—we can't embrace the old processes and expect success in a new world.
In the coming months, we all will have to consider how we will redesign our now sparsely occupied spaces and dysfunctional conference rooms. At the same time, we must also consider how we will redesign our approach to doing business. If we don't, I fear we'll find ourselves floundering in the morass that exists between Then and Now, forever reacting to change instead of creating it.•
__________
Mendoza is founder and CEO of IDO Inc., an Indianapolis-based interior design firm.
Please enable JavaScript to view this content.