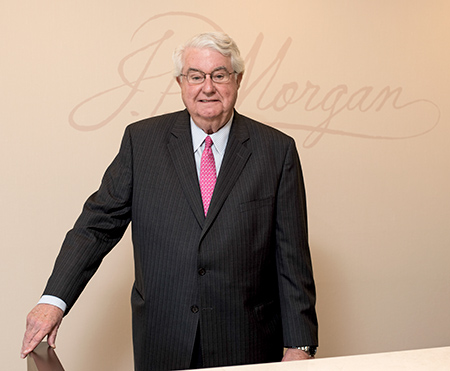 Albert "Al" Smith Jr., who serves as Indiana chairman for J.P. Morgan Chase & Co., is set to retire May 2 after a 59-year career in banking.
Smith, 82, has spent his entire career at banks that are now part of Chase, which is by far the largest bank doing business in Indianapolis, with more than $16.1 billion in local deposits.

After graduating from the University of Notre Dame in 1962 and serving two years in the U.S. Navy, Smith moved to New York City and landed his first banking job in 1964, at Chemical Corn Exchange Bank of New York. 
In 1969, he came back to his hometown of Indianapolis for a job at American Fletcher National Bank and Trust Co. And he stayed with the bank–and in Indianapolis–through numerous acquisitions and mergers that ultimately led him to becoming a Chase employee in 2004.
"There were many times I was approached to go somewhere else in the organization," Smith told IBJ. "I said, 'No, we want to stay in Indianapolis.' … Finally, they stopped asking me."
As Indiana chairman, a title he has held since 2014, Smith's primary role has been to represent Chase in the community. In this position, Smith has served on the board of directors for numerous community organizations.

These days, Smith and his wife, Maribeth, spend much of their time in Naples, Florida. (He spoke to IBJ for this story via a video call from a Chase office in that market.)
But Smith said he travels back to Indiana periodically, and after retirement, he plans to retain his board seats at several Indianapolis organizations: The 500 Festival Foundation, Downtown Indy Inc. and the Indianapolis Neighborhood Housing Partnership. 
"I love community involvement. I love the community of Indianapolis–the city of Indianapolis," Smith said.
Other board roles will transition to fellow Chase executives Erin Shaw and Christina Moungey, who co-lead the bank's Indiana market leadership team. Shaw is the executive director and market manager at J.P. Morgan Private Bank, and Moungey is the Indiana and Ohio region manager for JPMorgan Chase Commercial Banking. 
Moungey and Shaw will also continue in their present leadership roles after Smith's retirement. 
Over the course of his career, Smith said he's enjoyed working with bank associates and clients, and has been especially gratified when clients have grown and succeeded. One such success story, he said, is Indianapolis-based Simon Property Group. The company got its start in the 1960s, when Herb Simon and his brother, the late Mel Simon, began developing strip malls in the Indianapolis market. 
The company went public in 1993 and now owns retail, entertainment and mixed-use properties in North America, Europe and Asia. 
"We made them one of their first loans to get started," Smith said of Simon. Smith was a long-serving board member at Simon Property Group until retiring from that position last year.
Smith said he's also been gratified to see greater diversity in the banking industry in comparison to years ago, although he notes the industry still has a ways to go. 
In 1964, when he was entering banking, Smith said, his trainee class reflected the makeup of the industry at the time–every single person in that class was a young white male. He wouldn't have believed then that so many women would someday ascend to senior leadership positions within the industry, he said. 
"That's changed, and it's certainly changed for the better."
Please enable JavaScript to view this content.