In many ways, J. Albert Smith Jr. is the ultimate insider in local banking.

Smith, who goes by "Al," has spent his entire 53-year career with banks that are now part of JPMorgan Chase & Co., the largest bank in Indiana. For most of that career, he's worked in his hometown of Indianapolis. He serves on the boards of more than a dozen organizations, including the Indy Chamber, The Columbia Club and the Indianapolis Symphony Orchestra.

The 77-year-old describes his role at Chase as "orchestra leader." As Indiana bank chairman, he leads the state-level leadership team, making sure Chase's Indiana operation moves in a unified direction.

"After 53 years, it's pretty hard to disassociate myself [from] JPMorgan Chase. I think I'm sort of looked upon in the community as 'J.P. Morgan Chase.' That's an honor to me," Smith said.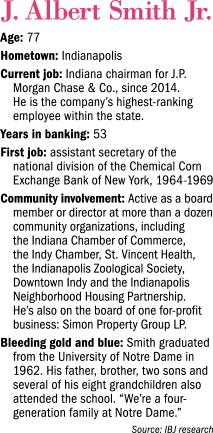 The CEO of the Indiana Bankers Association, Amber Van Til, described Smith as "a towering leader in Indiana banking," and a model for the industry.

So it might surprise you to know that Smith had to use a "Plan B" to break into banking. That experience of feeling like an outsider, he said, has led him to embrace a philosophy of inclusion throughout his career.

Banking seemed like an obvious career choice to Smith: His father and grandfather were bankers, and Smith had held summer jobs at banks since he was 16.

After earning a degree from the University of Notre Dame in 1962, followed by two years in the U.S. Navy, Smith went to New York City to launch his banking career.

"I wanted to see what the bright lights were all about," he said.

He applied for the executive training program at three companies: Chase Manhattan Bank, Morgan Guaranty Trust Co. and First National Bank of New York. He felt pretty good about his chances.

Instead, "I got turned down so quick, you couldn't snap your fingers. And so I said, 'Well, what's wrong here? What do I need to do?' And they said, 'Well, you didn't go to an Ivy League [school]. And we're only hiring Ivy League into executive training.'"

The banking world has changed since then, Smith said. The big banks no longer require Ivy League pedigrees for management-track hires.

But stuck with that reality at the time, he ended up at another New York City bank: Chemical Corn Exchange Bank of New York, which focused on the agricultural industry. That bank's CEO was Harold Helm, a University of Kentucky graduate.

"He would not hire anybody from an Ivy League school," Smith recalled.

(Ironically, Chemical Corn Exchange Bank, which became Chemical Bank, later acquired the bank that is now JPMorgan Chase.)

Smith worked at Chemical Corn from 1964 until 1969, when the chance for a promotion brought him back to Indianapolis. He took a job as executive vice president of the corporate banking group at American Fletcher National Bank and Trust Co., which later became Bank One Indianapolis. Had he stayed in New York, Smith said, it would have taken him decades to land a job at that level.

"Back in those days, your opportunity to gain any influence or any leadership positions or anything like that [at the big New York banks], you had to be in your 50s. And I was offered a chance to come back here at age 29 and be a member of senior membership of a regional bank."

His ascent up the power structure of Indianapolis as a young man wasn't always welcomed by older businessmen in the city. At age 35, he became the youngest president in the history of The Columbia Club—a fact that still animates him.

"How about that? Ka-ching!" Smith said, punctuating his words with a pump of his arm.

But not everyone was so impressed at the time. "There was a group of Columbians who were the age I am today that protested my presidency of The Columbia Club under the fact that I was too young, incompetent and not capable," Smith recalled with a wry smile.

This relationship was further strained when, under Smith's leadership, the club changed its rules to begin accepting women as members. The club made the move after a female state legislator filed a complaint with the U.S. Equal Employment Opportunity Commission.

"People are sometimes very slow and resistant to change," he said. "You have that everywhere, to some degree or another. Sometimes the resistance is very heavy."

Smith said he was in favor of admitting women, in part because his early job-seeking experience told him what it felt like to be excluded. Plus, he figured admitting women would be good for business.

"It would make the club a much more diverse place. Golly, if we have some female members, they pay dues—that's not a bad thing. They might come and eat some food there or whatever. So, you know, it just seemed to make sense to me."

Merger mania

Smith was with American Fletcher until 1986, when it was acquired by Columbus, Ohio-based Banc One Corp. for $597 million. He stayed with Banc One through its 1998 merger with Chicago-based First Chicago NBD Corp. and through its 2004 sale to JPMorgan Chase.

In 2014, he ascended to his current position, which puts him over the bank's 2,800 Indiana employees, most of whom are in the central part of the state.

The bank's local operations include an 800-employee internal call center near Indianapolis International Airport. Workers there monitor Chase's automated teller machine network and talk with bank employees nationwide to solve ATM-related problems. This center also serves as a clearinghouse for legal paperwork, processing all subpoenas in which JPMorgan Chase is named.

Indianapolis is also home to an external call center that serves commercial clients from around the world. From this call center in Chase's Monument Circle offices, 155 employees serve more than 4,300 clients.

Over his career, Smith has seen big changes in the local banking landscape. When he came back home to take the job at American Fletcher, that bank was one of three that dominated the local landscape, the other two being Indiana National Bank and Merchants National Bank.

"Between the three of us, we had 92 percent of the market share," Smith recalled.

In large part due to changes in banking laws that unleashed a wave of mergers, a deluge of financial institutions, many based out of state, have entered central Indiana.

Chase has remained at the top of the heap. Of the 26 banks with a Marion County presence, Chase holds the most deposits, $8.6 billion, giving it a market share of 30.1 percent, according to the Federal Deposit Insurance Co.

The No. 2 spot is occupied by Pittsburgh-based PNC Bank, which has $5.9 billion in deposits and a 20.6 percent market share.

"We're not losing our market share, even with all the competition," Smith said.

Competition with a smile

One of his banking competitors is Connie Bond Stuart, regional president for central and southern Indiana at PNC Bank. The two also serve on the boards of the Indy Chamber and the Central Indiana Corporate Partnership.

Stuart described Smith as someone who is a "very respectful" competitor with a good sense of humor. He's someone who might offer a joke and a friendly greeting when Stuart sees him around town, even as the two are pursuing the same customers.

"We compete, but we smile when we do it," Stuart said. "I think Al's been around long enough to be confident."

Because of his long history with Chase and its predecessors, Smith serves as a bridge between past and present. "Some people call me The Historian," he said.

On a regular basis, he said, Chase employees tap into his institutional knowledge. They'll ask him if he knows about some person, event or activity—and, he said, he usually does.

Those who know Smith in the community say his vast local knowledge allows him to see opportunities—and make community connections—in a way few others can.

"My experience is, he is so committed to collaborations and partnerships that he has been intentional about encountering and facilitating interactions between numerous organizations," said Moira Carlstedt, CEO of the Indianapolis Neighborhood Housing Partnership.

Smith was one of the founding board members of the partnership, which was established in 1988 to promote affordable home ownership and neighborhood development. He's still a member of that board. Chase is among numerous banks that financially support it.

Because Smith is involved in so many community organizations, Carlstedt said, he can see the big picture, and he works to connect people and groups that might not otherwise interact.

"Al is cross-pollinating these organizations," said Carlstedt, who met Smith in the early 1990s through her husband, Bill Carlstedt. Both men were involved in the Indianapolis 500 Festival. Moira Carlstedt joined INHP in 1998.

For instance, she said, Smith is on the boards of both the Indy Chamber and the INHP, and he has helped the two groups come together on areas of common interest.

"We're all trying to establish a healthy, vital Marion County," she said.

Fellow banker Steven Alonso, now group regional president at Fifth Third Bank, met Smith in 1993, when Bank One transferred Alonso to Indianapolis from Columbus, Ohio.

One of Smith's first actions, Alonso remembered, was to introduce him to the local chapter of the Young Presidents Organization, a professional group for executives.

"It was a very 'Al' move," Alonso said, because it connected him to a network that helped him integrate into the community.

While they were both at Bank One, Alonso said, he and Smith met regularly for breakfast at the Columbia Club. Alonso called Smith "a good sage" who has always offered wise advice.

"Sometimes, there's people in your life that, when they talk, you really want to listen. … I would definitely put Al in that category."

The two men are on a number of community boards together, including INHP, the 500 Festival and the Indy Chamber.

Even after Alonso moved to a competing bank, he said, his relationship with Smith didn't change. "Your friendship permeates through that."

Looking ahead

Smith said he's embraced the technological changes that have transformed the banking world, and conducts his personal banking online. But in other ways, Smith represents a throwback to an earlier era.

A suit-and-tie banker, Smith acknowledged that he stands out from his new neighbors at Salesforce, the tech firm that recently moved into the Monument Circle building now named Salesforce Tower. Smith jokingly described himself as "a weirdo" in comparison.

Another longtime local banker, National Bank of Indianapolis CEO Morrie Maurer, described Smith as "the patriarch of traditional banking in Indianapolis."

Technology has made banking less personal than it used to be, Maurer said, but Smith represents a time when banking was built on knowing your customer, face-to-face interaction and a handshake.

Smith said he still enjoys those personal interactions with colleagues and clients and has no plans to retire.

He was out of the office for two weeks following knee-replacement surgery in June. But even during that hiatus, he regularly worked from home.

He also serves as the unpaid chief financial officer at Maribeth Smith & Associates, an event-planning firm owned by his wife of 54 years, Maribeth Smith.

"As long as I'm fortunate to have some good health, as long as I can add value," Smith said, "I'd like to continue to work."•