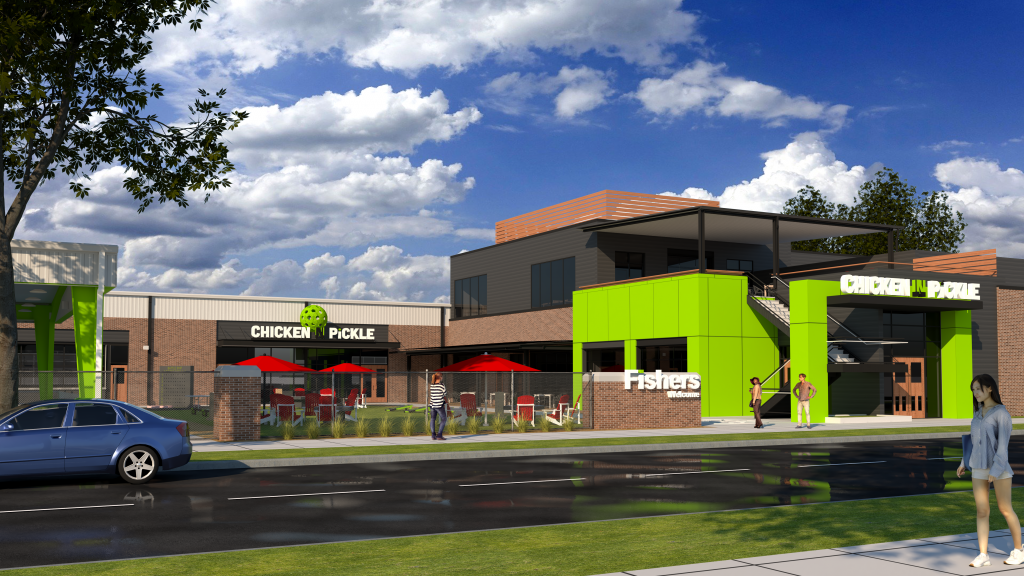 Chicken N Pickle, an indoor/outdoor entertainment complex featuring a casual restaurant, sports bar and pickleball courts, said Wednesday that it plans to open a location in Fishers in late 2024.
The Kansas City, Missouri-based chain said the venue will be a tenant in Fishers District, east of Interstate 69 between 106th and 116th streets.
Founded in 2016, Chicken N Pickle has expanded to seven locations overall in Kansas, Texas and Oklahoma. Five more locations besides the Indianapolis site are under development in Arizona, Missouri, Texas and Nevada.
Chicken N Pickle said it expects Fishers site to receive more than 700,000 annual visits and create more than 150 jobs.
The Chicken N Pickle concept features a main dining area that is spacious enough for corporate and social events such as lunch meetings, large rehearsal dinners and team-building events. The Fishers site will have bars, multiple dining areas on the main floor and a rooftop dining area, plus outdoor tables, numerous indoor and outdoor pickleball courts and a variety of lawn games.
"Our mission is to provide an atmosphere that fosters fun, friendship, and community, and we are excited to bring that to Fishers," said Dave Johnson, founder of Chicken N Pickle, in written comments. "We believe that bringing people together over a delicious, wood-fired rotisserie chicken, a cold beverage and some friendly competition can create unifying bonds that ripple throughout the community and beyond."
The restaurant's menu includes rotisserie chicken dishes available in four different seasonings, pork and beef sandwiches, and hand-cut fries and tots.
"We're excited to be able to bring a community-focused, family-oriented concept like Chicken N Pickle to the City of Fishers," said Ryan Menard, vice president of development at Indianapolis-based Thompson Thrift, the master developer of Fishers District and the Fishers District expansion. "This will be a tremendous addition to what is being built at the district and something unique to the region."
Please enable JavaScript to view this content.