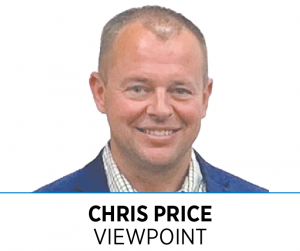 I believe we should make a lot of changes to improve the prospects of men and women re-entering the community after time in prison. But maybe the biggest change should be in our perceptions.
I speak from experience. The first time I stepped into a prison in 2018, I was a walking mass of misperceptions. Thinking I was showing up to talk to prison staff about the possibility of starting a construction training program for incarcerated men, I found that prison officials instead wanted me talk to inmates about the idea.
My mind flashed forward to the scene I thought I was about to enter: a prison yard like the ones I had seen on TV, surrounded by a tall fence topped with barbed wire and watched by sharp-eyed guards. I figured my audience would be a group of edgy, possibly hostile inmates who didn't care much about what I had to say.
Instead, I was taken to a nondescript room and left alone with about 30 attentive and polite inmates. They asked a lot of questions and showed real interest in a program that would help them prepare for life after release. They thanked me for coming. And they demolished my perceptions.
I wish everyone could have that experience. I believe it would radically change the prospects for people coming out of prison.
Three years later, in partnership with Indiana's NextLevel Jobs program and its workforce readiness grant, we trained 40 inmates to train for jobs in the construction industry. Last year, the Indiana Construction Roundtable Foundation completed its second training class with 24 graduates inside the Westville Correctional Facility in northern Indiana, and we're starting our third class this year, in partnership with the Indiana Department of Transportation.
The benefits of in-prison training can be viewed through different lenses. From a high level, a Brookings Institute study tells us that "meta-analyses of prison education research have shown that it reduces recidivism" and that reduced recidivism is good for the economy. From a more human perspective, I could share countless stories of individuals who credit job training with changing their lives.
This approach also helps to feed the state's workforce. Most notably from our perspective, our classes are providing skilled-and-ready workers to an industry in desperate need of them.
Estimates suggest that Indiana will need to add more than 275,000 workers to the current workforce of 165,000 by 2026 due to looming retirements and increased demanddue to a statewide construction boom. And the industry needs more than warm bodies; it needs skilled workers who can hit the ground running. Students who complete our BY Training class earn two industry certifications— National Center for Construction Education & Research credentials along with OSHA-30—which means they can contribute immediately.
The Indiana Construction Roundtable provides training in community centers around the state, with the majority of our students seeking paths out of poverty. And while those students appreciate the training, the prison-class students show the greatest drive.
My perceptions changed when I walked into that prison room five years ago. I discovered men who were hungry for a second chance, willing to work diligently to shape their future and eager to contribute to their community.
Plenty more men and women are ready to gain that second chance, do that work and contribute. But all the training in the world won't matter if they run into the same old perceptions. Change your perceptions. Find out how your organization and industry can help people coming out of prison. And then watch lives change.•
__________
Price is president of the Indiana Construction Roundtable Foundation.
CORRECTION: This column has been changed at the author's request to better reflect the number of workers who will be needed by 2026. 
Please enable JavaScript to view this content.