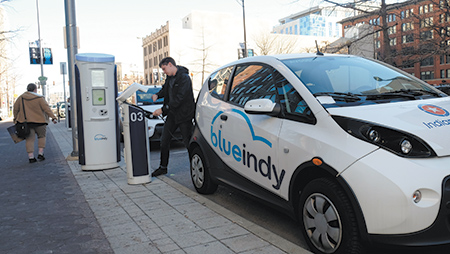 The Indianapolis Department of Public Works on Friday said it had issued a request for proposals to reuse the spaces and underground electric infrastructure of the former BlueIndy electric car-sharing sites.
BlueIndy's Paris-based owner announced in December 2019 that it was shutting the service in May 2020 after failing to achieve profitability. The service launched in 2015 with $6 million in city and county support for infrastructure. At that time, BlueIndy projected having 15,000 members on board by 2020. However, as of August 2019, it had just 3,000 active members.
In October, the city said it would release an RFP for developers to repurpose up to 42 of the 89 charging stations. At the time, city officials said they wanted to turn former recharging sites into bike-sharing stations, bike parking spots and charging stations for electric cars, scooters and bikes—but likely not back into traditional car parking spaces.
The RFP released Friday offers two response options–mobility and non-mobility.
The city said mobility-based responses are expected to "enhance Indianapolis's overall transportation and mobility network, providing Indianapolis residents with improved access to services such as EV charging and micro-mobility." It said non-mobility responses are "encouraged to be proposals that benefit the broader communities surrounding each location, such as placemaking opportunities, resource providers, or gathering spaces for art and culture."
"Over the past few years, Indianapolis has been on the forefront of finding innovative ways to keep improving our transportation infrastructure network," Indianapolis Mayor Joe Hogsett said in written remarks. "With the help of community-based research, the city has identified beneficial frameworks for how sites may be used, but this RFP also keeps the door open to creative ideas and services."the city's bid portal here.
The RFP (titled Reimaging the Curb: RFP-14DPW-1511) is posted on
Please enable JavaScript to view this content.