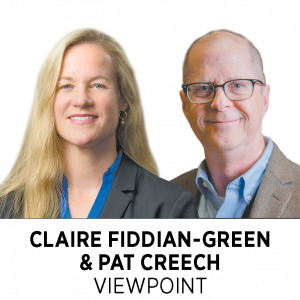 Indiana released a new set of reports late last month that represent a critical step toward helping close gaps in education outcomes.
The Kindergarten Readiness Indicators, or KRI, showcase for the first time how well some of Indiana's pre-K programs are preparing children from low-income families in developing skills such as identifying letters, shapes and numbers and understanding language and sentence structure—all foundational components of kindergarten preparedness.
The release of this data is worth celebrating, as it marks a milestone in being able to identify where our earliest learners are thriving and struggling and to tailor resources and support accordingly.
The results offer less to celebrate. They show that too many children in our state are falling behind in key academic benchmarks. The promising news is, by identifying challenges and intervening early, we can set children up for success in kindergarten and beyond.
Last spring, the state administered the KRI to about 1,600 Indiana preschool children who were enrolled in On My Way Pre-K, a scholarship program for income-qualifying families.
In all six categories measured, such as sentence comprehension, rhyming and spatial thinking, the majority of children who took the assessment fell either below or far below the target scores. Students performed best in numerical thinking, with 48% scoring at or above target, and struggled the most with letter identification and letter-sound correspondence, with 28% scoring above target in each. Girls outperformed boys on most metrics, and there were gaps based on race, with white students scoring higher on most skills.
These numbers show the need to improve, but they also provide hope. By understanding the specific skills pre-K students need to develop, educators are equipped with information to intervene. And countless studies have shown that early intervention in a student's education is key to better long-term outcomes. As one example, a meta-analysis of 22 studies showed that children enrolled in early-learning programs were less likely to be placed into special education and retained in a grade, and more likely to graduate high school.
From 2017 to 2019, our organizations funded the initial development of the KRI and pilots of the assessment in Marion and Vanderburgh counties because we believe in the power of high-quality early learning. We also know the ability to strengthen pre-K programs, train educators effectively and provide better support to children starts with access to objective academic data.
While the KRI offers an important foundation for addressing early-learning gaps, it is just a starting point. Other steps are needed to improve the quality of early-learning programs in Indiana.
To build from the KRI, we must focus on providing professional development for early-childhood educators and equipping them with the tools to help preschool children establish early numeracy and literacy skills, as well as social-emotional skills. We also should ensure that kindergarten teachers have access to objective student-level data so they can shore up academic skills once kids begin elementary school.
And measuring outcomes shouldn't be limited to children who receive state scholarships. The KRI's reach should grow so that all pre-K children can participate.
We know the formative early years of a child's life have a dramatic impact on their trajectory. By intervening early to help address learning gaps that start young, we can create better outcomes for all students, and that produces tremendous benefits for our society, economy and shared quality of life.
The KRI assessment represents a powerful first step to this end. Let's not stop there.•
__________
Fiddian-Green is president and CEO of the Richard M. Fairbanks Foundation in Indianapolis. Creech is CEO and executive director of the Welborn Baptist Foundation in Evansville.
Please enable JavaScript to view this content.