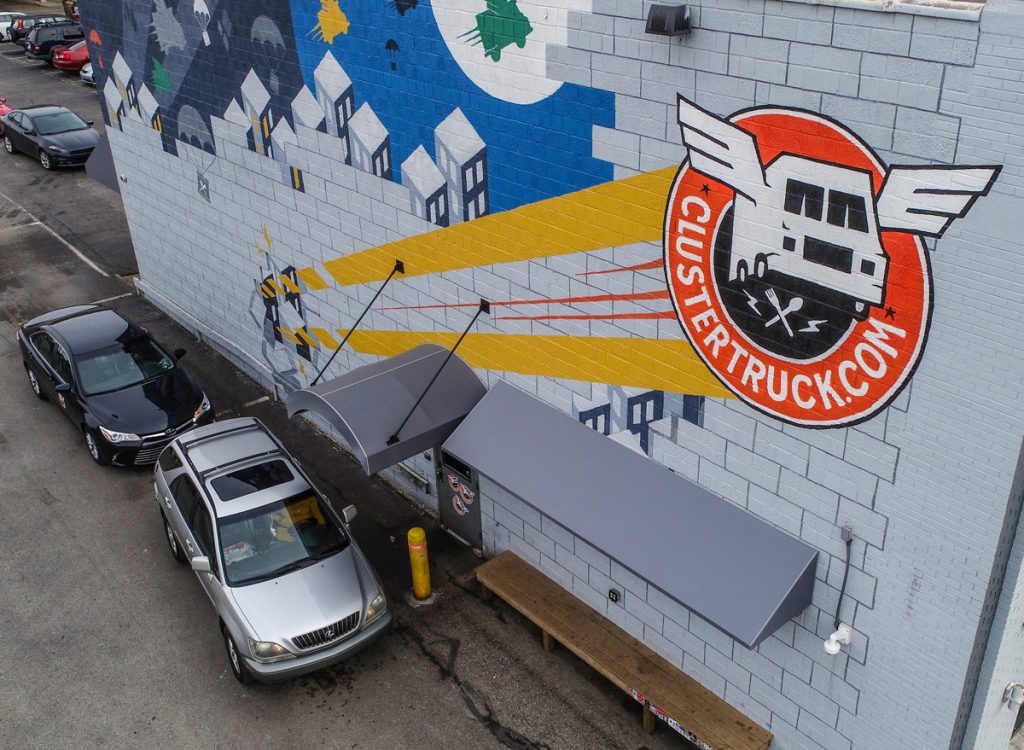 Indianapolis food-delivery company ClusterTruck is teaming with Cincinnati-based Kroger on a partnership that will give the grocery giant an entry into the fast-growing meal delivery market, the companies announced Monday.
In a related move, ClusterTruck is set to open a fifth kitchen this week, at 12195 N. Meridian St. in Carmel. The company said it will hire about 20 employees to staff the Carmel operation, plus another five or six workers in Denver.
The program, which is called Kroger Delivery Kitchens Powered by ClusterTruck, is set to begin Dec. 2 in Carmel as well as three existing ClusterTruck markets: downtown Indianapolis, downtown Columbus, Ohio; and Denver. ClusterTruck previously had operations in Minneapolis, Cleveland and Bloomington, Indiana, that have closed. ClusterTruck's other market—Kansas City, Missouri—is not part of the Kroger partnership.
"We see the partnership as an extension of our 'Fresh for Everyone' message, so we are eager to learn the potential appeal of a venture with ClusterTruck," Kroger spokesman Eric Halvorson told IBJ via email. "We recognize the talent in the ClusterTruck kitchen and its ability to serve high-quality meals, quickly."
ClusterTruck founder Chris Baggott declined to provide financial details of the arrangement, as did Kroger. The company in late October disclosed to the Securities and Exchange Commission that it was trying to raise $5 million in its latest fundraising round.
ClusterTruck, launched in 2016, uses its own kitchens and drivers to deliver meals, and tries to get customers their orders within six minutes after the food is prepared. The company uses proprietary software and technology to manage the process.
In the arrangement with Kroger, ClusterTruck is providing the technology and the employees to cook and deliver the food. Kroger will provide marketing and branding. As part of the plan, Kroger will launch two websites through which its customers can order ClusterTruck food.
The site, krogerdeliverykitchen.com, will target customers in ClusterTruck's Indianapolis, Carmel and Columbus delivery areas. In Denver, where Kroger operates its KingSoopers grocery chain, the website is kingsoopersdeliverykitchen.com
ClusterTruck said it will continue to accept orders through its clustertruck.com site. Initially, food options will be the same regardless of which of the three websites customers order from.
Baggott said the partnership came about after ClusterTruck pitched Kroger on the idea about nine months ago. If successful, Baggott said, the program could expand nationwide.
The partnership comes at a time of rapid change in the prepared-food delivery market.
According to market research company IMARC Services Private Ltd., U.S. consumers spent $17.5 billion on prepared food delivery last year, and that figure is projected to grow to $32.7 billion by 2024.
But it's also an industry where turning a profit can be a challenge.
Chicago-based Grubhub Inc. and San Francisco-based Uber Technologies Inc. both use a model in which drivers deliver food to customers from participating restaurants. Both have reported rapid growth in delivery revenue—but not profit.
Last month, Grubhub reported third-quarter revenue of $322.1 million, up 30 percent over the same period a year earlier. But the company's profit was only $1 million, down from $22.7 million during the year-ago period.
Uber's Uber Eats division reported third-quarter revenue of $645 million, up from $394 million during the same period in 2018. Its adjusted earnings before interest, taxes, depreciation and amortization, or EBITDA, for the segment was a loss of $316 million, as compared with a loss of $189 million during the year-ago period.
Baggott said ClusterTruck has a different business model from other food delivery companies. The company cooks its own food, and its model calls for giving its drivers at least four jobs an hour in a tightly defined delivery zone.
Editor's note: An earlier version of this story quoted a Kroger spokesman as saying that the partnership would run 12 weeks. Kroger later followed up and said that actually no end date has been established.
The earlier version also incorrectly stated that the Kansas City, Missouri, market would be part of the partnership.
Please enable JavaScript to view this content.