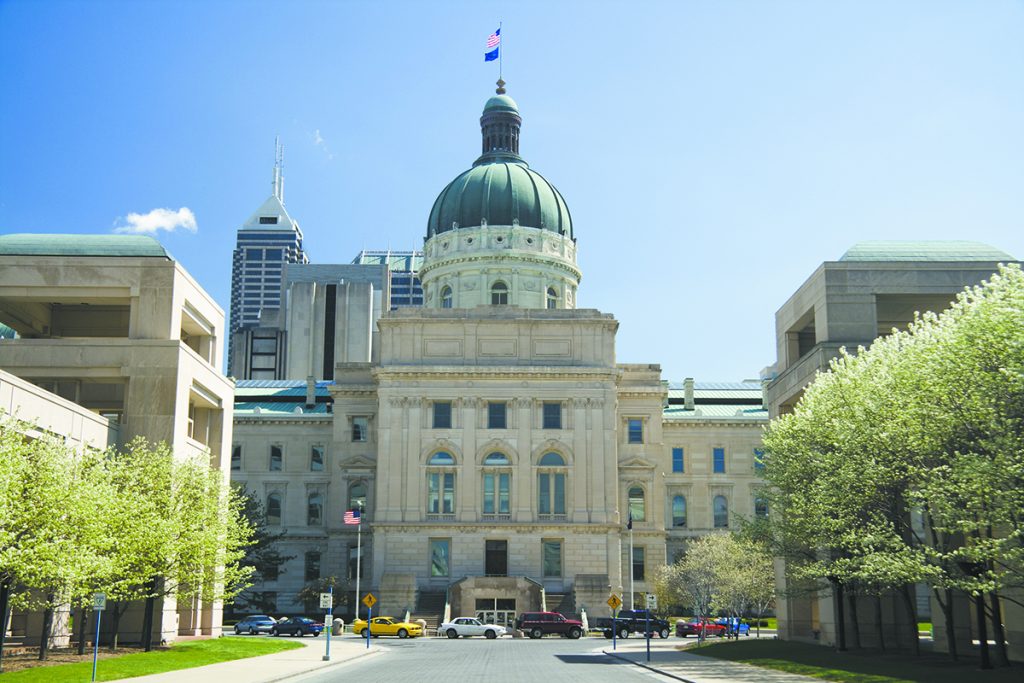 Indiana lawmakers are moving forward with a pregnancy accommodations bill that won't require businesses to make any adjustments for workers.
If it becomes law, House Bill 1309, authored by Republican Rep. Karen Engleman of Georgetown, will allow employees to request accommodations from their employer—something pregnant workers are already allowed to do.
The bill would require an employer to respond to a worker's request, but employers would not be required to provide any of the requested accommodations.
The House Employment, Labor and Pensions Committee on Tuesday passed the bill by a vote of 12-1, despite some objections that it won't be directly helpful to pregnant workers. Rep. John Bartlett, D-Indianapolis, was the only committee member to vote against it.
Engleman said she believes the legislation would be effective because it would lead to employees and employers having conversations about pregnancy accommodations.
"I feel like this bill is a step in the right direction," Engleman said. "We all want healthy moms and healthy babies."
Women make up about half of Indiana's workforce, but pregnant women and new moms sometimes struggle to continue working. Sometimes, pregnant women stay in jobs that involve strenuous work that could cause complications because they need to keep their income.
Advocates for passing a pregnancy accommodations bill say the legislation would keep women healthy and on the job, and could help improve the state's infant mortality rate, which has been among the highest in the nation for years.
Thirty other states, including Kentucky and Tennessee, already have pregnancy accommodations laws.
Opponents of HB 1309 argued during Tuesday's committee hearing that the measure wouldn't improve conditions for pregnant workers. They  instead encouraged lawmakers to pass House Bill 1358, which would require employers to provide certain "reasonable accommodations."
Eva Bell, an organizer with Hoosier Action, said she doesn't think HB 1309 offers any protections.
Bell shared examples of pregnant women who had complications while working because their employers refused to make simple accommodations, such as providing a stool to sit on or allowing more frequent bathroom breaks. Some women went into early labor, had miscarriages or lost babies within the first few days of birth.
"I want to remind you that this is only a few stories, and they keep pouring in," Bell said. "Women are asking for accommodations as we speak and are not being given them. (HB) 1309 does not do enough. If we wanted to enact real protections for moms, we would enact (HB) 1358."
Deborah Widiss, associate dean for research and faculty affairs at the Indiana University Mauer School of Law, said she thinks HB 1309 would cause more confusion because even though employers wouldn't be required to provide accommodations under the bill, several federal laws may apply and require employers to make certain adjustments.
"The reason why I think it might be a step back rather than a step forward is because I think it sends mixed messages in what is already a confusing area," Widiss said.
Plus, she said, employees can—and do—already ask for accommodations, and employers can choose to honor those requests or not.
"So it's not really doing anything for pregnant workers as it's currently written," Widiss said.
State Rep. Sharon Negele, R-Attica, is author of HB 1358 and co-author of HB 1309. She testified in support of HB 1309 on Tuesday.
"While I know it's not perfect and there are many of us that would like to see it go farther…. this is a good step in the right direction," Negele said.
Indiana Gov. Eric Holcomb has included pregnancy accommodations on his legislative agenda, and even though he initially advocated for the language in HB 1358, he is not objecting to HB 1309.
"While I have pushed for different language to become law in each of the last two sessions, I agree with members from both sides of the aisle that voted in favor of the bill today as a step forward in assisting pregnant women in the workforce," Holcomb said in a written statement.
The Indiana Chamber of Commerce and the Indiana Manufacturers Association are supporting the bill. The Indy Chamber is opposing it, saying it "misses the mark."
Indiana's Building Trades Union is supporting the bill, but executive director Pete Rimsans said he thinks more could be done.
The bill is not likely to change before a final vote in the House.
When asked whether she would work with the people who voiced concerns, Engleman said she prefers to amend bills in committee.
"We're at the end of the game here," Engleman said. "We can't put (HB) 1358 in this bill."
Please enable JavaScript to view this content.