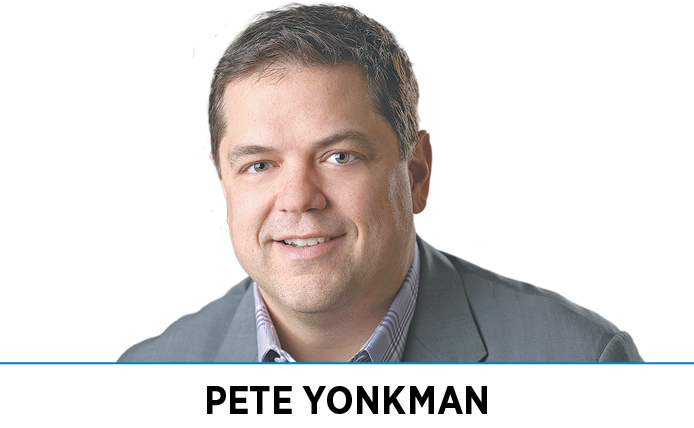 When you talk to people across the state, you can hear the impact of the challenges David Ricks described in his recent Economic Club of Indiana speech. Not everywhere, but in too many of our towns and cities, people know their health outcomes are not what they should be, their kids aren't progressing in school as far as they could, and new job opportunities aren't coming to a town near them.
Government and policymakers have a large role to play in addressing these challenges. But they can't do it alone. Nor should we expect them to. Industry will need to step up and bring its skills, resources and opportunities to the table and be active participants in implementing solutions.
As Hoosiers, we are a practical group. And, as Ricks points out, we are at our best when we work together on real-world solutions that put the needs of our community first.
Solutions will come from government, from not-for-profits, from industry and from our neighbors. If we sit down with a common goal and each bring our best to the table, I am confident we can tackle the challenges he's identified.
Cook is a 59-year-old private company with no public shareholders. We believe in being active partners in solving community challenges. We do that with philanthropy, but more important, we see our core business skills, resources, facilities and job openings as catalysts for working with our neighbors to address our shared challenges. In essence, we believe it is possible to do good business and good in the community at the same time.
A few examples of our approach:
◗ We have a 40-year relationship with Stonebelt, a Bloomington organization that provides daily-living support and employment for people with significant mental and physical disabilities. Stonebelt employs 75 people at its site and manufactures more than 6 million units of medical supplies a year for us.
◗ Our My Cook Pathway programs provide free education to all employees, from a high school diploma to a master's degree. For those who don't yet have a high school diploma, we created a program where people can work a half day at Cook and attend school in the afternoon while receiving full-time pay.
◗ We partnered with Goodwill, a not-for-profit, to open a manufacturing facility in our hometown to hire people coming from the judicial system and who have other obstacles to employment. Goodwill provides wraparound services to all its employees—services like transportation, expungement and housing stability. Goodwill now employs 70 people making products for us and is on its way to 200 in Bloomington alone.
◗ In 2020, we expanded our relationship with Goodwill. We partnered with a community in Indianapolis that is 95% people of color and has a high rate of poverty and violent crime. Together with our neighbors there, we are building a state-of-the-art medical-device manufacturing facility that will offer 100 jobs, free education and wraparound services provided by Goodwill. The building and real estate are owned by the community, and proceeds from rent will go back into the community to support local business and projects.
◗ Last year, we partnered with two Indy entrepreneurs to build a full-service grocery that will be owned by them and service their community, which is, sadly, a food desert.
I highlight these examples because I think they accomplish what we believe to be true: Philanthropy and corporate social responsibility initiatives are important but not as impactful as using our core business skills and resources as opportunities for societal improvement. And the benefits of these projects would not have been available to the community without our leadership and ability to bring government, not-for-profits and our neighbors to the table to make them a reality.
Solutions need to come in the form of a collaborative, all-hands-on deck approach to ensure Indiana is a business-friendly state that prioritizes the health and economic freedom of every Hoosier.•
__________
Yonkman is president of Cook Group.
Please enable JavaScript to view this content.