The city of Indianapolis could spend nearly $93.5 million over several years on Castleton's infrastructure, as part of a broad and aggressive vision to remake the corridor with better connectivity and walkability, new housing, and an improved visitor experience.
The pitch to overhaul roads to be more walkable—and potentially less congested—is one of several ideas offered in the Castleton Strategic Revitalization Plan, a 170-page report completed this year by local firms MKSK, the city and dozens of area stakeholders.
The report prioritizes almost $53 million worth of infrastructure upgrades to three areas it calls districts:
◗ Castleton Square District, which includes the mall and nearby retail;
◗ Nickel Plate District, which includes the Nickel Plate rail line; and
◗ Howland Greenway District, a floodplain that includes Howland Ditch and partially bisects the other two districts.
All three areas are along East 82nd Street, between interstates 465 and 69.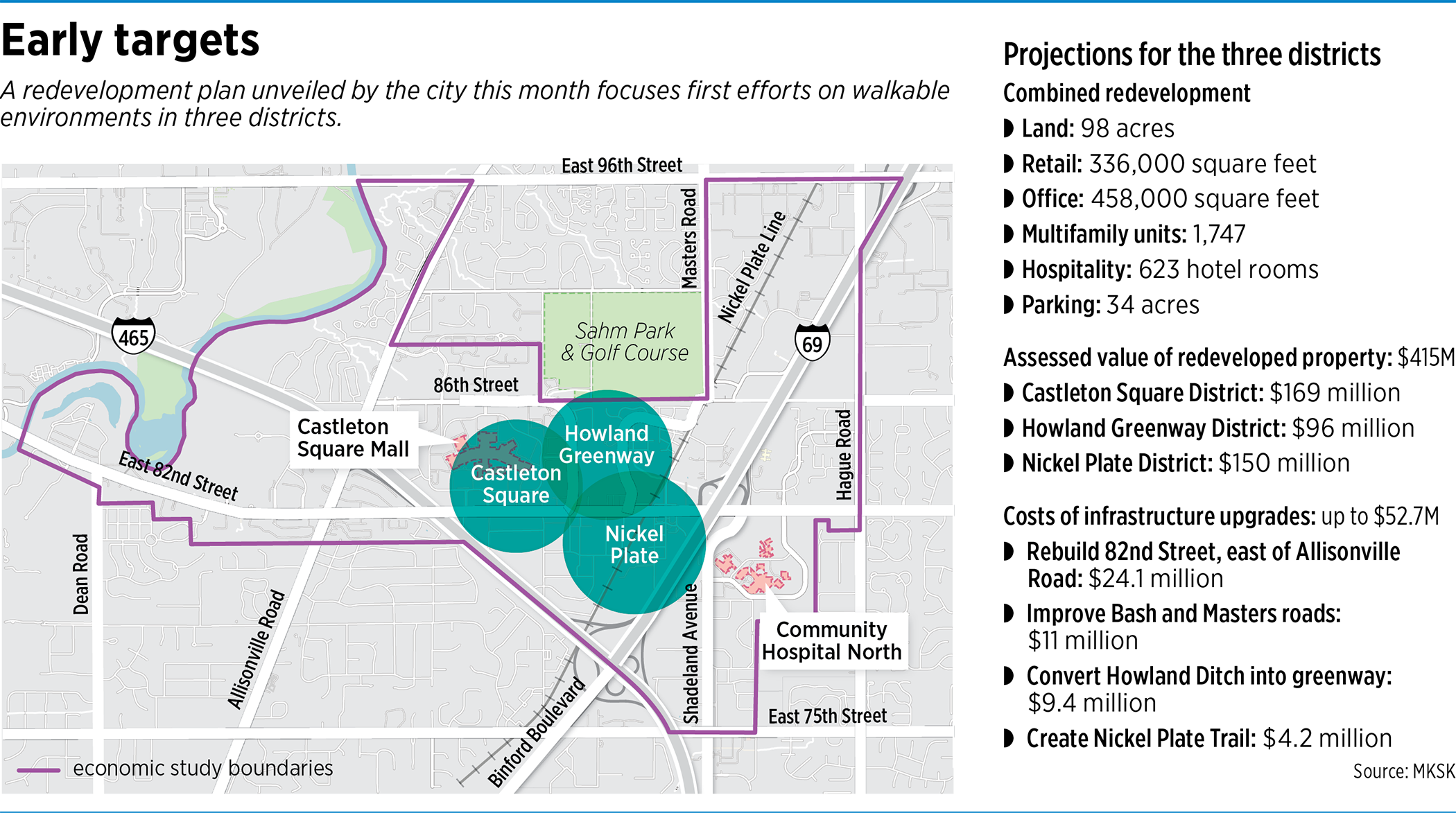 The plan calls for converting Howland Ditch into a greenway and the Nickel Plate line into a trail, and updating the shopping experience throughout Castleton Square.
It also advocates adding 5- to 8-foot sidewalks along 82nd Street, east of Allisonville Road—but no new vehicle lanes—and combining Bash and Masters roads into a single, four-lane roadway.
Together, these "catalytic" projects, as they're called in the report, in the three districts are projected to cost $52.7 million. Another $40.8 million in infrastructure is planned for future projects west of Allisonville. The figure does not include additional planned improvements to 82nd Street.
"The plan really addresses opportunities for revitalization and infrastructure needs—big themes that came out of the process," said Emily Mack, director of the city's Department of Metropolitan Development, which commissioned the study. It is set to be presented March 25 at Community Hospital North.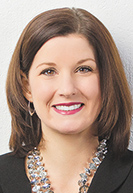 A timeline has not been set for the projects.
But the city is expected to learn in the coming months whether it will receive funding for the Nickel Plate component from the state's Next Level Trails initiative. The city put in a bid this year for $5 million to convert the former railroad into a pedestrian trail.
"At this point, the planning process is done, and we're transitioning into the implementation of that plan," Mack said. "But it is a long-range plan, and it's going to take years and years to implement, and we are slowly beginning that process."
'Utopian-type report'
The report estimates that, in addition to city-backed infrastructure improvements, more than $400 million in assessed value could be added to the 4.4-square-mile area through private development.
The plan lays out recommendations for $169 million in added assessed value for the mall area; $96 million in the proposed Howland Greenway; and $150 million along the Nickel Plate.
It estimates 336,000 square feet of repositioned or new retail space would be added, along with 458,000 square feet of office space, more than 600 hotel rooms, about 1,750 multifamily units and 34 acres of parking.
The report suggests waterfront, boardwalk-type development along a stormwater pond south of 82nd Street, as well as a pedestrian arcade. Those features would be surrounded by such developments as covered parking, a hotel, and residential and retail space.
It also imagines the former Sears store on the east side of Castleton Square Mall as an entertainment space, including a small stage and outdoor seating on a plaza. New offices, residential buildings and concealed parking structures are proposed for the far-eastern portion of the property, along with new internal streets.
A food hall is also included in the design for the mall area, along with new retail and residential buildings that would replace aging lots and strip centers closer to 82nd Street.
But all those changes would require buy-in from area developers and property owners, including local firms Simon Property Group, The Broadbent Co. and Sunbeam Development Corp., experts say.
Collectively, those three companies, along with Castleton Office Park and Community Health, are the area's largest property owners—owning or controlling 410 acres, or about 15% of Castleton.
But much of the land along the Nickel Plate is broken into smaller parcels and controlled by a variety of developers and entities, making it harder to redevelop. Area along the Howland Ditch is currently not able to be developed because it is in a floodplain. The city, which—along with a mix of private entities—owns the property in that area, hopes to change the restriction.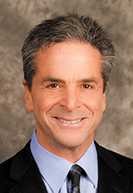 "This is very much a Utopian-type report, meaning they were really trying to depict the best of all worlds, if all groups could come together and finance something like this," said Mark Perlstein, a commercial broker with the Indianapolis office of Los Angeles-based CBRE.
"Some of it makes sense, but some of it was—I thought—very, very aggressive and something that will probably never happen," he said. "But they were great ideas."
Perlstein, who works extensively in Castleton, said he isn't sure what the city's pitch to landowners will be, but the report does addresses land-use guidance for future developments. It also prioritizes entertainment and residential projects as ones that could spur growth.
But he noted that, if the city pursues the plan ss is in its entirety, some of the needed land would likely have to be acquired through eminent domain or other means. He said many schematics shown in the proposals—which include multistory office buildings, hotels and residential properties—sit atop existing businesses.
"Whether there are vacant shopping centers or existing shopping centers or … banks or Panda Express or whatever, they're just showing [the new development] right on top of things," Perlstein said. "They don't delve into the reality of all the mechanisms that it takes to trigger these to get accomplished."
DMD's Mack has said eminent domain hasn't yet been discussed, and that most development that would occur in the area would be dictated by private developers.
Mark Flanary, executive director of Binford Redevelopment and Growth, said he expects area property owners to be generally receptive to the plan, because theywant to see Castleton reorient itself into a more urban environment with better walkability.
"We're in the early stages, but let me tell you, the future does look bright," Flanary said.
Simon declined to comment, whileBroadbent and Sunbeam did not return calls requesting comment for this story.
According to the plan, the Castleton area can alredy support up to 55,000 square feet of additional retail and restaurant space, including 10 to 15 stores accounting for 35,000 square feet and five to 10 restaurants totaling 20,000 square feet. New development could generate up to $21 million in sales by 2024, the report said.
Additional retail space—including the 336,000 square feet noted elsewhere in the report—would be required if the area were to add office space, hospitality and housing.
A long-term fix
According to Perlstein, the "very first thing that needs to be done" is alleviating congestion along 82nd Street, a problem that has plagued Castleton for decades.
"There's so many inherent problems in Castleton right now that go back to infrastructure," he said. But he noted that he's not certain adding sidewalks, rather than additional lanes, will help much.
Mack, who has been intimately involved in the Castleton revitalization planning since it began in January 2019, acknowledged congestion is a "big problem." She said it is among the first problems the city hopes the plan will address.
"There's not great connectivity," she said. "It's often disjointed, disconnected and kind of confusing, so we really looked at opportunities to introduce or realign some of that infrastructure, so it helps reduce traffic congestion."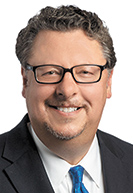 Dan Boots, new city-county councilor for District 2, said the city has to "punch more holes through the Castleton area" to tackle congestion. Boots was elected last November so he was not directly involved in much of the process until he joined the council in January.
"We need to improve the ingress and egress there," he said. "And once you get that, hopefully there will be more residential properties coming to the area, so fewer people are getting in a car to avail themselves of the local retail offerings."
Mack said the plan also focuses on improving traffic flow and increasing walkability between the primary shopping district and other parts of the corridor. The Nickel Plate Trail and Howland Greenway would cut down on the need for cars, she said.
The trails could also help spur more infrastructure and development, creating more roads and access points throughout the Castleton corridor.
"The opportunity with the Nickel Plate is to look at redevelopment opportunities along the [trail] and really encourage trailside development, which could include residential and mixed-use, office and hospitality," Mack said. "We're really interested in creating a core, concentrated village area that would be around Nickel Plate and 82nd Street."
The Howland Greenway would run through the heart of that village. The path, which would be built by lifting land out of the floodplain, would run north and south directly east of the mall, before turning east—toward Interstate 69, then jut southeast at a diagonal to meet the Nickel Plate Trail before ending on the east side of the interstate.
Both trails would be surrounded by new development, according to designs in the plan, including new office properties and residential buildings.
Mack said the plan takes a hard look at ways to address congestion, while also making roadways safer for pedestrians—a key factor that led the city to study Castleton in the first place.
As a result, the city is likely to stay away from roundabouts, which are popular just north, in Hamilton County.
"Roundabouts are very good at moving traffic, but they're not necessarily great for moving people," she said. "So, if we're looking at redeveloping and reinventing an area and helping ensure that it is very pedestrian-friendly, a roundabout may not be the best solution."
The plan also suggests growth in the Castleton Square, Nickel Plate and Howland districts could lead to improvements near Community Hospital North, to the southeast, and the Allisonville Road and Clearwater areas to the west.
But Mack said most of those improvements are years away, although entities like Community Health have already begun looking at ways to improve the Shadeland Avenue corridor.
"The cool thing is, some of this stuff is already been carefully looked at and thought about," she said. "There are things that the city of Indianapolis can champion and lead, but it's really important that those community stakeholders who have been at the table remain active and engaged."
Big ideas
It's not yet clear what specific opportunities developers might find in Castleton.
The financials behind proposals—as well as the city's own infrastructure efforts—are still to be determined. In the revitalization plan, MKSK offered a variety of options the city could chose for publicly funded projects. They include:
◗ Use revenue from the area's existing tax-increment financing district.
◗ Capture private capital investment in Castleton to fund the infrastructure needed to spur further economic activity, through an additional (or expanded) TIF district.
◗ Designate the Howland Ditch area as a Flood Control Improvement district, opening additional acreage for development and creating funding opportunities.
◗ Find community partners, stakeholder partnerships and other economic improvement district tools.
For development that would be mostly driven by private dollars, the plan recommended the city partner with real estate companies to market properties that would be best suited for improvement. It also suggested the city use its own toolkit—site assembly, infrastructure and land use amendments—to motivate developers to pursue projects on vacant properties.
"There's an awful lot of moving parts to this study," Boots said. "I definitely think it's doable. … The reaction to it has been nothing but positive."
"Long term," he added, "I see this as a transformation that will be for generations to come. And to the extent we get public-private collaborations to develop—those are multiyear-projects."
He would like to see some work, including beautification along 82nd Street and roadway improvements, begin "in the next year or two."
Boots also said he is open to providing "public support and public incentives" to companies that develop in the corridor, through TIF dollars, tax abatements and training grants.
"They've certainly gone after a problem here that needs to be tackled—the future of Castleton," said CBRE's Perlstein. "And they've addressed it extremely well."
But, he said, there is still reason to be skeptical of whether the plan will go as far as it hopes.
"It's funding, it's reality, it's timing, it's all those things that are going to go into play when you're looking at a major development such as this," he said. "There's hurdles there."•
Please enable JavaScript to view this content.