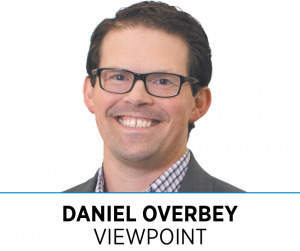 If Indiana is serious about making the cost of living more affordable, we need (and deserve) an updated energy code.
If Indiana is serious about attracting businesses to the state, including encouraging small businesses, policymakers need to update our energy code.
Our state energy code is one of the most archaic in the country, and we are all paying a price for it.
That is why the Indiana Chapter of the American Institute of Architects, on behalf of its more than 850 member architects across the state, is asking the Indiana Department of Homeland Security's Fire Prevention and Building Safety Commission to update Indiana's energy code, which was last updated in 2010. To put that into perspective, our energy code has not been revised since the Colts last made it to the Super Bowl and Peyton Manning was our quarterback.
Our energy code—like all building-related codes—sets a minimum standard for designers and builders of commercial buildings, including condominiums and apartment complexes. It includes things such as minimum standards for the amount of insulation required, airtightness, efficiencies of mechanical systems and more.
An updated energy code could save Hoosiers money. If Indiana regularly updated its energy code every three years, each update could save an average of 5.9% in annual energy costs, while increasing construction costs only an average of 0.39% per update. This is according to a recent Ball State University study in collaboration with industry partners across central Indiana. As an architect and researcher who specializes in sustainability, I was the principal investigator for the study and saw the data firsthand. Based on the findings of the study, it is difficult to understand why anyone would oppose an updated energy code.
Building codes, including our energy code, ensure Hoosiers have safe, affordable, energy-efficient places to live and work. According to Prosperity Indiana, 71% of the poorest renter households are severely housing-cost-burdened, spending more than half of their incomes on housing costs, such as rent and utilities. As energy costs across the state continue to increase, the cost burden has fallen disproportionately on those Hoosiers who can least afford it.
To be fair, a lot of companies and organizations recognize the value of energy efficiency and are designing buildings that far exceed the minimums required in Indiana's outdated code. The city of Indianapolis, Indiana University Health and Ivy Tech Community College—just to name a few—have committed to using higher energy standards, such as LEED certification, in all their new buildings.
For a variety of reasons, many companies and organizations must focus on building at the minimum standard for the lowest cost possible. However, when there is separation between the initial investors and the tenants who take on the higher utility cost burden, we find a disconnect in the financial construct that can be addressed effectively by elevating the minimum standard set by our energy code.
Updating the energy code is just common sense. It also makes economic sense.
Indiana's energy costs are forecasted to continue the upward trend we have experienced over the past two decades. As rates go up and as buildings continue to be constructed using an energy-efficiency standard developed nearly 20 years ago, those Hoosiers who can least afford it are the ones carrying the greatest financial burden. One way we can help lessen the burden is to reduce energy costs. We just need an updated energy code to start making progress.•
__________
Overbey is president of the Indiana Chapter of the American Institute of Architects.
Please enable JavaScript to view this content.