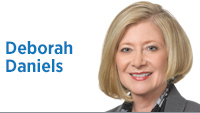 I have been following with interest President Biden's nomination of Judge Ketanji Brown Jackson to the U.S. Supreme Court.
Biden promised during the presidential campaign that, if elected, he would nominate a Black woman to the Supreme Court. I dislike such campaign pledges as I consider them cynical political ploys to garner votes from a particular constituency (in a word, pandering).
I recognize that Biden is not the first to make such a campaign pledge; less than a month before the 1980 election, Ronald Reagan promised that, if elected, he would appoint a woman "to one of the first Supreme Court vacancies in my administration" and that he would also appoint other women to the federal bench.
True to his word, Reagan appointed Sandra Day O'Connor to the high court. She served with great distinction until her retirement in 2006. He also appointed many other women to the bench, including Judge Sarah Evans Barker here in the Southern District of Indiana.
While I question whether it is appropriate to make demographically focused promises during the course of a campaign, I fully agree that it is high time the high court had both more women and more people of color on it. To have the credibility needed to accomplish its task—to have its decisions respected by the diverse American public—the court must look more like America.
Further, it is critical for young women, and in particular young women of color, to see the achievements of people who look like them and, as a result, envision themselves achieving similar goals. As Indiana Supreme Court Chief Justice Loretta Rush has said, "You have to see the robe to be the robe."
Now that Jackson has been nominated, I have concerns about the nomination process she will face. Throughout most of the life of this country, it was understood within the U.S. Senate, whose role it is to "advise and consent" to the appointment of federal judges, that elections have consequences.
In the past, a president's nominees were not rejected for political reasons, but only if they were deemed intellectually unqualified for the role. In 1986, Justice Antonin Scalia was confirmed by a 98-0 vote.
Beginning with the nomination of Judge Robert Bork in 1987, all that changed. Bork, a renowned conservative legal scholar and federal appellate court jurist, was rejected in a bitter nomination battle. For the first time, a nominee was attacked and defeated because members of the opposing party in the Senate didn't like his philosophical leanings.
The venomous attacks on Bork culminated in Sen. Edward Kennedy's famously arguing on the Senate floor that "Robert Bork's America is a land in which … Blacks would sit at segregated lunch counters, rogue police could break down citizens' doors in midnight raids, and schoolchildren could not be taught about evolution." "To Bork" became a verb.
After that, both parties stopped even trying to disguise the basis for their opposition to Supreme Court candidates nominated by the opposing party's president. No weapon, including character assassination, now seems to be off limits to keep people of opposing philosophies off the bench.
Exceptions have occurred: Justice Ruth Bader Ginsburg was confirmed in 1993 by a 96-3 vote. But that, indeed, was an exception.
I sincerely hope we will see a dignified confirmation process, one that is worthy of the office and the person of intelligence, integrity and achievement who has been nominated; and that senators will base their votes on her qualifications, not on her philosophical leanings.•
__________
Daniels, an attorney with Krieg DeVault LLP, is a former U.S. attorney, assistant U.S. attorney general, and president of the Sagamore Institute. Send comments to ibjedit@ibj.com.

Click here for more Forefront columns.
Please enable JavaScript to view this content.