An unmarked white truck pulled into the parking lot across from Brookside Community Church on East Tenth Street and slid open its doors.
Soon people began lining up, handing over used syringes from injected drugs. In exchange, workers inside the truck from the Marion County Department of Public Health handed each person a bag filled with clean syringes, alcohol pads, hand sanitizer, adhesive bandages and soap.
Last year alone, Marion County handed out 199,960 new syringes, free of charge, using donated funds, in a massive effort to keep drug users from sharing needles and spreading disease.
"When people want to get high, they take stupid chances," Kasie Kemper, 37, of Indianapolis, said as she stood in line. "I've seen seven people use one needle."
But while Marion County is watching its numbers rise since rolling out the syringe exchange in 2018, and last year reauthorized the program for another two years, a much different situation is unfolding about 90 miles to the south.
Scott County, which was the center of a huge outbreak of HIV in 2015, is considering whether to close the syringe exchange program that was widely credited with curtailing the crisis.
The county's three commissioners are expected to vote on June 2 on whether to continue the program. In doing so, they are resurrecting an old debate over whether syringe-exchange programs do more harm than good.
Some officials and residents say the program encourages drug use and leads to needle littering and crime.
Scott County Commissioner Mike Jones has voted twice to shut down the program and remains no fan of providing needles to drug users.
"I'm not going to assist people killing themselves," he wrote on Facebook earlier this month. "…We need to take our county back from the stigma of this program."
He added: "I don't know … how you get to somebody to say, 'Enough's enough,'"
Many public health officials say Scott County will be taking a huge step backward if it shuts down the program.
Dozens of Indiana health providers and researchers have signed a petition urging the county to keep the program going, saying it saves millions in taxpayer dollars and provides "essential, life-saving services" for people at risk of HIV, hepatitis C, skin and soft tissue infections, endocarditis and fatal overdose.
The syringe-exchange program, they wrote, "is the only program standing in the way of another epidemic."
And if that happens, the cost could be enormous, they warn. Hepatitis C is an often-deadly liver disease linked to injection drug use and dirty syringes. The cost to treat the illness can run as high as $60,000 for a 12-week treatment.
The lifetime cost of treating someone with HIV, which can also be transmitted through dirty needles, can be hundreds of thousands of dollars.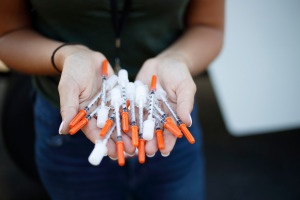 Six years ago, Scott County generated headlines around the country for racking up more than 237 cases of HIV in a single year in a county of just 24,000 people.
Republican Mike Pence, then governor, was criticized for resisting calls to allow the county to set up a syringe-exchange program. He finally relented, signing an executive order that allowed a state-supervised program.
"He waited 'til it was too little, too late," Gregg Gonsalves, an HIV researcher at Yale University, told Kaiser Health News last year. "These needle exchanges were put into place in the most grudging manner. It was a disaster that didn't need to happen."
Dr. Jerome Adams, who was Pence's state health commissioner during the outbreak and later U.S. surgeon general under President Trump, has joined the call to keep the Scott County syringe program alive.
"We can't afford to go backwards," Adams wrote on Twitter earlier this month. "So many worked so hard to make this syringe service program happen [and] to create a template for the rest of rural/middle America to connect people to care. I hope cooler heads prevail."
Adams even appeared at a public meeting with his state successor, Dr. Kris Box, urging local officials to keep the program going.
Crisis leads to change
For decades, Indiana was among nearly two dozen states to criminalize the distribution or possession of syringes without a prescription. But the Scott County crisis changed everything.
To avoid similar outbreaks, more than 300 cities or counties across the U.S. have set up syringe-exchange programs over the past few years.
But now, there's a pushback in some parts of the country, with laws that restrict or tightly regulate syringe exchange.
Last month, West Virginia passed a law that would require participants to show an identification card to get a syringe. Another provision requires needles to be marked with bar codes.
The law's Republican supporters say that would help identify needles that are left lying on the ground instead of being returned to the syringe exchanges. They say needle litter is a growing problem and some exchanges are behaving irresponsibly.
But Democrats in the West Virginia Legislature argued the restrictions would only curtail use and exacerbate a growing public-health problem. The state is undergoing one of the nation's highest spikes of HIV cases related to intravenous drug use.
In North Carolina, lawmakers are debating whether to ban mobile exchanges and require engraved needles and background checks. Meanwhile, opioid overdose deaths are soaring to an all-time high.
The U.S. Centers for Disease Control and Prevention has urged state and local health departments to improve access to syringe-exchange programs, saying the sharing of needles is a "horrifyingly efficient route for spreading HIV, hepatitis and other infections."
The Indiana State Health Department strongly supports needle-exchange programs, calling them an important way to engage with addicts, get them into treatment, and reduce the spread of disease.
In 2015, in the wake of the Scott County crisis, Indiana passed a law allowing state government to approve syringe exchange programs for counties on a case-by-case basis. Communities that wanted to launch a syringe-exchange program had to make a case to the state health department for why it was needed.
But that was soon seen as too cumbersome, and in 2017, the Indiana General Assembly passed another law that streamlined the process.
Under the new law, counties could launch programs on their own, following a two-step process. The first step was for the local health department to declare a health emergency. The second was for the city or county council to vote to set up a program.
So far, nine counties in Indiana, representing nearly one-third of the state's population, have set up syringe-exchange programs.
Marion County joined the group in 2018, a process that started when Dr. Virginia Caine, Marion County's public health director, declared an epidemic of hepatitis C as cases began to rise. Weeks later, the City-County Council voted unanimously to set up a syringe-exchange program.
Story continues below graphic.

Starting off slowly
Since Marion County rolled out the program two years ago, more than 1,000 people have registered for needle exchanges.
But the program started slowly. It took about six months to raise the money to buy the supplies and equipment, since federal law prohibits health departments and other programs from using federal money to buy syringes that will be used to inject illegal drugs.
Marion County eventually raised more than $3 million to cover its program costs for three years. The largest single contributor was the Richard M. Fairbanks Foundation, which gave $1.5 million.
Eager to set up mobile sites, the Marion County health department obtained a box truck and established two locations where it would make weekly stops: one near Brookside Community Church and another at the Damien Center on North Arsenal Avenue.
The truck, equipped with medical supplies, also offers health screenings and educational information.
In 2019, the first year of operation, the program attracted just 182 people. But that was to be expected, said Madison Weintraut, a nurse epidemiologist who set up the program and is its director.
"You can see how coming to a program where you're admitting illicit drug use could give some people some hesitancy," she said. "But once a client comes to the van and checks it out and sees it's safe, they go back and tell their friends, and they bring somebody the next time and then that person brings another."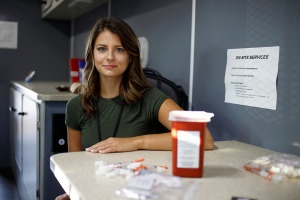 In 2020, the number of registered participants jumped to 529. And so far in 2021, more than 400 more people have shown up and registered for the program. Many visit the truck weekly to trade old needles for new ones.
The truck also offers testing for HIV and hepatitis C, immunizations, and educational information on drug recovery.
Last year, the 25-member City-County Council renewed the program for another two years, again by unanimous vote.
But in Scott County, where 350 participants received 137,730 syringes last year, some officials say the program is no longer necessary.
"Scott County does not need this anymore," Jones, the commission president, wrote on Facebook. "Tired of being asked about needle exchange. Tired of this hurting this community."
Another commissioner, John Lizenby, said he supports the needle exchange but acknowledged it is controversial.
"People say it's left a black mark on our county," he told The Courier-Journal in Louisville.
A third commissioner is new and hasn't said how he will vote.
Pouring gas on a fire
State Rep. Ed Clere, a Republican from New Albany, was the primary sponsor of the bill allowing county needle-exchange programs. He warned that dumping the syringe exchange program would almost certainly lead to a resurgence of hepatitis C in Scott County.
"It would be like pouring gasoline on a fire," Clere said.
Some counties have rolled back their syringe-exchange programs only to quickly reverse course.
In 2017, Madison County voted to end its program, managed by the county health department, after receiving complaints that it had resulted in thousands of needles left on streets, in parks, in parking lots and around the town.
But a year later, alarmed by rising rates of opioid overdoses, Madison County commissioners unanimously voted to relaunch the needle-exchange program for two years, this time through a contract with Aspire Indiana Health, a not-for-profit health care and social services agency.
That decision followed an Indiana State Department of Health study that showed that, from 2015 to 2017, the number of hepatitis C cases in Madison County had actually doubled.
Last month, Gov. Eric Holcomb signed a bill that extends the authorization of Indiana's syringe exchange programs to 2026. It had been set to expire next year.•
Please enable JavaScript to view this content.