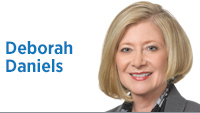 The boundaries that have separated Indiana into individual cities, towns and counties throughout the state's existence are arbitrary and wholly unrelated to growth patterns and economic development opportunities. We are a regional economy; yet our county-based system persists.
Further, though evidence abounds that economic prosperity in central Indiana drives the fortunes of the entire state, a degree of provincialism continues to dominate our General Assembly's decision-making process. There has long appeared to be a certain resentment of central Indiana in more rural counties, who seem to feel that central Indiana gets more than its share of the "goodies," to their detriment.
The truth is that the rural communities will surely fail if central Indiana as a region is less than strong and vibrant.
Our counter-productivity leads to an extremely low level of economic mobility for those living in poverty. National data shows that while other communities such as greater Denver, Pittsburgh and Austin, Texas, have decreased the percentage of those in poverty by 15% or more over the past 5 years, the rate of poverty in the metropolitan Indianapolis region has increased by 6% over that same time period. This is a central Indiana problem, not an Indianapolis problem. And as goes central Indiana, so goes the entire state.
There is only one way to solve our poverty problem: attract new investment and provide for statewide prosperity. We must grow our way out; we can't just fight over an increasingly limited pie. That growth requires investment in strong infrastructure and an environment that is appealing to both young, talented people and the forward-leaning companies that employ them. The benefits, in the form of increased tax revenues, will flow throughout the state.
Marion County in particular has long been challenged with aging infrastructure problems. It is significantly disadvantaged by the way in which road funding is distributed throughout the state, as a direct result of decisions made by the General Assembly decades ago.
State funding for infrastructure improvement is biased against bigger communities. The portion of the gasoline tax that goes to counties is distributed not based on actual vehicle miles traveled, but on center lane miles. So a rarely-traveled 2-lane road in rural Indiana yields just as much money from the state as a busy six-lane highway in central Indiana bearing the heavy, pot-hole-causing truck traffic that is essential to the entire state's well-being. Seriously.
Some 35 years ago, the county option income tax was created to try to capture some revenue from those earning their living in one county, and using its roads, police and fire services, and other benefits, but living outside the county. As structured by the Legislature, the COIT would capture some local income tax for the county of employment of these individuals—unless their county of residence also adopted a COIT. What happened? You guessed it; every county in the state now has a COIT, so 100% of local income tax goes to the county of residence.
This occurs despite the fact that a full 23% of the Marion County workforce lives outside the county. About $130 million in taxes from Marion County wages are distributed outside Marion County.
Why does this anti-central Indiana (and anti-Indianapolis) bias remind me of people who set their own neighborhoods on fire to protest some perceived injustice?
We must work closely together as a region, and increase the level of statesmanship at the General Assembly, if we hope to solve these problems. We are all in this together, and the future of the entire state is at stake.•
__________
Daniels, a partner at Krieg DeVault LLP, is a former U.S. attorney, assistant U.S. attorney general, and president of the Sagamore Institute. Send comments to ibjedit@ibj.com.

Click here for more Forefront columns.
Please enable JavaScript to view this content.