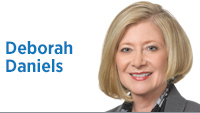 I think I might have stumbled upon one of the factors that prevents those of differing political/social philosophies from being able to engage in rational discussion.
It's the labels we use to describe areas in which we disagree.
For example, those on the left tend to use the term "gun control" to describe a vast universe of desired changes in our gun laws. Granted, some on the far left actually propose to ban guns entirely—but, if only because that would be impossible to achieve, few actually advocate for this.
Those on the right tend to view "gun control" as an attempt by the left to take away the Second Amendment rights of Americans, even when the debate is over something fairly benign, like universal background checks for commercial gun sales. The debate around military-style assault weapons is even more intense. I wonder: If fully automatic weapons had not been banned long ago, would an attempt to prohibit personal ownership of machine guns be resisted now, based on this same theory?
It seems to me that, if we avoided divisive labels like "gun control," it might be possible to have a more reasoned debate on at least some issues.
Another label that has recently been adopted by some, and that has similar potential for divisiveness, is the phrase, "Defund the police."
Only a small fraction of the population actually thinks it makes any sense to actually defund police departments to the point of reducing coverage. You can be assured that people living in high-crime areas do not desire a reduced police presence. Most of those who advocate for "defunding" the police really just want to see a less militaristic approach to situations involving mental health crises.
While I disagree that it should be a zero-sum game, I do agree that many confrontations to which police are dispatched do not require armed officers. I perceive that police officers also agree that they are ill-equipped to manage a mental health crisis and wish they could have the assistance of mental health professionals in these situations.
Unfortunately, the insistence of some advocates on using the divisive term "defund the police" tends to stop reasoned discussion of options before it starts. The use of a more neutral term—better yet, the avoidance of any label at all—might make it easier for police and community advocates to come together on an issue on which I suspect they have more agreement than we realize.
The latest label to crop up is "critical race theory." According to some scholars, critical race theory emanates from Marxist theory relating to what was deemed the necessary revolution of the proletariat against capitalist oppressors. Indeed, some who espouse critical race theory—generally described as the belief that racial bias is a social construct embedded in our legal systems—believe that opposing racism necessarily includes opposing capitalism.
All the hype about critical race theory leads some to fear attempts to educate students realistically, acknowledging our society's history of slavery and other injustices toward Blacks even while focusing on the high ideals expressed by the Founders and our nation's continued, if unfinished, progress toward achieving those ideals. Fear of the term's implications even leads some to oppose workplace discussions of unconscious bias and the benefits of diversity, equity and inclusion.
How and what we teach our children, particularly when they are young and impressionable, is understandably of concern to all parents. But the use of divisive terminology precludes reasoned discussion about the appropriate and just path to racial fairness.•
__________
Daniels, an attorney with Krieg DeVault LLP, is a former U.S. attorney, assistant U.S. attorney general, and president of the Sagamore Institute. Send comments to ibjedit@ibj.com.

Click here for more Forefront columns.
Please enable JavaScript to view this content.