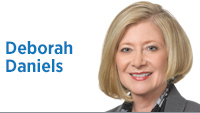 International Holocaust Remembrance Day is an annual commemoration of the horrors of the Holocaust perpetrated by the leadership of Germany long ago. German government officials actively participated in the day's events this year, discussing openly the wrongs committed by other Germans nearly 90 years ago.
Their acknowledgement of the deeds of others many decades ago is not for the purpose of public shaming, but for teaching the evils of antisemitism and the greater evil it can lead to, in the interest of a better today and tomorrow for all.
Visiting Nuremberg, Germany, a few years ago, I was impressed at the country's deliberate effort to educate people of all ages about what happened in the Nazi era. Years before, as a youth touring Dachau, I was similarly impressed that the government, rather than hiding or sugarcoating the truth, revealed it in full to young people and adults alike. The sign at the entrance to this notorious concentration camp read "Nie Wieder"—Never Again—demonstrating the country's determination to influence the future by learning from the past, and never again to condone such heinous acts.
An inscription on the National Archives Building in Washington, D.C., reads, "What is Past is Prologue," bringing to mind the words of philosopher George Santayana: "Those who cannot remember the past are condemned to repeat it."
I am now seeing legislation in Indiana and other states that, on its face, might appear to prevent racist or sexist teaching in schools but in fact would likely chill the ability of our schools to provide students with the truth about some dark periods in our own past.
In a bill passed by the House, language prohibiting the use of "instructional materials" that would "promote" certain "concepts," including "that any individual should feel discomfort … on account of the individual's sex, race, ethnicity, religion, color, national origin, or political affiliation" is wide open to interpretation.
The bill permits civil lawsuits against a school based merely on a perceived violation, and it raises the specter of criminal prosecution of a school for disseminating "material harmful to minors"—a definition previously reserved for pornographic material. Ironically, though the legislation has been introduced by Republicans, this smacks of the so-called progressives' "safe spaces" concept, suggesting that we must protect young people from anything that makes them at all uncomfortable.
Sharing truthful information about our history, some of which might indeed cause discomfort, does not prevent schools from also teaching the positive lessons of our country's founding, its constitution and the many good people who have defended its principles.
Shielding our children from the less-fortunate truths will not prepare them to be good citizens. Their ignorance will instead encourage them to believe untruthful propaganda spread on social media and elsewhere, simply because they don't know any better. The purpose of education is to share facts and encourage informed analysis of ideas.
The movie version of "To Kill a Mockingbird" was released when I was 11 or 12, and I attended a showing at a local church. I was moved by its powerful lesson that prejudice against "the other"—not just Tom Robinson because he was Black, but also Boo Radley because he was different—is an evil we must each avoid in ourselves. And now this important book has been banned or removed from reading lists at several schools—as has "Maus," a Pulitzer-winning graphic novel about the Holocaust—evoking images of Nazi book burnings in the 1930s.
Those who cannot remember the past are condemned to repeat it.•
__________
Daniels, an attorney with Krieg DeVault LLP, is a former U.S. attorney, assistant U.S. attorney general, and president of the Sagamore Institute. Send comments to ibjedit@ibj.com.

Click here for more Forefront columns.
Please enable JavaScript to view this content.