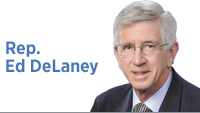 Our Republican governor is quite busy inviting businesses to come to Indiana and invest, creating jobs for Hoosiers. That is a big part of his job description. But Eric Holcomb's own political party is undercutting his efforts in multiple ways.
Two bear attention today. First, Republican legislators are denying him the authority and financial resources needed to attract investment. Second, the same legislators are making Indiana unattractive by way of their harsh social agenda, which has even included threats of increased regulation of business.
◗ Undercutting job attraction efforts
The governor clearly wants to attract large-scale investments in Indiana. He can see that our leading position in traditional manufacturing is at risk. The really big investments in the automotive industry are going to Michigan and states south of Indiana. Newer sectors like pharmaceuticals and technology are going to states that have put more emphasis on higher education.
So, the governor asked the Legislature for two assists. The first was simply to put more dollars behind economic development efforts at the state level. The second ask was for more state-level control of investment efforts.
The response has not been positive. The Legislature seems prepared to add some $300 million to the governor's war chest. It rejected my effort to create a governor's fund of an additional $400 million that he could deploy to attract investments of statewide impact. With those funds, the state (not the localities) would have had $1 billion to attract new investment. The amendment was rejected
At the same time, the governor's effort to increase his ability to attract investment by giving him the majority on the board controlling his new Innovation Development Districts was rejected. Local governments convinced the supermajority to give local units of government an effective veto over large-scale projects, despite the possibility of using mostly state funds for these projects. These two mistakes are not likely to be corrected in the waning days of this year's legislative session. One can only hope.
◗ What is the message to potential investors from our social agenda?
Indiana took a national hit to its image in the ill-fated RFRA debate under Gov. Pence. Our present governor has tried to stay out of this arena, but the Legislature is not cooperating. It has focused on an attack on transgender students under the pretense of fears for female athletes. These fears don't come from the athletes themselves, only from ideologues and special-interest groups. Potential investors will easily see through this maneuver.
There might be a ray of light. The other most current social issue includes an attack on the efforts of businesses to protect employees and customers via inoculation against COVID. The bill, which would add to state regulation of business, seems to be hanging by a thread. I hope we cut the thread. If we do, we can distinguish ourselves from fanatical states like Texas, Florida and Missouri. We were known as Hoosiers after all: reasonable and moderate folk.
The consequences of all this are becoming clear. Large Indiana businesses are expanding in other states (no names need be mentioned). National firms are choosing our neighboring states (just look at Intel's investment in Ohio, not far from Ohio State University). If we would fund our economic development efforts and let the governor lead, we might get better results.
We could top this off by supporting public education from preschool through college. That is yet another fight Indiana is losing, making us that much less attractive for investment.•
__________
DeLaney, an Indianapolis attorney, is a Democrat representing the 86th District in the Indiana House of Representatives. Send comments to ibjedit@ibj.com.

Click here for more Forefront columns.
Please enable JavaScript to view this content.