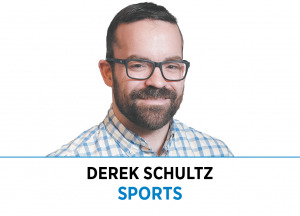 Once all easily found on your local dial, it has become a challenge to track down Indy TV alumnae Meghan McKeown, Taylor Tannebaum and Tricia Whitaker.
Finally able to secure a 30-minute window from jet-setting to sporting events around the country, McKeown joined the call from her new home office outside of New York City, far from the Big Ten Network studios but closer to additional opportunities; Tannebaum from a beach in North Carolina, enjoying the final calm before the ACC college football season storm; and Whitaker while driving around metropolitan Tampa, a venti iced coffee in hand instead of the customary microphone, as the MLB All-Star Break allowed her only a 72-hour respite from ballparks the entire summer.
While they no longer share a ZIP code, these three women share fledging sports media careers, each increasing in regional and national prominence. They also share a unique bond, arriving to Indianapolis as strangers and TV competitors at WISH, WTHR and WXIN/WTTV, but leaving as ardent supporters of one another and close friends.
"I had no idea what I was doing," admitted McKeown, as she recalled sitting alone in the Indianapolis Colts' media trailer during training camp, her first assignment in Indianapolis. "There was one person who was so nice and welcoming to me, and it was Tricia," she said. "So, I was like, 'Oh, there are actually nice women here [in Indy],' which doesn't always happen in this business."
As each woman grew into her respective role in her first larger-sports-market experience, that female support in Indianapolis was critical. Whitaker was first to arrive in late 2015, returning to her home state (she's a Bloomington native) from Green Bay, Wisconsin, to cover the teams she grew up with for WXIN-TV Channel 59 and WTTV-TV Channel 4.
McKeown followed in 2016, a coach's kid—her father is longtime Northwestern University women's basketball coach Joe McKeown—and former college hooper looking to keep her lifelong love affair with basketball alive at WISH-TV Channel 8.
Tannebaum came last, in the summer of 2018, her first foray into the Midwest after several smaller TV stops around the Southeast, to become the first female sports anchor in WTHR-TV Channel 13 history.
With five stations from four clusters vying for a shrinking number of eyeballs in a local media landscape that is dwindling nationwide, an every-person-for-herself mentality would seem not only defensible, but critical to survival. Instead, these women thrived professionally by lifting one another up.
"Coming to a market where I knew going in there was a female at each station, it was crazy that no one was trying to be overly competitive," Tannebaum said. "It was much more like a 'We're all in this together' type thing. There were plenty of times I was solo without a photographer, and the girls have helped. It just blossomed into a friendship from there."
Leaning on one another
While getting to interview legends like Peyton Manning and cover huge sporting events like the Indianapolis 500 were high points, there were times the resolve of McKeown, Whitaker and Tannebaum was tested. Although the sports-media doors have flown open for women over the past decade, females in the male-dominated sea still navigate setbacks and obstructions, including persistent harassment.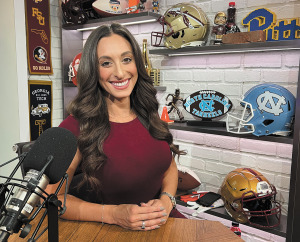 Tannebaum experienced such an incident while flying solo during a live shoot and leaned on her counterparts to get through it. "You can talk about [the harassment] with guys, but it's personal, so it's just not the same as when you share those things with your girls," Tannebaum said. "I know Tricia gets a ton of messages [on social media], and it can be a lot. It helps to have women around you that you can talk to without judgment, because they understand and have your back."
Whitaker had to deal with her position getting eliminated, an ever-present concern in local television. With her contract running out at the end of 2018, a night at a bar with McKeown and Tannebaum changed the course of her professional life.
"Taylor told me while we were out that night that her friend was leaving that job [covering the Tampa Bay Rays for Bally Sports]. I was three glasses of wine in, and I immediately texted my agent and was like, "Hey, can you apply for this right now?"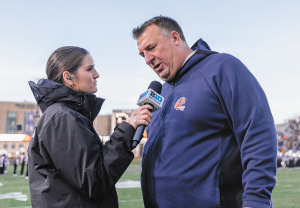 "We were all depressed for Tricia being in that position, because that could've easily been any of us," McKeown said. "But just weeks later, she got the Rays job, and everyone was thrilled."
"Honestly, the only reason I have this job is because the three of us are friends and went out for wine," quipped Whitaker.
'It's a credit to Indy'
Tannebaum was the last of the trio to leave Indianapolis, returning to the Southeast last summer. She recently celebrated her one-year anniversary with the ACC Network. She's the daily host of "ACC PM," with Charlotte sports-talker Mark Packer and former NFL and North Carolina safety Tre Boston, and has been a studio host for a myriad of ACC and ESPN events.
Whitaker is in her fifth season with the Tampa Bay Rays, second season as sideline reporter for Apple TV's Friday Night Baseball and a frequent presence on MLB Network.
McKeown's star has also risen, as she's established herself as a nationally respected collegiate and pro women's basketball analyst, thanks to her work with the Big Ten Network and the WNBA's Chicago Sky. All three women confidently say those job titles wouldn't be possible without one another's support during their time in Indianapolis.
"We helped each other level up our on-camera presence," McKeown said. "Knowing what questions to ask, being a more effective broadcaster. … I would not be where I am without it."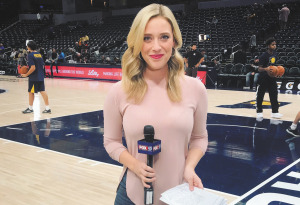 "We've supported each other through some really hectic times in local news, so now for us to be on this level is really special," Tannebaum said. "When they succeed, I feel like I succeed."
"It means a lot that we all came from the same place and went through the same [stuff]," Whitaker said. "When Meghan started doing play-by-play, I started crying. When Taylor called to tell me she got the ACC Network job, I started screaming."
"Besides just the friendship, watching Taylor and Meghan's work has immensely impacted me as a broadcaster," Whitaker added. "Taylor is so good at seeing the human being behind the story, and Meghan is so versatile and can do it all. They've helped me become a better reporter and a better person."
On a lengthy text thread, the three women relay stories from their time together in Indianapolis while digging through old photos. Several states now lie between them, but for a moment it feels like they're back together in the Colts media room—the reminiscences, pictures and all-caps laughing revealing their lasting bond and the city that forged it.
"Any chance I get to mention the fact that I was in Indianapolis—I take it," Tannebaum said. "People make fun of me for it, but it became my home away from home. … I think it's a credit to Indy to see three women come out of there doing what they're doing now."
In an ultra-competitive sports-media world, where everyone is out to get his or her own, they treated one another as teammates. In the often chauvinistic—and sometimes downright vulgar—sports atmosphere, they trusted and supported one another.
Now, as they chart their own career paths individually, the three women continue to ascend to new heights by the only way they've known: together.•
__________
From Peyton Manning's peak with the Colts to the Pacers' most recent roster makeover, Schultz has talked about it all as a sports personality in Indianapolis for more than 15 years. Besides his written work with IBJ, he's active in podcasting and show hosting. You can follow him on Twitter, @Schultz975.
Please enable JavaScript to view this content.