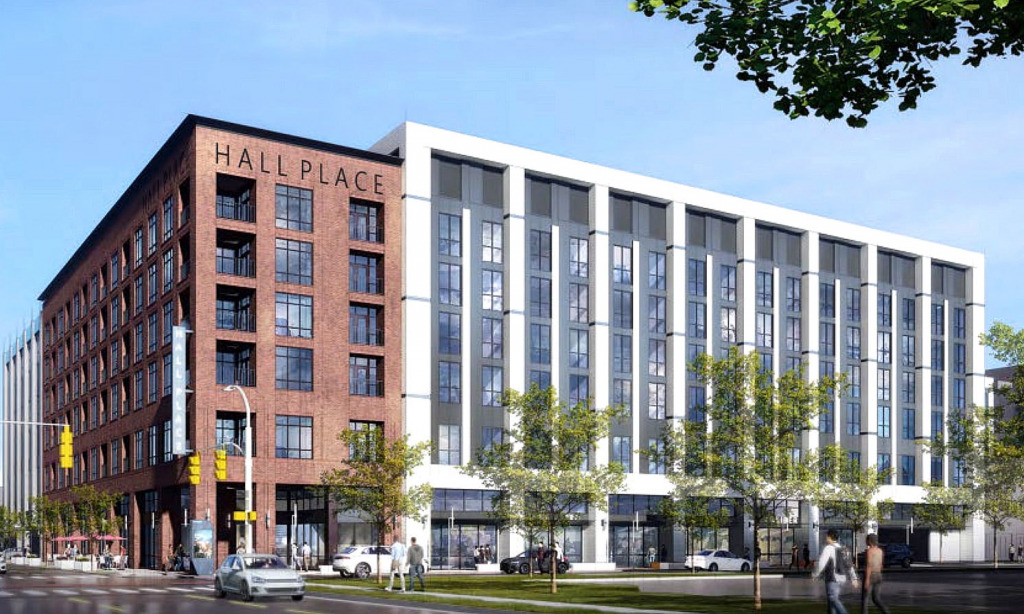 A team of two local developers planning a $79 million apartment project just north of downtown are asking city officials to consider waiving a significant portion of their property taxes over a decade.
Arrow Street Development LLC and Chatham Park Development, which are building the 273-unit Hall Place apartment project at 1720 N. Illinois St. through holding company Hall Place Apartments LLC, have asked for a 10-year abatement on their tax liability. The savings could amount to as much as $10.7 million, according to documents from the city's Department of Metropolitan Development.
Hall Place promises to bring dozens of lower-rent apartment units to the neighborhood northeast of the expanded Indiana University Health campus under construction south of 16th Street.
Up to 41 units will be set aside for individuals and families making anywhere from 50% to 80% of the area's median income. In 2022, half of the average median income for a family of four was $45,650. The rental-rate restrictions would be in place for 15 years.
The project will include 10,350 square feet of office space and more than 1,400 square feet of street-level retail, as well as a 159-space parking garage. It also will feature an open-air courtyard and an outdoor game court.
Previous plans, first reported by IBJ in March 2022, called for more than 300 units, more than 8,000 square feet of retail and a 288-space parking garage, but those were modified after conversations with city planning officials. Hall Place initially proposed an 11-story structure but has since reduced the height to seven stories.
The developers are partnering on the project with Los Angeles-based Standard Real Estate Investments, a firm that specializes in providing capital to multifamily developments from minority companies, like Arrow Street.
According to the filings with DMD, the project is expected to have an assessed value of about $58 million upon completion. During the 10-year abatement period, Hall Place Apartments LLC would still pay about $2.53 million in property taxes. The abatement rate would begin at 100% in the first year, before declining by 5% annually over the four years that followed; in years five through 10, the abatement would be 80%.
After the abatement period, the annual tax liability on the development would be about $1.37 million. The 2-acre parcel on which the project is being developed is currently tax-exempt.
The abatement request is set to be heard by the Metropolitan Development Commission during the panel's Wednesday meeting. The project is expected to break ground in the next few months, with completion expected in the first quarter of 2025.
Hall Place is the second phase of Arrow Street's plans for the area near IU Health's  consolidated downtown campus, which will add about 44 acres to the hospital's footprint, extending it from 16th Street south to 12th Street and from Capitol Avenue west to Interstate 65.
The first project from Arrow Street, a 244-unit property known as Wesley Place, is now under construction directly across Illinois Street from the Hall Place property.
A representative for Arrow Street did not return a call requesting comment Monday.
CSO is the design firm on the project.
Please enable JavaScript to view this content.