West Lafayette-based IG Development has proposed building a $60 million apartment complex with 408 units on the site of a radio tower and transmission facility in Whitestown.
Indianapolis-based Emmis Communications Corp. rezoned roughly 57 acres of its radio-transmission facility at 5875 Perry Worth Road in February to allow for mixed-use, commercial, office and residential developments. IG Development Owner David Hood has submitted conceptual plans to bring 10 apartment buildings and a clubhouse full of community amenities to the site aimed at young professionals.
Pending design approval, Hood said work on "The E" could start next spring so residents are able to start moving in by late summer 2023.
"We're targeting people that are getting away, moving out of the city now that there's more work at home," Hood said. "That's our main target."
The E's development has been planned in two phases. The first phase will bring 72 one-bedroom, 120 two-bedroom and 12 three-bedroom units to the southern portion of the property. Hood said those 204 units will range from 1,000 to 1,500 square feet each.
"There's going to be a lot of focus on unit size and the functionality of unit size—bringing something more to the market than studio-type living," Hood said. "There's going to be a little more room, upgraded units, some smart software when it comes to access points of getting into the units."
Each unit will have an oversized balcony with room for furniture and gathering space. Other features include walk-in closets, solid-surface countertops, dedicated work-from-home areas and more.
Hood said The E's clubhouse is set to feature a pool, a media center, a large fitness center and more. The site is also planned to feature walking trails around the complex. Although he's yet to determine rental rates for the project, Hood declined to use the word "luxury" to define the apartment type.
"We're not looking to be sub-standard, not looking to be standard," Hood said. "We're looking to be a step above it."
The project's second phase is scheduled to include the same number and types of apartment layouts as the first phase by the end of 2024. The project's timelines are contingent upon the town's planned improvements to the nearby Perry Worth Road and a future road through the property, to be called Junior's Way.
Hood said he has verbal commitments from the town that those road projects will be completed on time and will allow his multifamily project to proceed as planned.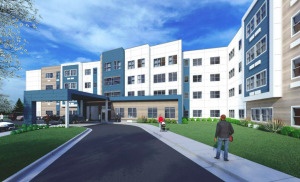 The project's development plans are scheduled for review by the Whitestown Plan Commission on June 12.
Kate Snedeker, on behalf of Emmis, said this isn't the first development in store for the transmission site. The company has already sold 5 acres along the northeast corner of its original 70-acre property to allow for the construction of a senior living facility.
Community Reinvestment Foundation, an Indianapolis-based not-for-profit, is building a roughly 33,000-square-foot, four-story assisted living facility with 126 units on the south side of New Hope Boulevard. The project, called Glasswater Creek of Whitestown, is scheduled to open later this year.
Snedeker said Emmis plans to remove the towers and transmission facilities that currently broadcast WFNI-AM 1070 as more and more of the property is developed.
"We are currently exploring other broadcast sites for 1070," Snedeker said in an email.
Please enable JavaScript to view this content.