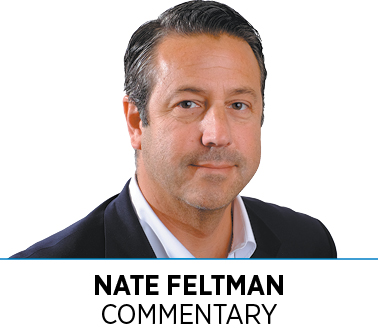 If you ventured downtown anytime during the last couple of weeks, you noticed that just about every business in the downtown core made the decision to board up its windows ahead of the presidential election. The possibility of a Trump victory, coupled with the anticipated grand jury decision in the Dreasjon Reed case, drove fear among business leaders that violence and destruction could return to downtown.
In the Nov. 15 edition of the Indy Star, columnist James Briggs placed blame on the downtown business community for deciding to board up windows ahead of possible violence. He questioned the businesses' commitment to the recovery of downtown, saying "… the decision by businesses, landlords and property owners to board up downtown ahead of Election Day has been nothing short of destructive. The most frustrating part about all the window boarding is that it came from a posture of unfounded fear."
Unfounded fear? Has Mayor Joe Hogsett done something I missed to instill confidence in our community that the riots, property destruction and homicides we experienced earlier this year will not occur again? Remember, ours is a city that avoided unrest in the wake of Martin Luther King Jr.'s assassination in 1968 while other cities burned. Not once did Briggs mention the role of Hogsett and his responsibility for public safety. To lay blame for downtown's struggles on the business community is ludicrous and irresponsible.
If the downtown business community had confidence that its property would be protected, business owners would not board their windows. Unfortunately, the mayor has not provided reassurance that businesses won't once again face losses at a time many of them are facing economic calamity due to the impact of COVID-19 and downtown rioting.
What do people do when they have no confidence that they and their property will be protected? They help themselves. Downtown businesses are investing in plywood, shatter-proof windows, security cameras, private security and hurricane shutters like you see in New York's electronics district.
There is no more basic responsibility of government than public safety. While we often look to our political leaders for a vision and ideas to move our community forward, the nuts and bolts of running the city is job No. 1. That includes public safety, education, economic development and roads.
On the public-safety front, the mayor is failing. Indy this year set an unwelcome record. Homicides have hit an all-time high, surpassing 200. The previous record was 179 in 2017 (also under Hogsett's watch). At this rate, we are projected to reach 220 homicides by the end of the year—a nearly 20% increase over last year.
One of the first changes Hogsett made when he became mayor was to eliminate the job of public safety director. As a result, the police and fire chiefs report directly to him. Hogsett said he intended to become Indianapolis' "Public Safety Mayor." Clearly, this move has not worked. Indy no longer has any one person whose job it is to think about public safety 24/7.
We are on our way to a COVID-19 vaccine and effective treatments that will pave the way for the return of our sports and convention business next year. But if the mayor does not take steps to ensure a safe downtown, our convention and sports businesses will soon find a new home and give suburbanites more reasons to avoid downtown.
Act now, Mayor Hogsett. Hire a strong public safety director with a proven track record and ensure businesses that they no longer need to board up.•
__________
Feltman is CEO of IBJ Media and a shareholder in the company. To comment on this column, send email to nfeltman@ibj.com.
Please enable JavaScript to view this content.