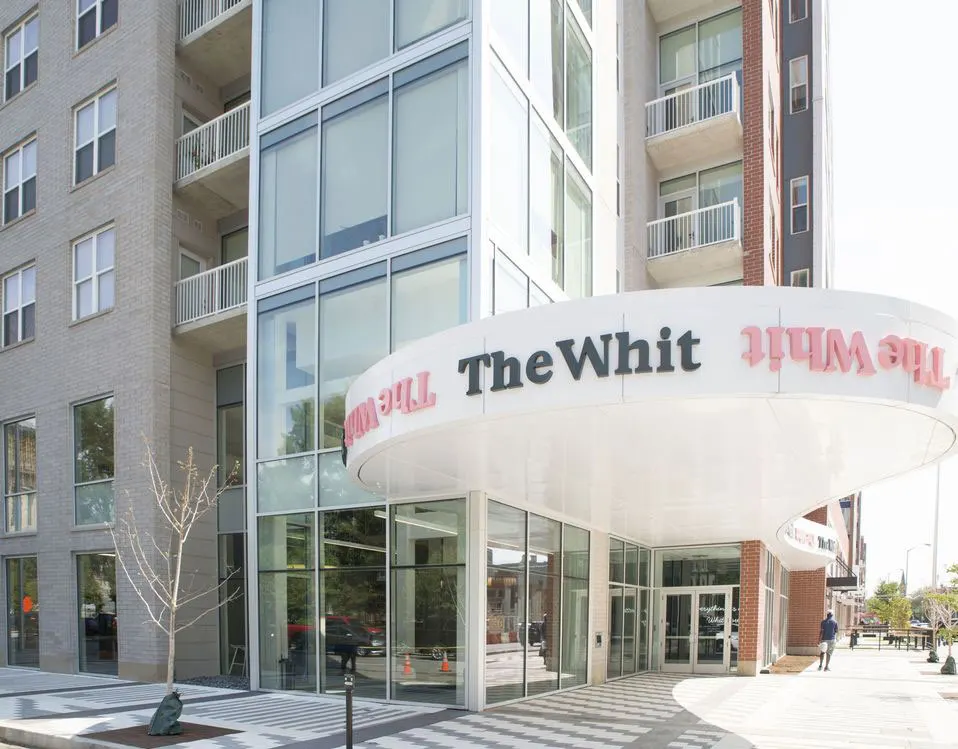 One of the largest apartment properties in downtown Indianapolis has changed hands, but its ownership and management will remain local.
Indianapolis-based Zidan Management Co. acquired The Whit, a 334-unit property at 307 N. Pennsylvania St., earlier this month from an ownership group consisting of TWG Development LLC co-founder and CEO Tony Knoble and his family members.
While Knoble declined to share the exact sale price, he said the property sold for more than $120 million—making it what is believed to be the largest single-property apartment sale in Indiana history.
Zidan assumed management of The Whit late Tuesday, taking over for TWG, which had managed the property since it opened in 2019. Zidan retained almost the entire operations staff as part of the management transition.
The nine-story property features studios and one-, two-, and three-bedroom units with rents ranging from about $1,100 to $3,500 per month. It also has a 540-space garage and a retail tenant in the 16-Bit Arcade+Bar.
TWG built the $70 million project on a parcel that previously was home to offices for The Indianapolis Star for more than a century.
The Whit was initially supposed to be the second phase of a massive development known as Pulliam Square, but the first phase—145 apartment units and extensive retail space fronting Delaware Street—were sold to another firm. TWG also redeveloped the former office building at 333 N. Pennsylvania Street into apartments.
The acquisition by Zidan is the company's biggest foray yet in the Indianapolis multifamily market and comes more than 20 years into its operation.
 "The Whit represents a milestone for Zidan Management Group," Raed Zidan, president and CEO of Zidan Management, said in written remarks. "This is our largest acquisition to date, but also [solidifies] ZMG's footprint and commitment in the Indianapolis market."
The property is expected to be a long-term commitment for Zidan, which is trying to secure a foothold in the Indianapolis market.
"Our objective has changed in our company; this is only the first acquisition of this magnitude and there's more to come," Tyler Marker, vice president of marketing for Zidan, told IBJ. "We're trying to put our fingerprint on the Indianapolis market, but we believe in the downtown submarket in particular."
Zidan plans to offer new technological services to residents and to increase engagement. There are also expected to be long-term plans for rent growth at the Whit.
Knoble said the sales price was "better than" the 2020 asking price of $120 million.
"We're very happy with the price—it was what we consider a high watermark for the city as far as the price per unit," Knoble said. "Zidan was great to work with. They were probably the best buyer that we've ever worked with; very easygoing and very straightforward."
Knoble said a few other groups expressed interest in the property, but ultimately couldn't deliver on financing.
Knoble's family bought the property from TWG and the project's other undisclosed partners in March 2021 for about $59.3 million, according to property records, and opted to put it back on the market earlier this year.
In 2020, an Ohio firm bought the 996-unit Riverbend Apartments in the Castleton area for a then-record $97.5 million, preceded by a sale of 1,261-unit Lake Castleton Apartments for about $90.6 million in 2017. And in November 2018, a portfolio of five properties that included Westlake Apartments—the area's largest complex, at 1,381 units—sold for $121.5 million.
The Indianapolis multifamily office of Cushman & Wakefield, led by George Tikijian and Hannah Ott, brokered the deal for TWG.
Please enable JavaScript to view this content.