The developer of downtown's Pulliam Square apartment-and-retail project planned to submit a design to the city on Thursday for its much-anticipated second phase.
Dubbed The Park at Pulliam Square, the $70 million project would be built on the site of the former Indianapolis Star headquarters at 307 N. Pennsylvania St.
TWG Development LLC is set on July 28 to present its plans to the Regional Center hearing examiner, with construction starting in the fall. The project should be finished in spring 2018, TWG President Tony Knoble said.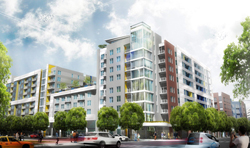 The nine-story building would feature 334 apartment units and 4,600 square feet of office space, in addition to 7,000 square feet of retail space at the corner of New York and Talbott streets, which would be marketed for a restaurant. (Click accompanying image for larger view)
Talbott Street, running north and south, separates Pulliam Square's two phases. The completed first phase fronts Delaware Street, while the second would look out over Pennsylvania Street. The south half of Talbott Street would be converted into a pedestrian walkway lined with trees.
The building would be connected to the parking garage at the southwest corner of Delaware and Vermont streets via a skywalk, enabling tenants to access their vehicles through a covered and secured corridor.
The project also would boast a swimming pool deck on the sixth story overlooking University Park across Pennsylvania Street.
The overall goal of the design was to create a link between the design of the first phase and the park," Knoble told IBJ in an mail; "The facades break down into four similar buildings that then use material changes and height to address the park. The best example of this is the lower facade that will have the pool and patio on top."
Materials on the façade facing Pennsylvania would be a combination of brick, stone, metal and glass. Browning Day Mullins Dierdorf is the architect on the project.
TWG demolished the former Star headquarters after paying $11.25 million in May 2013 to buy the building and its 500-space parking garage from the Star's parent company, Virginia-based Gannett Co.
The developer had hoped to save the building. But its odd configuration of connected buildings with mismatched floor heights ultimately made developing the property into apartments too difficult.
 
Please enable JavaScript to view this content.