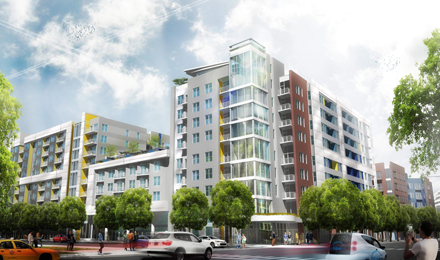 A downtown Indianapolis apartment and retail building that opened in 2019 is on the market for more than $100 million, as its owner looks to make the most of favorable market conditions that have endured the pandemic.
The Whit, 307 N. Pennsylvania St., was listed with an asking price between $115 million and $120 million by Indianapolis-based owner TWG Development LLC.
The nine-story complex features 334 apartment units, a 540-space garage and the 16-Bit Arcade+Bar. Its occupancy rate is in the upper 80s.
TWG spent about $70 million to build The Whit starting in 2017, after demolishing the former Indianapolis Star building that occupied the block for more than a century.
The Whit was initially supposed to be the second phase of a massive development known as Pulliam Square, but the first phase—145 apartment units and extensive retail space fronting Delaware Street—were sold to another firm. TWG also redeveloped the former office building at 333 N. Pennsylvania Street into apartments.
Tony Knoble, president of TWG, said the decision to list The Whit so quickly after its completion was part of the firm's planned investment cycle for the site.
"The business plan has always been to list that property," he told IBJ. "When we look at the capital markets around the country, people are transacting, so we think there's a sale to be had at our desired number. We don't have a desire to sell at a discount."
Knoble said he expects the sale cycle to be "a normal process"—about 180 days. Ideally, he said, a sale will actually be completed by the end of the year, although it could fall into the first quarter of 2021.
He said some profit from the sale could go toward other projects the firm is planning in Indianapolis and elsewhere, adding that TWG is "by no means … getting out of the multifamily space."
The Indianapolis multifamily office of Cushman & Wakefield has the exclusive listing for the property. A-call-for offers- date is expected to be set within the next week.
"In my opinion it's one of the best if not the best located downtown apartment buildings," said George Tikijian, managing broker for the office.
Please enable JavaScript to view this content.