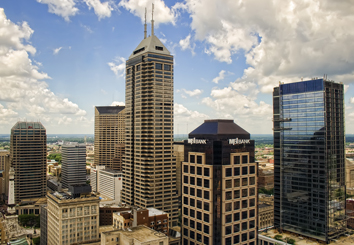 Major downtown office users like Salesforce and Rolls-Royce are evaluating their future space needs, after the pandemic disrupted normal work routines for most businesses.
The firms separately told IBJ they are open to the possibility of modifying their long-term office space needs—since employees for each are largely continuing to work remotely—while also considering ways to safely bring back their respective workforces in the months ahead.
Outside of its manufacturing presence in Indianapolis, Rolls-Royce Corp. employs about 2,000 workers in offices at 450 S. Meridian St. Salesforce has about 2,100 employees in office buildings downtown, most prominently the Salesforce Tower. Most of the Rolls-Royce and Salesforce employees are working remotely, for the time being.
About 155,000 people regularly worked downtown before the pandemic, according to a recent estimate by Downtown Indy Inc. They typically help keep downtown's economic ecosystem healthy by paying to park, eat out and shop, but the pandemic has blunted their impact.
Experts say companies are not likely to make any decisions about their future office needs until the pandemic has subsided and a semblance of normalcy returns to the office market.
"I think it's hard to evaluate your office space until you are back in the office in some sense, or have the ability to operate in a world … that allows you to" cohabitate with the virus, said John Vandenbark, an office broker with the Indianapolis office of Los Angeles-based firm CBRE. "I don't know how you can truly evaluate your office space until you're actually back, trying to figure out how you use it again."
Vandenbark, who handles leasing for a variety of high-profile downtown buildings including the former Anthem headquarters on Monument Circle, said it's difficult to know what most large corporations are thinking in terms of their office space, because their decisions are often influenced by real-world events—particularly at a time of unpredictability over the coronavirus. 
"I think you'd find if you ask any [company] they probably would say, 'Well, we're looking at that, but we don't really know,'" he said. "I think it's sort of premature to say [one way or another] because very few of these companies are fully back utilizing 100% of their office space."
Vandenbark said he is not seeing much movement from his downtown clients toward giving up their office space.
Sherry Seiwert, president of Downtown Indy Inc., said while downtown is robust enough to endure economic stress better than other parts of the city, the lack of a strong downtown workforce "creates a domino effect" that influences the success of restaurants, retailers and other downtown businesses.
"I think we have only begun to understand the long-term impact of the pandemic on the workplace," Seiwert said in an email to IBJ. "The likely scenario, once we emerge from this, will be that some employees will split their time between the office and home, while others will remain home."
Seiwert said companies have learned their employees are generally capable of working remotely, but she believes most people miss face-to-face interactions with colleagues.
A recent study of 81 people at 16 companies in major Midwestern markets found that many employees feel working remotely hinders collaborative opportunities and creativity, despite respondents reporting increases to general productivity.
The survey, conducted by locally based Doris Research and commissioned by RJE Business Interiors owner Denny Sponsel, included five companies from Indianapolis.
Sam Julka, the owner and founder of Doris, said many companies likely will look to adopt a hybrid model, in which employees work from home some days and in the office on others.
But she added that getting to that point is likely to take a long time and require some growing pains—including more comprehensive communication strategies and establishment of a new expectations for employees. But she said hybrids are likely to be much less efficient than work from home or in-office approaches.
"I think a lot of businesses are going to go to a model that's going to look" hybrid, she said. "But I think they are going to struggle if they don't put the effort in to figure out how much harder the hybrid model is going to be to execute once we're not in a pandemic anymore and once the expectations of clients and the expectations of the community start to return to where they were before."
For their part, Salesforce and Rolls-Royce have indicated they are not in a rush to make any decisions, but are leaving all their options on the table.
"Today, the majority of our employees continue to work from home around the globe, including those based in Indianapolis. Regardless of whether or not their local office has reopened, all Salesforce employees have the option of doing so through at least July 31, 2021," a Salesforce spokesperson said in written comments. "In the meantime, we're going to continue to evaluate our global real estate strategy to best meet the needs of our employees, customers, partners, and communities."
The spokesperson said Salesforce hasn't yet finalized when it plans to reopen its offices at Salesforce Tower, but "we're looking forward to welcoming our employees back, when the time is right."
And Rolls-Royce said very few of its employees are utilizing their offices along Meridian Street, in favor of working remotely.
"Outside of the production facilities, most local Rolls-Royce employees have worked remotely since March and continue to do so, with very few people present in the Meridian Center offices downtown on a daily basis," a company spokesperson said. "In light of the new remote way of working, we are reviewing office space requirements going forward but no final decision has been reached."
Jon Owens is an office broker for the Indianapolis office of Chicago-based Cushman & Wakefield. He said the decision to stay home and work certainly could be detrimental to downtown's economy, but it's not likely to hamper the city's office landscape like it might in larger metropolitan areas.
"It's going take some time to get back to the point where we're at pre-COVID levels of occupancy and office space, and I do think there might be some discussion for some companies to maybe open a suburban satellite office, for example," he said. "But I don't think there's going to be any kind of mass exodus out of downtown."
Please enable JavaScript to view this content.