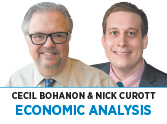 Politicians often proclaim that certain goods and services such as health care, housing and internet service are human rights. The implication is that it is the central government's responsibility to ensure all residents receive the good regardless of payment.
As noble as this might sound, a recent article in the Journal of Economic Perspectives on the "Consequences of Treating Electricity as a Right" sheds light on the fundamental flaws with such an approach.
The authors studied the provision of electricity in the Bihar state in India, where a right to electricity has been established. They note a four-step process that is problematic. First, "because electricity is seen as a right, subsidies, theft and non-payment are widely tolerated." Lots of users tap into the grid without signing up as customers, and many others simply neglect to pay their bill. The data show that the quality of electrical services among Bihar villages, as measured by the hours of service per day, is actually better in the villages with higher rates of non-payment.
This leads to a second step. Widespread non-payment means the firms generating and distributing electricity lose money. They can't cover the cost of electricity generation, much less regular maintenance of the grid. Moreover, a budget-constrained central government is unable to make up the gap.
This leads to a third step, where electricity providers have "no option but to ration supply by limiting access and restricting hours." This generates a fourth consequence: "Electricity allocation is no longer directed by market forces." This final consequence manifests itself in ways detrimental to economic growth. Factories shut down for want of electricity in one part of Bihar while streetlights stay on during the daytime in another part.
The experience of regular electrical outages is by no means unique to India but is endemic to much of the developing world. This low-performance, low-payment "equilibrium" is generated by the widespread social norm that "electricity is a right" independent of the users' ability or proclivity to pay.
Ironically, this precludes developing a system where electricity is available 24/7/365, as is common in developed countries where user-payment norms are well established. Yes, the utility will cut off your electricity if you don't pay. Yes, this makes the grid financially viable. Yes, this is why electric blackouts are a rare event in our nation.
India is not Indiana, and electricity is not health care. Yet there are surely lessons to be learned.•
__________
Bohanon and Curott are professors of economics at Ball State University. Send comments to ibjedit@ibj.com.
Please enable JavaScript to view this content.