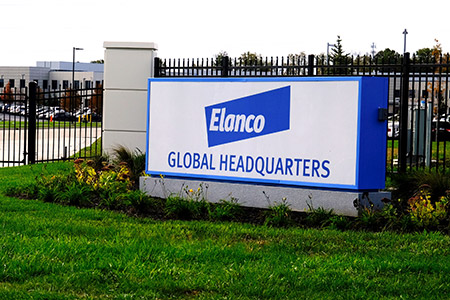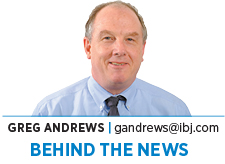 Jeff Simmons has been with Greenfield-based Elanco Animal Health for two decades and has run it for 11 years. But he's never faced pressure like this.
Elanco, which was founded in 1954, operated in relative anonymity for most of its existence, serving as a comparatively small division of the publicly traded drug giant Eli Lilly and Co.
Indianapolis-based Lilly thrust Elanco into the spotlight a year ago when it spun the company off in an initial public offering. And now the glare has intensified further, as many investors and analysts react negatively to Elanco's August announcement that it is buying the animal-health unit of German pharmaceutical giant Bayer AG for a lofty $7.6 billion.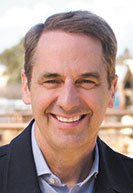 It's a colossal purchase that's set to boost Elanco's annual revenue from $3.1 billion to $4.8 billion, making it the second-largest animal-health player, behind only New Jersey-based Zoetis.
But the purchase, which is to be paid in 70% cash and 30% Elanco stock, also will ladle billions of dollars in additional debt onto the company, which already has $2.3 billion in long-term debt.
Among the skeptics is William Blair analyst John Kreger, who wrote in a report: "In summary, we believe this acquisition increases the risk profile and complexity of the Elanco story over the next year or two.
"In our opinion, this deal increases the odds of distracting the company in the near term from its focus on expanding margins and returning to consistent market rates of organic growth."
On Aug. 20, the day the deal was announced, Elanco shares dropped nearly 9%, to $27.26. In the following days, they sagged as low as $25.51 before staging a partial recovery.
On an Aug. 20 conference call, Simmons reassured investors that the company can absorb the Bayer unit without derailing its focus on improving profitability and accelerating revenue growth for its existing stable of products.
Elanco pounced after Bayer put the business up for sale to narrow its focus as it absorbs last year's $66 billion purchase of St. Louis-based Monsanto and confronts escalating legal liabilities stemming from Monsanto's Roundup herbicide.
"We have a very attractive asset in Bayer animal health that is actionable now," Simmons said on the call. "We don't have the luxury to wait and see. We don't need to do a deal like this to achieve the mid-term goals we've set out. But we are convinced that this is the right move to position Elanco for the long term."
Elanco competes in two business segments—food animals and companion animals. Vaccines and other products for food animals, such as cattle, sheep and swine, are aimed at keeping the animals healthy and delivering more food while using fewer resources. The company's companion-animal products—such as Interceptor Plus, which prevents heartworm in dogs—target the pet market.
Simmons said one of the strengths of the Bayer deal is that it better balances the two segments, increasing the percentage of sales from companion animals from 37% to 46%.
Furthermore, he said, Bayer has been a pioneer in reaching pet owners through e-commerce and traditional retailers, expanding beyond sales through veterinary offices.
"Critically, it's estimated that one-third of U.S. pet owners don't go to the vet, so these alternative channels are the primary means for obtaining pet medications, especially over-the-counter parasiticides like collars and topicals," Simmons said.
"In fact, 40% of pet medications in the U.S. are now sold in the fast-growing online and retail channels. Bayer's sophisticated customer engagement capabilities and relationships with e-commerce and physical retailers are best-in-class and would take years to replicate independently."
But William Blair's Kreger said some of Bayer's sales trends are worrisome. The animal health unit grew revenue 4% to 4.5% from 2012 to 2016 but then racked up only a 2.1% increase in 2017 and a 0.5% increase last year. Through the first half of 2019, revenue was down 1.8%.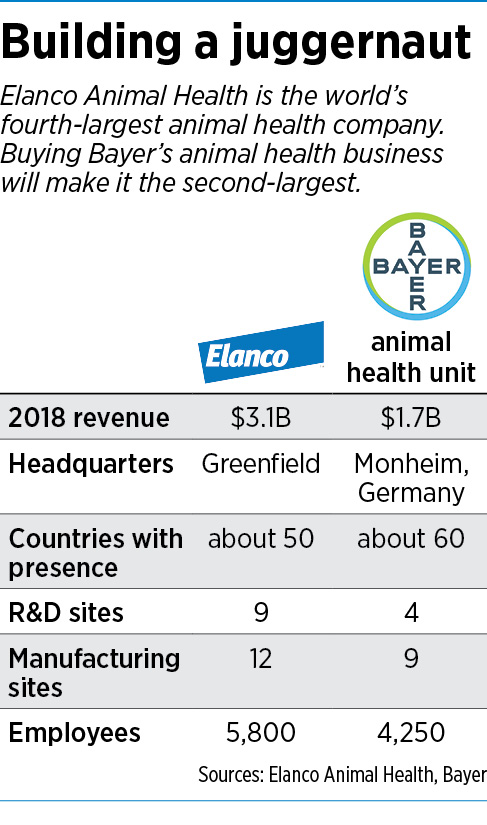 Kreger noted that the unit's top-selling product, the Advantage flea, tick and worm treatment for small animals, accounts for more than one-quarter of sales and has been in rapid decline. Sales dropped 9.3% last year and 14.8% so far this year.
Helping blunt that decline is the unit's second-best-seller, Soresto, a collar that provides flea and tick protection to dogs and cats. Its sales have risen 9.2% this year.
Kreger said Elanco's $7.6 billion purchase price "appears a bit rich" for a business that is showing little overall growth. He said he was more supportive of two other deals Elanco announced this year—the $234 million purchase of Kansas-based Aratana Therapeutics and the $59.9 million purchase of Montreal-based Prevtec Microbia.
"These companies have innovative products that are likely to grow nicely as a result of Elanco's larger commercial presence," Kreger wrote. "They are also smaller transactions that are easier to digest financially and operationally. In contrast, Bayer appears to be a bet primarily on increased scale."
On the call, Simmons highlighted that scale is a genuine benefit. He noted that, by combining the two businesses, Elanco expects to achieve $275 million to $300 million in "cost synergies" by 2025.
In addition, Simmons said, "we bolster our R&D scale, giving us greater degrees of freedom to prioritize, accelerate and invest more heavily in the most promising projects in our combined pipeline."
A recent stock purchase by Simmons, 52, suggests he is as confident as he sounds. On Sept. 4, he bought 75,750 shares of Elanco for $2 million. Also making purchases in recent weeks were Chief Financial Officer Todd Young, General Counsel Michael-Bryant Hicks and director R. David Hoover.•
Please enable JavaScript to view this content.