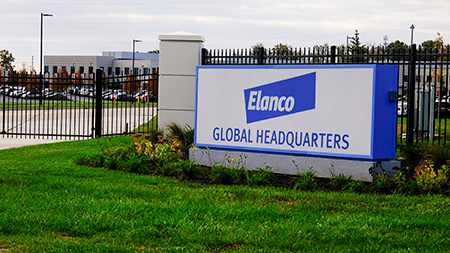 Shares of Elanco Animal Health Inc. dropped 4% on Wednesday to a new all-time low after Moody's Investor Service downgraded the company's credit rating, expressing concerns about the company's large debt load and what it characterized as a product pipeline that hasn't kept up with the competition.
Moody's action pushed Elanco's credit rating further into "junk bond" territory, an area considered riskier than investment-grade debt.
The Greenfield-based maker of animal vaccines, antibiotics and other animal health products is weighed down by more than $5 billion in debt, much of it taken on when it bought the animal health unit of German conglomerate Bayer AG in 2020 for $6.9 billion.
Shares of Elanco, already battered in recent months, fell 39 cents Wednesday, to close at $9.08 each. The stock is down 75% from its high of about $36.50 in July 2021.
Moody's analyst Michael Weinstein wrote that the ratings downgrade primarily reflects Elanco's "operational underperformance" compared with expectations and its weaker credit metrics.
He downgraded Elanco's corporate family rating to Ba3 from Ba2, its senior secured bank credit facilities' ratings to Ba2 from Ba1 and its unsecured ratings to B2 from B1. All of those ratings fall into Moody's "non-investment grade" territory. He said the outlook was stable.
"Elanco has yet to establish a track record for deleveraging since becoming an independent company in 2018," Weinstein wrote. "This risk factor is driven by its historical penchant for debt-funded acquisitions, operational misses to budget and an innovation portfolio that has lagged industry peers."
An Elanco spokeswoman defended the company's record, pointing out that it met Wall Street's expectations for six quarters in a row following the Bayer Animal Health acquisition until mid-2022, when an economic downturn "affected a number of companies."
"We are focused on executing our plans and preparing for a historic window of innovation launches," Elanco spokeswoman Colleen Dekker told IBJ in an email.
Earlier this month, CEO Jeff Simmons told IBJ the company has developed a promising pipeline of products that it expects to launch over the next two years, several of them likely blockbusters.
But Moody's raised a cautionary note, saying the pipeline "will need to take market share from competitive products already on the market with established quality track records."
Indianapolis-based drugmaker Eli Lilly and Co. founded Elanco in 1954 as an agricultural and industrial sales division and shifted its focus to animal health—mostly livestock—in the 1980s. It broadened the unit in 2007 to include products for companion animals.
Lilly spun off Elanco as an independent company in 2018, saying it could unlock more value for shareholders. Elanco went public at $24 a share.
Weinstein said Elanco's debt-to-earnings (before interest, taxes, depreciation and amortization) ratio was 5.8 as of Dec. 31, and he expected it to climb higher than 6 this year on "continued earnings declines."
Last month, Elanco's shares fell 12% in one day after the company announced that fourth-quarter revenue fell due to environmental and competitive pressure and could continue to slip this year. The company lost $54 million in the quarter and $74 million for the full year.
Please enable JavaScript to view this content.