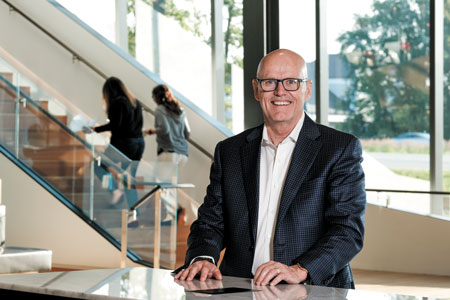 The gleaming, glass-clad headquarters KAR Auction Services Inc. opened along the west side of U.S. 31 in Carmel this summer is an apt symbol for the transformation going on inside.
The $80 million project, which houses about 900 workers, boasts 187 collaboration spaces and has one-third the number of private offices as KAR's previous headquarters two miles north.
It's all about encouraging "collisions" among employees from across the company, interactions company officials believe will fuel innovation at a crucial time for the auto-auction giant.
CEO Jim Hallett said he believes 2019 will prove to be the peak year for brick-and-mortar auto auction volumes—thanks to a plateauing of the number of cars coming off lease and the growing use of online auctions by buyers and sellers.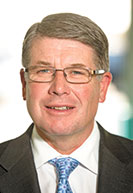 Though KAR's roots in the physical auction industry go back decades, company officials aren't sitting around wringing their hands and wishing for the past.
Instead, they are investing heavily in their digital business, with the goal of becoming the industry leader—not just in online auctions but in the use of data to strengthen and expand business relationships with buyers and sellers.
"Our mindset is to disrupt ourselves," said Hallett, 66, who now calls KAR a tech company. "And not only do we want to disrupt the industry in North America. We want to disrupt the industry internationally, as well."
The five-story, 250,000-square-foot headquarters is a key part of that strategy. Company officials view the amenity-rich building as a valuable weapon in the talent-recruitment wars.
It includes an expansive fitness center, a medical clinic, an upscale cafeteria and a Starbucks—all laid out in ways that foster those all-important collisions.
The origins of the project—which was designed by Indianapolis-based Ratio and developed by Indianapolis-based Pure Development—date to 2014, when Hallett attended an Ernst & Young Entrepreneur of the Year awards conference in Palm Springs, California.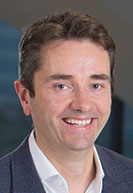 Several speakers—including internet entrepreneur Tony Hsieh, CEO of Zappos, and Susan Cain, author of "Quiet: The Power of Introverts in a World That Can't Stop Talking"—shared insights into creating an office culture and design that fosters innovation, is attractive to millennials and allows workers with different personality types to flourish.
"I've got all these notes, and I start putting together all these conversations," Hallett said, leading him to march into Chief Financial Officer Eric Loughmiller's office the following Monday to find out when KAR's current lease would expire.
"He said, 'August 2019,' and he looked at me and said, 'What are you thinking?' I said, 'We're building a new building.'"
Seizing the opportunity
KAR, which in 2018 earned $328 million on $3.8 billion in revenue, until recently had two distinct but related sides of its business—whole-vehicle auctions and salvage auctions for cars deemed totaled or no longer practical to repair.
Both sides generate auction fees from buyers and sellers. KAR also generates revenue from a broad range of ancillary services, including transportation, inspections, reconditioning, titling and inventory financing.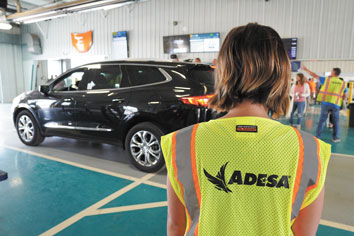 The company historically has been a strong performer. From its December 2009 initial public offering until mid-June, the stock's return with dividends reinvested was 511%, well ahead of the S&P 500's return of 218% in that span.
But company officials announced in February 2018 that they believed they could unlock even more shareholder value if they split the whole-car and salvage businesses into separate publicly traded companies.
The company pulled the trigger this year, with the split effective in late June—a move that has had just the effect KAR's executives and board had sought.
The two companies now have a combined stock market value of $8.9 billion ($5.5 billion for the salvage auctioneer, Westchester, Illinois-based IAA Inc., and $3.4 billion for KAR). When KAR unveiled the spinoff plan, its market value had been $6.9 billion.
KAR and IAA are very different investment plays, noted Jefferies analyst Bret Jordan in a report. The salvage business is expected to benefit from a number of growth generators, including the rising cost of repairing damaged cars, the trend toward car owners' keeping vehicles longer and the greater risk of accidents caused by cell-phone use and marijuana legalization.
KAR, on the other hand, faces more challenging growth prospects, with North American wholesale auction volumes in the next few years forecast to barely rise from 2018's 11.6 million vehicles. Projected volume is 11.7 million this year and 11.8 million in 2020, according to data from Jefferies and WardsAuto.
KAR is embracing "a 'tech' investment strategy with emphasis on online channels, data & analytics to offset a cyclically slowing whole-car market," Jordan said in his report.
At the J.P. Morgan Auto Conference on Aug. 13, Loughmiller acknowledged that industry trends alone weren't sufficient to fuel the growth KAR wants to achieve.
"As we look at our industry, it's actually the time for us to look for innovation to grow the marketplace," Loughmiller said, adding that "we're really pleased with where we're positioned."
Online adventures
KAR is the No. 2 whole-car auction company in North America, with about a 30% market share. The No. 1 player, Atlanta-based Manheim, has about a 40% share, according to Jefferies.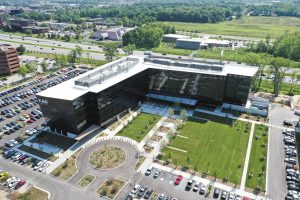 In 2011, KAR made its first big acquisition in the digital space, snapping up San Francisco-based online-auto-auction firm Openlane Inc. for $210 million.
In stages from 2014 to 2017, it bought Toronto-based TradeRev, whose mobile app facilitates dealer-to-dealer auctions, for $80 million, with the potential to pay another $75 million over four years, contingent on performance.
In November 2018, KAR announced it was further advancing its digital strategy and its international ambitions by buying Belgium-based CarsOnTheWeb for at least $103 million.
Peter Kelly, a co-founder of Openlane who stayed with KAR after the purchase and was promoted to president in January, said he has learned a lot since he and some of his classmates in Stanford University's MBA program set out to disrupt the auto auction industry in the late 1990s.
"None of us had an automotive background, so we were outsiders looking in. We saw a big industry with a lot of volume, and we just thought the advent of the internet and internet-based auctions was really going to change the vehicle-remarketing business. There was a certain amount of naivete tied to that," Kelly said.
While Openlane gained traction with its internet-auction model, "we also realized that there were some limitations in a purely virtual model. When you are dealing with used cars—which are big, bulky assets—they need to be stored somewhere. Often, they need to be repaired, reconditioned, cleaned."
He added: "There was a lot of value in the physical auction process, and the real answer is not just exclusively physical or exclusively digital. It's bringing the best of both together."
Ramping up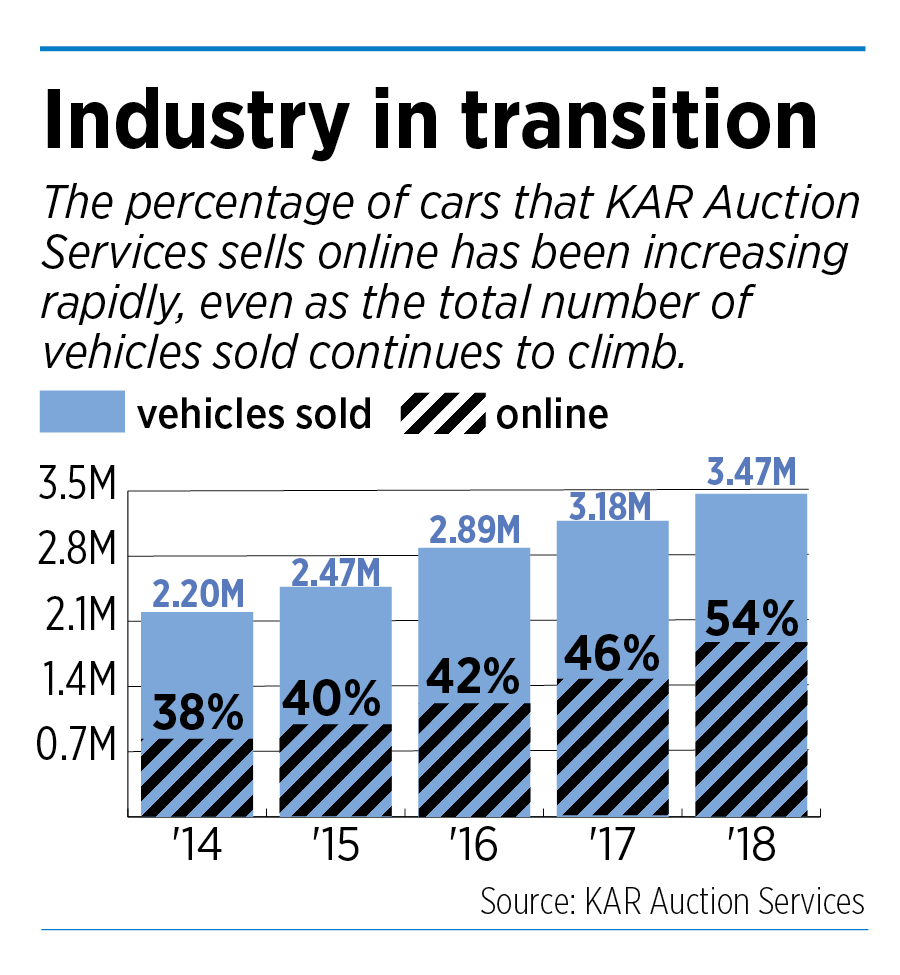 The economics of the online and brick-and-mortar auction businesses are different. Per-vehicle revenue is much lower online, but the profit margins are greater, in part because cars don't have to be transported to central locations.
The ranks of customers opting for online is growing rapidly. Online accounted for 54% of the 3.5 million cars KAR auctioned last year. That's up from 46% in 2017 and 38% in 2014.
The appeal of TradeRev's app-based dealer-to-dealer model is easy to grasp. After a dealer accepts a trade-in, he can auction the car in just 45 minutes, and KAR will sweep it off its lot within a few days.
But KAR's push into the online space has not been without hitches.
TradeRev finds itself in a frantic battle for scale and market share with Buffalo, New York-based ACV Auctions, which has raised more than $147 million in venture capital despite being only 5 years old.
KAR officials say TradeRev was in 128 markets last year and will reach 176 this year. They say the business sold 117,000 cars in 2018 and will surpass 200,000 this year.
"We are still in the early innings of the transformation of the dealer-to-dealer space, so rapid growth is possible," Hallett said Aug. 7 on the company's second-quarter conference call.
But ACV is outselling TradeRev, and KAR officials acknowledge they're spending whopping sums to ensure that ACV's lead shrinks, not widens.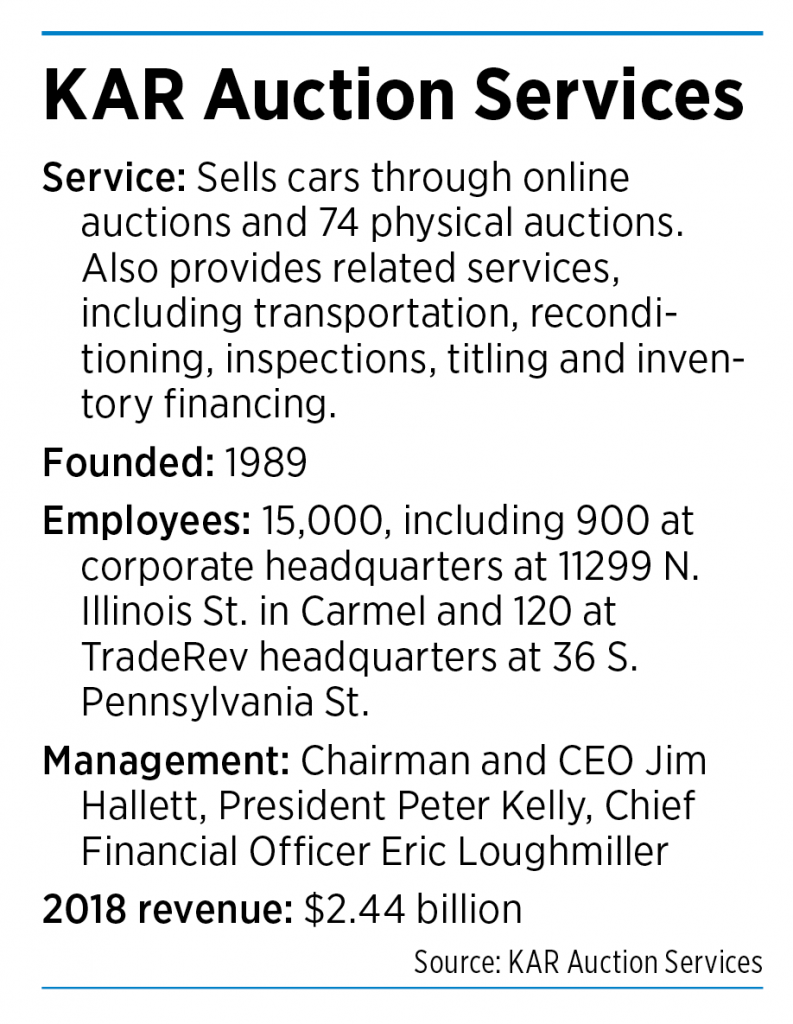 TradeRev's operating loss was $53 million in 2018, and company officials forecast it will peak at $60 million this year before the company reaches profitability in 2021.
In August, KAR sent a bullish signal by announcing it was investing $3.75 million to establish TradeRev's headquarters in the Century Building at 36 S. Pennsylvania St. downtown. TradeRev has 120 workers there now and plans to add up to 80 more by 2023.
A month later, the company announced that Rebecca Polak, 48, currently TradeRev's president as well as KAR's general counsel, was resigning and that she would be succeeded by TradeRev co-founder Mark Endras.
At the J.P. Morgan Auto Conference, Hallett said he remains bullish on TradeRev's future, even as he also acknowledged learning some lessons.
"I think what I have learned over the course of time with startups is, I think you have to have good technology. You don't have to have great technology. You don't have to have every bell and whistle you could possibly put together," he said.
"I think we focused on the technology a little bit too much, and I think our venture capital folks [at ACV] focused on their go-to market strategy and, quite frankly, they got a lead."
Longer term, Hallett said,TradeRev can come out on top.
"They have a platform, and their whole sales pitch is, 'Physical auctions are dead. Sell on our platform,'" Hallett said of ACV. But he said ACV lacks the ancillary services, such as transportation and inspections, or the deep relationships with a huge pool of potential buyers that KAR enjoys.
"What gives us what I call 'the unfair advantage' … is, we not only have a platform—we have a much stronger buyer base. We have a buyer base of 90,000 unique buyers that buy off our platform throughout North America."
Openlane's Kelly, 51, who recently moved from San Francisco to Indianapolis, said KAR's increasingly sophisticated data offerings further strengthen relationships with both buyers and sellers.
For instance, KAR can help sellers understand what a car is actually worth, as well as the best channel to sell the vehicle to achieve the highest price in the shortest amount of time with the least expense.
An offering unveiled last month provides time-pressed auto dealers with a carousel of recommended cars to purchase based on more than 300 data points, such as the supply of comparable cars in that market and the dealer's past sales success and profitability with similar vehicles.
KAR continues to explore "how we can leverage data to make the process better," Kelly said. "Can we use machine learning and image recognition so that, when somebody takes a photo, we can say, 'That's a scratch and that will take $150 to repair'?"•
Please enable JavaScript to view this content.