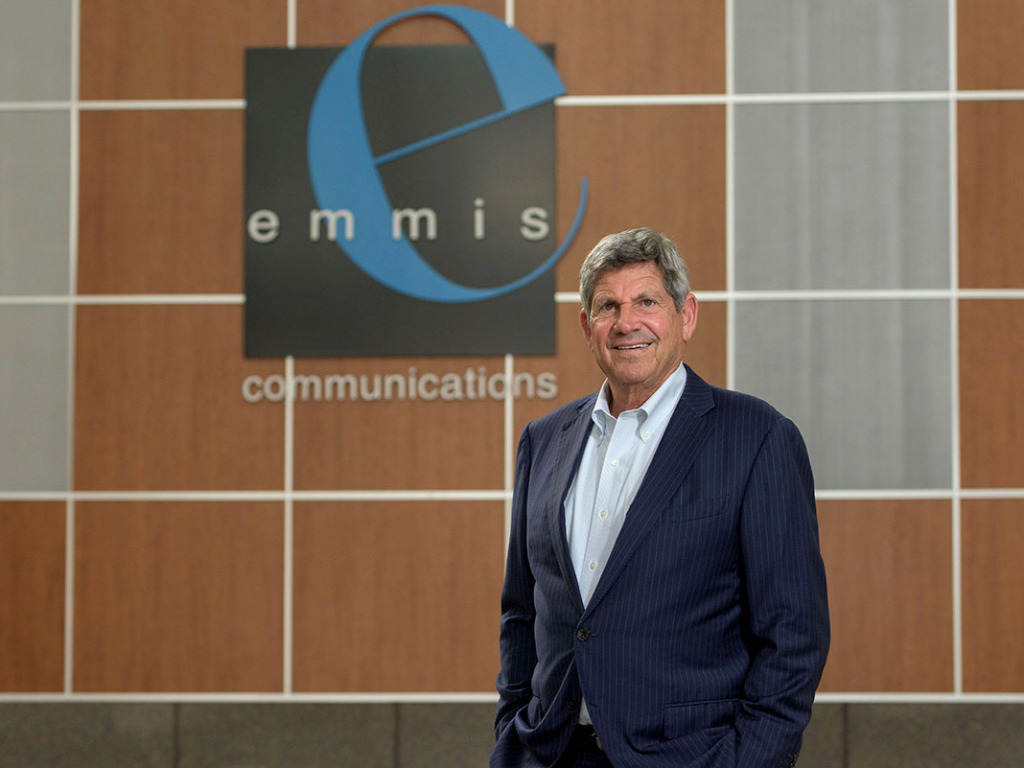 Indianapolis-based Emmis Corp. is set to ask shareholders this month to approve the company's plan to buy back its Class A common stock and end a 29-year run as a publicly traded company.
Jeff Smulyan, founder and CEO of Emmis, pitched plans to take Emmis private three times from 2006 to 2016 but was overruled by shareholders.
This time, he's proposing a three-year window to buy back the shares. During the first year following the plan's approval, Emmis would offer $6 per share. The price would increase to $6.50 during the second year and increase to $7.25 during the third year.
Emmis, which once owned 20 radio stations across the United States, delisted its stock from the Nasdaq Stock Market in 2020. The company's stock is traded on the over-the-counter market.
Following Monday's announcement of the buy-back offer, Emmis stock closed at $5 per share—its highest mark since August 2019.
"The company has been delisted for a number of years, and there's really not a great public market for the stock," Smuylan told the IBJ on Tuesday.
The annual meeting of Emmis shareholders is scheduled for Aug. 29 at the company's headquarters, 40 Monument Circle. The buy-back proposal would pass with a majority of "yes" votes among those voting.
Smulyan owns all of the company's Class B common stock.
He said fewer than 250 shareholders own 10.5 million shares of the outstanding Class A stock.
Through discussions with several shareholders, Smulyan said he believes people are eager to receive a return on their investments.
"The overwhelming sentiment is that they would like to see this done, and they like the terms," Smulyan said.
Emmis sold four Indianapolis radio stations and Indianapolis Monthly magazine in 2022, essentially ending the company's four-decade run as a media powerhouse. The company is now focused on three assets it has in the fields of e-commerce (Digonex), ergonomics (Lencore) and corporate podcasting (Sound That Brands).
Earlier this summer, Emmis was the lead investor in a $48 million Series B funding round for Anzu Virtual Reality Ltd. The Israel-based advertising technology company specializes in placing ads in video games.
To accumulate capital to execute the stock buy-back plan, Smulyan said he expects Emmis will sell its three remaining radio properties: an AM contemporary gospel station and an FM affiliate of ESPN, both in New York City, and the dormant 1070 AM frequency in Indianapolis.
The 1070 AM signal originated from radio towers in Whitestown. Emmis sold land that housed the radio towers in 2021, and Smulyan said additional Emmis property is for sale in Boone County.
The Emmis building on Monument Circle is another asset that could help fund the stock buy-back plan.
"We're evaluating that now," Smulyan said of a possible sale of the building. "The primary funding would be to sell the AM and FM [stations] in New York. We have some notes outstanding that we will collect from third parties that will give us a significant amount of cash. We have some more real estate in Whitestown that we will sell. Whether we sell the building or not? We're going to look at all of our options."
Emmis, which became a publicly traded business in 1994, also announced on Monday a special dividend of 50 cents per share to be paid to stockholders of record as of Sept. 13.
Please enable JavaScript to view this content.