Electric-vehicle sales have accelerated rapidly within the last year or two, and so has demand for batteries that power those vehicles.
Indianapolis-based EnPower Inc. sees a lot of business potential in that—but not in the way you might assume.
The lithium-ion battery maker, which had been based in Phoenix, moved its headquarters to 8740 Hague Road in January. The 92,000-square-foot facility is just east of Interstate 69 between East 82nd and East 96th streets. It's the same building formerly occupied by another battery maker, Anderson-based EnerDel Inc.
EnPower has 60 employees and expects to grow its workforce to 120 by the end of March and to 350 by the end of 2024—and potentially much higher, if it's awarded a hoped-for $100 million in federal assistance.
The company has recently begun testing its first products with customers and is working to ramp up production in coming months.
Its strategy is focused not on electric cars for general consumers but on the other markets also moving toward electrification: construction, military, aviation, recreational vehicles, power tools and more.
"They're underserved markets," said EnPower CEO Annette Finsterbusch.
It's a relatively new strategy for EnPower, and it's also the reason the company moved here from Arizona.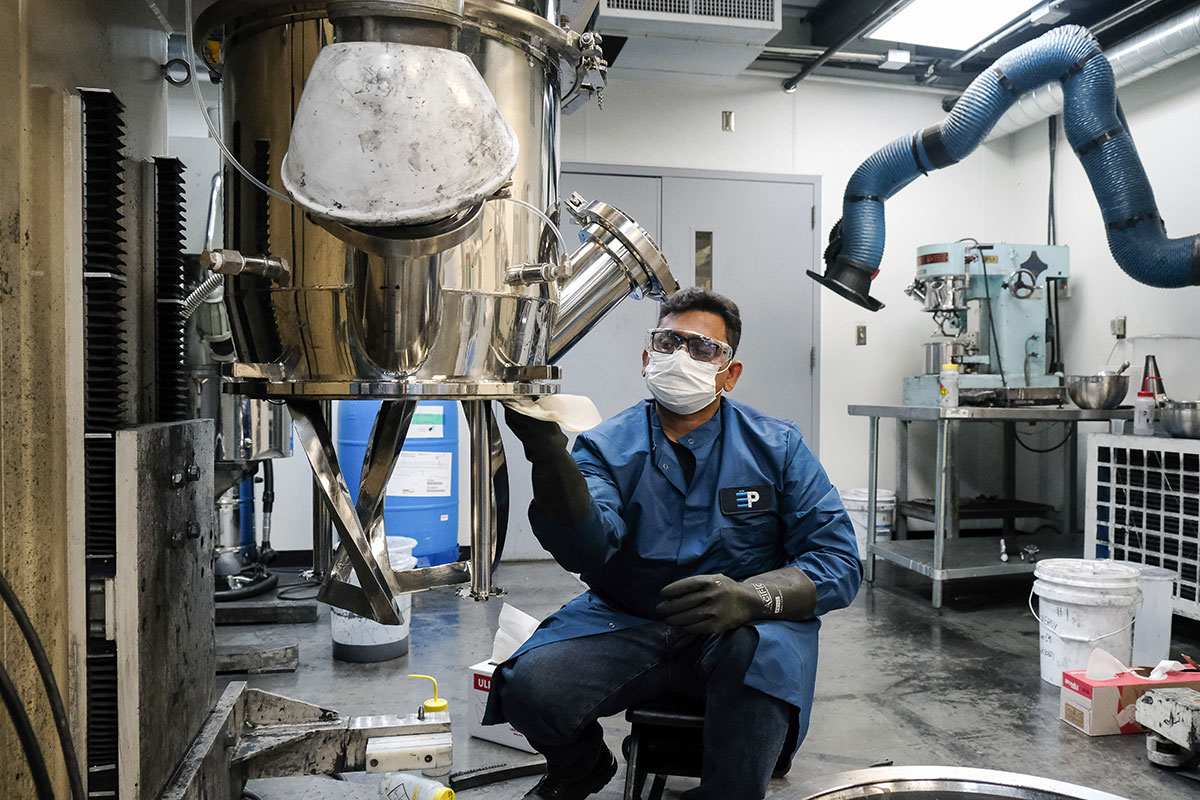 When EnPower formed in 2014, its business model was to develop battery technology that it could then license to companies that make batteries for electric vehicles. The company didn't consider manufacturing directly for the automotive industry, Finsterbusch said, because as a startup it was way too small to supply the volume of batteries automakers need.
Finsterbusch, who joined EnPower in 2018, has a background in corporate business development and strategy, and she's been bullish on the battery industry for decades.
However, it wasn't until last year that the battery market began to accelerate as supporters had long predicted it would, she said. "For 20 years, I'd been investing in this industry. … Suddenly, those numbers were coming to fruition."
According to the France-based International Energy Authority, electric vehicles made up nearly 9% of all passenger vehicles sold worldwide last year. In raw numbers, that's 6.6 million vehicles, which is nearly double the number sold in 2020. The IEA is predicting electric cars will make up 13% of new-car sales this year.
That spike in demand, Finsterbusch said, means automakers are creating huge demands for batteries, leaving little production capacity for the other industries also seeking to electrify. Because those other markets are so much smaller than the automotive market, EnPower realized it could get into the game as a manufacturer.
The company will still pursue licensing deals for the automotive industry, but it won't be the primary focus it was before.
EnPower also sees value in positioning itself as a domestic battery supplier since much of the world's battery supply comes from China.
It's a pivot that makes sense to Ben Wrightsman, CEO of the Battery Innovation Center in Newberry, near the Naval Surface Warfare Center—Crane Division.
"There is a ton of low-hanging fruit, opportunities for EnPower to make a really good name for themselves," Wrightsman said. "I think it's a very prudent and smart strategy."
He said demand for batteries is strong right now in a range of industries: from passenger vehicles to heavy trucks, mining equipment, heavy trucks and buses, consumer products, medical devices, drones, the military and others. "We are seeing active markets everywhere, even during the downturn."
That decision to pivot to manufacturing is what ultimately led EnPower to move to Indianapolis.
The company had a small-scale research and development production site in Phoenix, but EnPower's new plan meant it would need a much larger production facility.
Through her contacts in the battery industry, Finsterbusch was aware of the Indianapolis site, which was already outfitted with battery manufacturing equipment from EnerDel's time there.
And moving into an existing site would save the company valuable time and money as it worked to scale up production and bring its products to market.
"It's critical that we get out before our competition does," she said.
The company spent "north of $20 million," Finsterbusch said, to upgrade the equipment in the leased building, but that was far less than what it would have spent if it had purchased all-new equipment in another facility. Supply-chain problems also meant it would have taken significantly longer to secure the needed equipment and get up and running at another site.
"We saved ourselves, easily, two years, and we saved $80 million," she said. The company had originally planned to keep its research and development activities in Phoenix but later decided to move its entire operation to Indianapolis.
The Indiana Economic Development Corp. has offered EnPower $1.3 million in EDGE tax credits, based on the company's commitments to invest $27.1 million and create 151 jobs.
EnPower has recently started testing its products with customers and is ramping up production.
In the battery world, manufacturing volume is described not in terms of numbers of units produced but in the annual energy storage capacity of the batteries produced.
As a point of comparison: The average U.S. household uses about 10.7 megawatt hours of energy per year, according to the U.S. Energy Information Administration.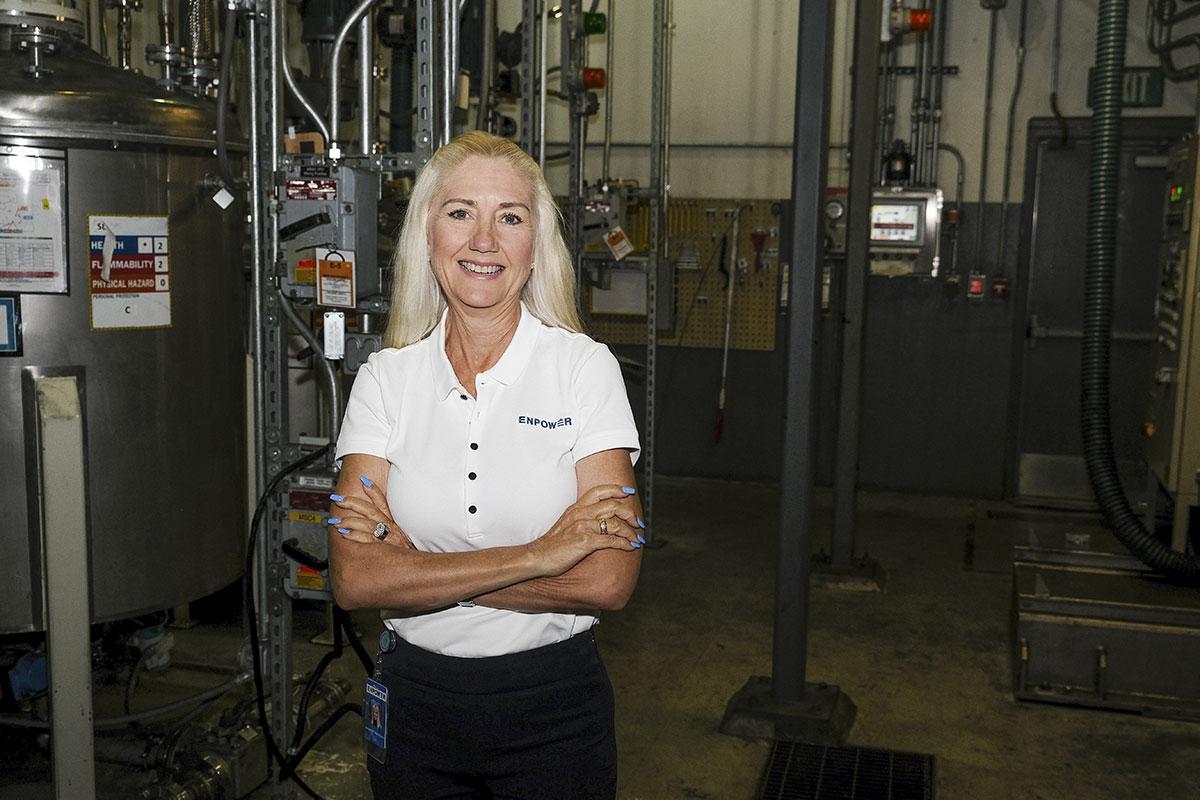 Growth plans
EnPower's site currently has a manufacturing capacity of about 60 megawatt hours. By the end of March, when the company expects to have 120 employees, the site will have capacity of 400 megawatt hours. By the end of 2024, with an expected 350 employees, the site should be producing 1.5 gigawatt hours (1,500 megawatt hours).
And the company hopes to expand even more, Finsterbusch said. The federal infrastructure bill that passed late last year includes funding to bolster U.S. battery manufacturing projects, and EnPower has applied for $100 million from that program. If it secures that funding, EnPower would match it with another $100 million, allowing the company to expand its production capacity to 6 gigawatt hours.
EnPower expects to hear this month whether it has been awarded the federal support, Finsterbusch said, and if it lands the funding, it would begin work on the expansion in the first quarter of next year.
On its current trajectory, she said, the company expects its cash flow to hit the break-even point by 2024. To date, the company has raised numerous rounds of investment—$19 million as of this April, according to reporting by the Phoenix Business Journal. The company expects to conduct another fundraising round this year, Finsterbusch said, and its longer-term goal is to take the company public—perhaps as early as next year.
The site's history
The Hague Road facility's previous occupant, EnerDel, also had big plans, though they didn't work out as the company had hoped.
EnerDel was founded in 2004. By 2010, it had about 260 employees and spoke of plans to grow to as large as 3,000. The company's parent company, Ener1 Inc., filed for Chapter 11 bankruptcy protection in January 2012. The company emerged from bankruptcy a few months later, but it has never achieved its early goals for growth.
The Battery Innovation Center's Wrightsman, who worked for EnerDel from 2008 to 2014, said the company struggled during his time there because it was not focusing on the right priorities.
"The direction of the company mismatched with our customers and our market requests," said Wrightsman, who declined to be more specific.
EnerDel Chief Strategy Officer Kev Adjemian, who joined the company late last year, acknowledged that it had not always focused on what the market wanted. "EnerDel has kind of had ups and downs over the years."
But Adjemian said the company is now executing its own pivot. It has narrowed its focus to two areas: building battery packs from materials made elsewhere and developing battery management software and hardware. The company is working to launch what it calls its next-generation battery pack, iEGO, which should go into full production in mid-2024.
EnerDel moved to a new headquarters in Anderson in April, and in July the company announced that longtime board member Paul Herbert had acquired the company for an undisclosed amount.
The company has about 55 employees, 90% of whom are in Anderson, with the remainder at a new advanced engineering center in suburban Los Angeles.
"We are all very clearly marching to a strategic market plan," Adjemian said.•
Please enable JavaScript to view this content.