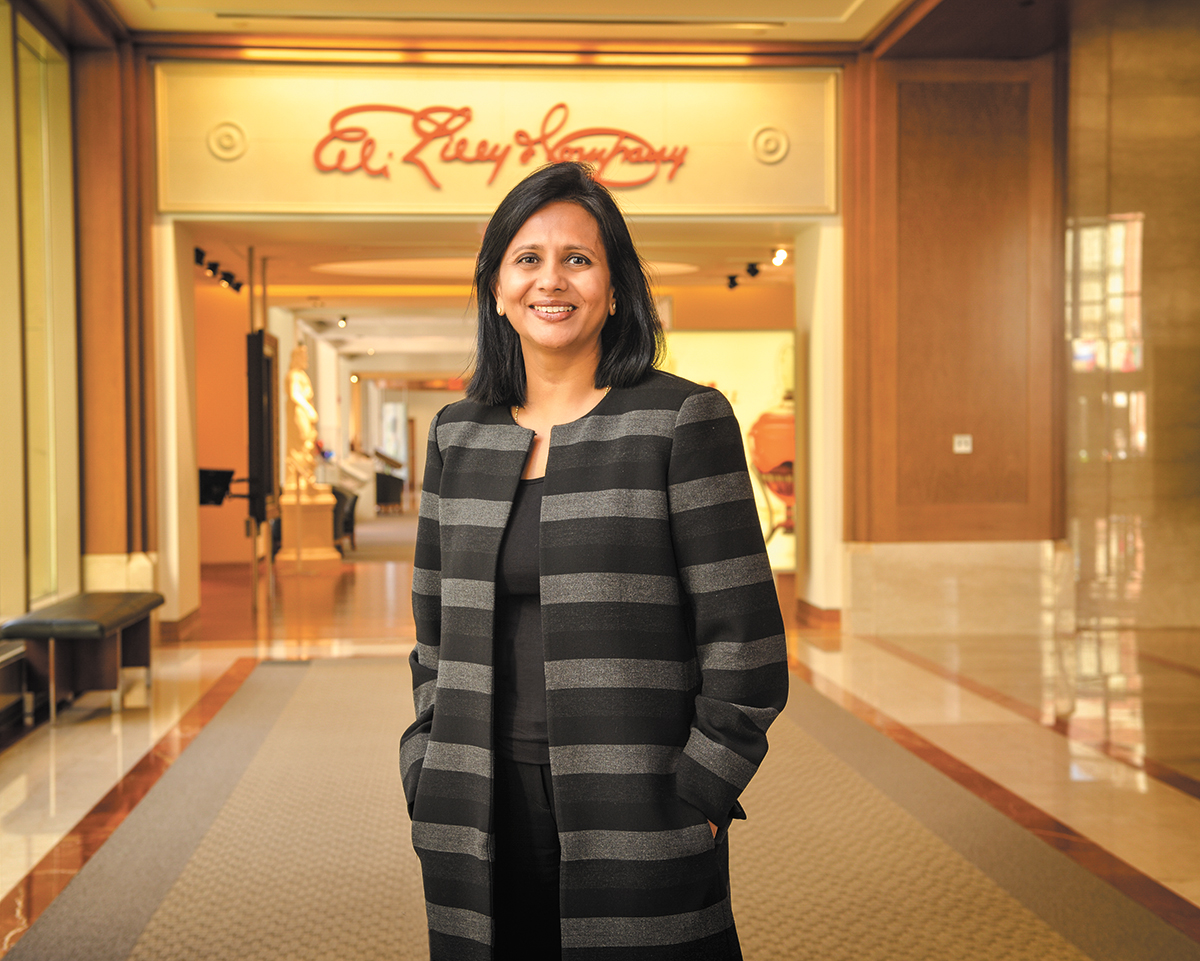 Aarti Shah
Eli Lilly and Co.
chief information and digital officer
Aarti Shah oversees Lilly's global information technology, information security, advanced analytics and data sciences, and digital health. In other words, she is responsible for making sure the Indianapolis-based drugmaker has the tools to dig into and analyze reams of information on drug development, marketing efforts and the everyday technology tasks of keeping a $22 billion company running smoothly.
Shah, 55, has worked at Lilly more than 26 years, joining as a senior statistician. She has a doctorate in applied statistics from the University of California, Riverside.
Since the data revolution of the past few decades, organizations have been sometimes overwhelmed with information. What's the key to managing it?
That is extremely important. We sit on a gold mine of data—the internal data and all the external data in this day and age. And then the types of data over the years have changed—structured data, unstructured data, all that stuff.
And the key [question for] companies that are going to be very successful is: How do you transform this information into knowledge, data into insight? Can you find the data when you need it? Can you access it? Can you integrate it so that the data is readily available when the consumers need it?
Today, how do we apply artificial intelligence, machine learning, natural language processing? All of those things are very important. We now have the computer power we need. We now have the technologies and the analytics power that we need.
What do you see as the future of artificial intelligence in drug development?
I'm very bullish about the options of artificial intelligence and machine learning across the whole spectrum. Everybody's talking about smart devices, smart homes, smart cars and, of course, smart plans.
And it's very clear in the last three months [of the COVID-19 pandemic] as we connect with our health care professionals, [we ask ourselves], what are some of the digital channels that we connect through? And based on all the information that we have, how do we come up with what [is] that next, best action that will be valuable for the customer they're working with?
As you know, drug development is a long process for the number of years it takes, and the cost, all of that. How do we leverage technology to reduce the cycle times of drug development to make them go faster and be more efficient?
How much can you shorten the drug development cycle with advanced analytics and other tools?
I think it's the totality of all the things that come into play as we have ambitious goals of reducing drug cycle times. We have shown that, on average, it was taking 10 to 11 years for that cycle, from that first (dose) in a human to getting it launched. At Lilly, we were lagging the industry a little bit, and now I think we are leading. We have shown that we have reduced that time by two or three years from what the average was, and this is tremendous.
A lot of us have been working from home for the last few months during the COVID-19 pandemic, using new technology and gadgets to stay connected and do our work. What have been the biggest adjustments for Lilly along this area?
We made a decision pretty early on and moved the majority of our workforce globally to work from home. And so, kudos to the efforts of the information digital solutions team [in] making sure [we had] the infrastructure or critical systems that [was] needed to be operational, the increased VPN [virtual private network] capacity that was needed.
All the stuff behind the scenes that needed to be done so that employees could effectively work remotely was very important.
A couple of other things: One is the collaboration tools, and Lilly has stayed operational all throughout. The other is the tech adoption of employees. Kudos to all the employees who leaned in, learned the new technology as they needed to. We saw a significant, exponential increase in use.
I see that the role of chief information officer became part of Lilly's executive committee about three years ago. Was it seen as a lesser role in the past?
What changed?
The reason I believe that this role was elevated to the executive committee level is the importance of data technology, analytics and digital health, right? Every company is becoming a data and technology company. That is becoming a key part of the big transformations that companies are going through.
So, to make sure it is woven in, as we look at the company strategy, is critical. And hence, it was elevated, rightly so, to become part of the executive committee.
Secondly, I started with Lilly Research Labs. So, [I have] done a variety of different roles within the organization and [in] bringing that business. At the end of the day, what are the business outcomes that we want, if you look at Lilly's purpose of discovering and developing medicines to make life better for people around the world? And having both functional and business experiences, to improve patient outcomes. It brings that together.
What are your favorite apps on your phone?
Of course, everybody uses Google a lot. Weather is important, too. I have some meditation apps that I use. My music is important. I'm getting my news, too, and Google Maps. Those are the ones that are important. And then I have Lilly apps. I can do a lot of my work just through the different apps that are there that have made my life much more effective and efficient.
What do you like to do on a day off?
Time with the family is important. I love that, but I'm also a very strong woman of faith. I enjoy doing my meditation and listening to some spiritual discourses. I like walking and hiking these days with my family.
Some time with my family, some time with myself.•
Please enable JavaScript to view this content.