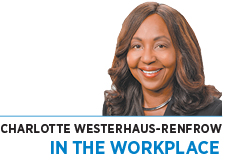 How do you stand out in a crowd and get others to notice you?
Here's a valuable hint: Executive presence is not simply a function of your education, expertise or experience.
Undoubtedly, stellar credentials are important and reflect the ability to be there and work hard. But as Malcom Forbes put it, "Presence is more than just being there."
Some of you may surmise that executive presence is charismatic pixie dust or the softest of soft skills. Think again. Executive presence makes a difference.
A 2012 study conducted by the Center for Talent Innovation that included a survey of nearly 4,000 college-graduate professionals and more than 50 one-on-one interviews with high-level executives found that executive presence accounts for 26% of what it takes to get the next promotion.
So, what is executive presence?
The definition I like best comes from Suzanne Bates, who said, "Executive presence is a blending of temperament, competencies and skills that, when combined, send all the right signals."
If you're an NFL football fan, you know the defense will attempt to prevent the other side from scoring by sacking (or hitting) the quarterback. And we're not talking just any old hit—a hit as hard as the rules allow to rattle the quarterback. Needless to say, quarterbacks don't like getting hit.
Likewise, no one likes being hit with undeserved criticism, nastiness or public attacks. For some, the immediate impulse is to react with defensiveness, anger or—even worse—to strike back or seek revenge.
But not Andrew Luck. When Indianapolis Colts quarterback Andrew Luck is hit hard or sacked, he does not respond with anger. One player described Luck's reaction: "You know if you hear a quarterback get mad, you are in his head," the player told The Wall Street Journal. "With Luck, you thought you hurt the guy, you hear 'Good job' and you just say, 'Aw, man.'"
Similarly, individuals can unnerve their critics in the workplace by listening politely to the unwarranted barbs and by responding in a calm manner. This tactic will rattle the opposition with what they don't expect—executive presence.
Executive presence is a skill. The Center for Talent Innovation identified three skillsets that it says together form executive presence: gravitas (confidence, acting decisively, showing integrity, speaking truth to power), communication (great speaking skills, ability to command a room and read an audience), and appearance (looking polished, not unkempt attire). Moreover, the center's research found 67% of the senior executives surveyed identified "gravitas" as the core characteristic of executive presence.
Unfortunately, time isn't on your side when you're looking to establish that presence. Neuroscientists at New York University and Harvard University found that it takes less than seven seconds for people to make a judgment about you. This instantaneous timeframe includes impressions about your authenticity, which is your ability to inspire trust, confidence and loyalty.
Women face unique challenges. In their study titled "Understanding Executive Presence: Perspectives of Business Professionals," researchers Gavin Dagley and Cadeyrn Gaskin found that most senior leaders who were surveyed depicted men as having executive presence. Likewise, numerous studies have found that when researchers asked men and women to draw a picture of a leader, they almost always drew a male figure.
Perhaps men and women more often view men as having executive presence simply because most leaders are men. In June 2019, Catalyst reported only 5.2% of S&P 500 CEOs were women. Fortune reports that women now represent 6.6% of Fortune 500 CEOS—and that's a jump from the previous year, which was just 4.8%. Thus, people likely will depict women as having executive presence when more women have equal presence in executive roles. But that's another column for another day.
Since most of us are not born with executive presence, what can you do to hone your executive presence skills?
First, remember that effective executive presence is not alluring charm or likeableness. Rather, it's the product of temperament, competencies and skills.
Next, it's not enough to be a legend in one's own mind. The ability to be open and attract intense positive attention is key in building trust and goodwill, which enhance executive presence.
Finally, gain confidence in yourself and your abilities by trying something new or scary every month. Get out of your comfort zone—join that committee at work you had been considering or take up that new project that's a bit out of your wheelhouse. And when you take a hit, sing along with Chumbawamba, "I get knocked down, but I get up again, you're never gonna keep me down."•
__________
Westerhaus-Renfrow is a clinical assistant professor of business law and management at IU Kelley School of Business at IUPUI.
Please enable JavaScript to view this content.