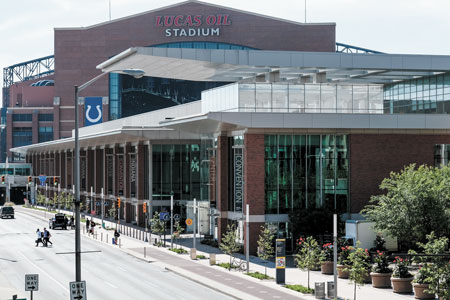 The quasi-government agency that owns the city's largest sports and event venues is facing scrutiny from industry experts who say the group isn't properly insured for catastrophic events.
The Capital Improvement Board—which owns the Indiana Convention Center, Lucas Oil Stadium, Bankers Life Fieldhouse and Victory Field—over the summer finalized insurance coverage that will run for up to three years.
The CIB will see a $900,000 premium increase, or 75%, in the first year. It's a hike industry observers say partly reflects a national trend for insuring major event venues.
But the experts, who reviewed the CIB coverage at IBJ's request, flagged something else: They said the CIB should have more liability coverage—particularly in a climate clouded by fear of mass shootings and other terror threats.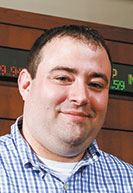 The board carries $56 million in liability insurance for its facilities, including a $1 million general liability policy and a $55 million umbrella policy, both of which provide layers of coverage in the event of personal injury, casualties, or third-party property damage.
Zach Finn, director of the Davey Risk Management & Insurance program at Butler University, raised a variety of concerns about the CIB's insurance-procurement practices after poring over hundreds of pages of CIB documents.
But his chief criticism was that $56 million in liability insurance leaves the board "woefully underinsured … as far as protecting victims from a potential mass shooting event to have access to adequate compensation."
Two other experts contacted by IBJ agreed.
"That [limit] actually seems awfully low, in my opinion," said Drew Dean, associate managing director for the Indianapolis office of Detroit-based Burns & Wilcox insurance. "Any major claims are going to start to erode the limits, so … that would go away pretty quickly."
CIB Executive Director Andy Mallon disagreed that the board is underinsured.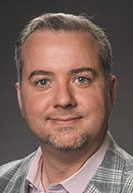 He noted the Indiana Tort Claims Act, which limits liability claims tied to government-owned property to $5 million per occurrence, split among all claimants.
"I'm not sure it would be responsible to taxpayers to overinsure the [CIB's] buildings, and ignore the existence of the tort claim statute," he said. "It's not a wise use of public funds."
Mallon said the CIB has struck "a good balance" between its legal responsibilities and serving the public.
'A special circumstance'
But experts said the financial fallout from the 2011 Indiana State Fair stage collapse demonstrates that the liability cap does not provide iron-clad protection against greater financial exposure. The collapse killed seven people and injured 58 others.
Despite the existence of the cap, lawmakers, under pressure to do right by the victims, authorized an additional $6 million in payments. The $11 million from the state went toward a $50 million settlement that included the company that constructed the stage and other defendants.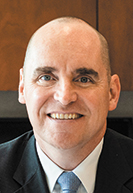 The state also went beyond its legal liability to settle allegations that it had conducted inadequate inspections in 1996 at Old Indiana Fun Park in Thorntown before a kiddie train derailed, paralyzing 4-year-old Emily Hunt.
The state paid the family $1.5 million, which was more than three times the per-person limit at the time.
Other states also have felt compelled to go beyond their liability limits. Minnesota, for instance, anted up more than $36 million after a 2007 bridge collapse killed 13 and injured more than 100 others. The state's cap at the time was $1 million per incident.
"Instances such as the Indiana State Fair stage collapse and previous waivers of limited state liability leave the question open regarding what to do in the face of catastrophic events, when the available funds simply do not seem like enough compensation for the victims," Michelle Findley wrote in a 2013 Indiana Law Review article analyzing the Indiana Tort Claims Act.
Mallon said the state's extra payout after the State Fair stage collapse was unusual.
"That was a special circumstance," he said. "It's helpful in understanding [liability], but it's not instructive on how you plan for or mitigate risk overall."
Because of the Tort Claims Act's liability cap, the Fairgrounds wasn't carrying liability coverage at the time of the stage collapse and still doesn't today, a spokesperson said.
Some governmental entities do secure far more liability coverage. For example, the Indianapolis Airport Authority, which owns Indianapolis International Airport and five other airports, carries $250 million.
Steve Avila, an insurance professor at Ball State University, said the CIB should consider asking its broker, New York-based NFP, for quotes on higher coverage limits.
"You can price higher limits and do a cost-benefit analysis of where that would bring you," he said.
Assessing coverage
The last time the CIB re-evaluated its liability limits was 2014, when it upped coverage from $50 million to $56 million. In addition to its own coverage, the board requires its tenants—including the Indianapolis Colts and Indiana Pacers—to carry liability insurance. For example, the Colts carry $25 million on their Lucas Oil Stadium lease.
The CIB also has a renewal clause in its liability contract, allowing it to pay a fee to refresh the annual limit on its umbrella policy. But the renewal would apply only to claims on future incidents.
Avila and Finn each pointed to recent catastrophes across the world that have spurred hundreds of millions of dollars in liability lawsuits.
Among them were the 2017 suicide bombing at an Ariana Grande concert in Manchester, England, that killed 23 and injured more than 100, and the mass shooting later that year at a Jason Aldean concert in Las Vegas that killed 58 people and injured more than 800.
Casino giant MGM Resorts said in May that it expects to pay up to $800 million to settle liability lawsuits stemming from the Las Vegas shooting, with $751 million covered by insurance.
Victims in the Manchester attack have received tens of millions of dollars from insurance payouts and public and private sources.
Finn said that if a CIB venue suffered a catastrophe with only its current $56 million in liability coverage, the fallout would be "substantially detrimental to the image of the city and state."
Present limits, he said, were fine before widespread mass shootings, but are too low today.
Carrying a high limit demonstrates that a governmental entity is willing to go beyond its legal responsibility if a catastrophe occurs, he said.
Finn, who has worked in the insurance industry for 20 years, said the group should have at least $100 million in umbrella liability coverage, but that $500 million—or more—would be ideal.
"It doesn't just come down to money," he said. "What's at stake is the reputation of this state and the continuous stream of conventions."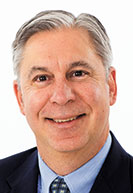 The CIB chose the insurance coverage brokered by NFP in July, four months after issuing a request for proposals.
That process began under Barney Levengood, who retired as CIB's executive director in May. It was overseen by Steve Pickett, a consultant with Indianapolis-based McGowan Insurance Group who has worked with the CIB more than 30 years.
Pickett helps the CIB and its advisers choose lines of coverage and decide how much coverage to seek. As broker, NFP is responsible for working with insurance carriers to get the CIB competitive prices.
The latest deal increased the CIB's annual premiums 75%, taking them from $1.2 million to $2.1 million.
'A big surprise'
The most significant jump was the property premium, which rose from $744,000 to $1.7 million. The $744,000 was locked for three years in 2016.
The deal NFP originally brokered would have resulted in an even larger increase—to $2.3 million—but the CIB and its advisers were able to negotiate that down.

NFP's proposal was the only one that met the CIB's minimum-coverage requirements. The board rejected two others—from Chicago-based Gallagher and Indianapolis-based Gregory & Appel, which had served as the CIB's broker for nine years.
NFP is operating on a year-to-year contract—with renewal options each August. It is expected to remain on board for three years, at which time the CIB will issue a new request for proposals.
NFP declined comment for this story.
The CIB's property policy provides just over $2 billion in coverage—an amount based in part on the estimated value of the CIB's properties.
"Our leases say we are required to have insurance of an amount to replace the building," Mallon said. "We base that on our construction costs" and property values.
Unlike previous coverage—which was mostly underwritten by Boston-based Lexington Insurance—NFP and the board had to stack multiple insurers to reach the CIB's property limit.
Mallon said Lexington was unwilling this time around to shoulder more than $1 billion in coverage.
The new coverage is underwritten by six firms—though Lexington and New Jersey-based Chubb shoulder the largest amounts, $1 billion and $650 million, respectively.
"It would be speculative to say why the insurance and reinsurance markets tightened," Mallon said. "All I know is that it did, and that it was difficult for brokers to get us the coverages we needed for our buildings."
Ball State's Avila said his industry contacts have told him terror incidents have driven up rates for all event venues.
Jin Park, an insurance professor at Indiana State University, said premium increases can be hard to predict. Each insurer has its own rating system, which can lead to vast differences in coverage costs, even for insuring the same risk.
CIB consultant Pickett agreed that there is an element of unpredictability.
"It can come as a big surprise to all of us—even in the industry," he said. "That's what's happening right now. We've had some large increases and shrinking in capacity that's caused this increase in premiums. That's certainly part of the situation."
Avila said one likely reason for the CIB's sticker shock is that its premiums have been locked in for three years. He said governmental entities that have been renewing coverage annually probably saw slower increases over that span.
In addition, he said, "The value of the buildings that are being insured has gone up. So anything the CIB has done to its buildings over the past three years to increase values is reflected in the new rate."
Room to improve
Butler's Finn said he sees numerous shortcomings in the CIB's insurance-procurement process and its coverage decisions.
For example, he said, the CIB should have greater insurance expertise on staff, rather than relying so heavily on outside advisers like Pickett.
He said the board might have been able to secure better rates if it had a dedicated, full-time risk manager who had been able to "properly organize and present" the hundreds of pages of documents that were part of its broker RFP.
Instead, the documents were in dozens of folders on Google Drive—a format insurance experts say falls short of industry standards.
For the CIB "to have a shared drive with all these different documents, all organized like this—it's just not efficient," Finn said. "You're not telling me a story; you're just dumping data."
In addition, Finn said the CIB would be able to lower its premiums by "hundreds of thousands of dollars" if it increased its deductible for property insurance from $100,000 to $500,000 or $1 million.
"This should be an entity that's large enough to be able to take some punches" when it needs to, Finn said of the CIB, which has a 2020 budget of $179 million. "If they raised their deductible … they could have negated some of that increase."
Further, he said he disagreed with the way the CIB compensates NFP—with commissions that are a percentage of premiums.
Finn said payments should be in the form of a flat fee. He said commissions create a perverse incentive, since NFP earns more when CIB pays more.
Mallon said he is comfortable with the commission approach because the CIB believes its RFP process, which selects the lowest and best bidder, motivates brokers to keep their prices low.
He said he is interested in finding ways to "tweak and improve" the CIB's processes—including implementing some of the suggestions from Finn and the other experts.
Mallon said one step the CIB is pursuing that might help hold down insurance costs is achieving certification under the U.S. Department of Homeland Security's Support Anti-Terrorism by Fostering Effective Technologies Act, better known as the SAFETY Act.
Venues that receive the certification by employing qualifying antiterrorism technology limit their liability for claims stemming from an act of terrorism.
A growing number of major U.S. venues have won certification, including Soldier Field in Chicago and Yankee Stadium in the Bronx.
Mallon emphasized that the CIB also works closely with the Indianapolis Metropolitan Police Department, Indianapolis Fire Department and other local, state and federal agencies.
"We have layers upon layers of security protocols and assets in all our buildings—particularly when events are here," he said. "So we are very well prepared to address any sort of significant safety or security issue."
Finn said pursuing SAFETY Act certification is a "good step" and commended the organization for taking measures to protect its visitors.
"There is a lot of compassion in what they're doing," he said. "They're out there trying to keep people safe and make sure we have a good time at our venues. … But they really need to take credit for it" through their insurance practices.•
Please enable JavaScript to view this content.