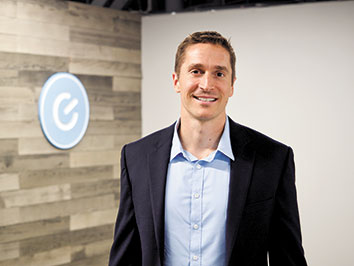 Revenue growth
FY 2016 to 2018: 218%
2018 revenue: $3.6 million
Why it's grown: GadellNet IT Consulting CEO Nick Smarrelli said his company's growth can be traced to two factors: good clients "that are loud and outspoken about their relationship with us" and a strong corporate culture. "We've done this with very little investment in sales and very little investment in marketing—and a lot of investment in taking care of our existing clients," he said.
What it does: GadellNet—named for founder and Chief Technology Officer Joe Gadell—is an outsourced IT consulting company for small companies with 10 to about 250 employees. From offices in Carmel and St. Louis, it provides consulting services for those companies that can't afford their own IT, with services that range from 24/7 help desk to cybersecurity services to business intelligence and visualization of data.
Expansion: Two years ago, GadellNet made an acquisition that added some strong clients, and it might look at more acquisitions, Smarrelli said. But he also plans to double down on cybersecurity and trying to understand how clients can make better use of applications.
A shifting business: Smarrelli said that, while the company has been successful in IT consulting, over the next year or two GadellNet will become more of a business consulting group. "As more people move to the cloud and more people have less stuff that breaks, the focus will be on, 'How do I make more efficient employees, or happier employees? Or how do I get employees to collaborate better? Or how do I get millennials to be able to work from home two days a week but still be part of the team?' … That shift in focus over the next year or two will help differentiate us but also keep a good revenue stream and a good revenue model."
The plan: Smarrelli said he wants the company to continue to grow "at a pragmatic pace—purposeful, focused growth of 20%-30% a year. He hopes for "growth and development, being impactful to the community we serve, and creating an accountability culture. People capable of doing those three things have been successful in our organization and have made us successful."•
Check out more of IBJ's ranking of Indy's fastest-growing companies.
Please enable JavaScript to view this content.