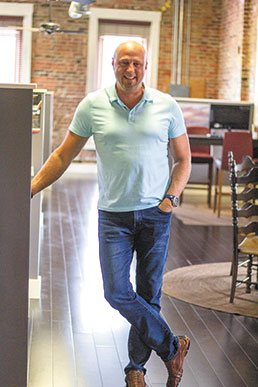 Revenue growth
FY 2016 to 2018: 53%
2018 revenue: $4.8 million
What it does: Safe Hiring Solutions LLC does background checks for 7,000 organizations around the country—K-12 schools, volunteer organizations, professional sports teams and corporate clients. Among the company's newest clients is the Hillsborough County (Tampa, Florida) Public Schools, the eighth-largest school district in the United States, which has almost 50,000 volunteers who need to be vetted.
How it works: Safe Hiring Solutions automates the background-screening process, which had been a completely manual process. "We can badge [people], ID them when they're coming into buildings. We can use a lot of different technologies to identify them," CEO Mike McCarty said. Among those technologies is palm vein recognition, which authenticates users based on vein patterns rather than iris scans or fingerprints.
In the beginning: McCarty started the company almost 15 years ago. The Indiana native and Wabash College alumnus was a violent-crime detective in Nashville, Tennessee, where he helped start a program for the police department that became the largest domestic-violence-prevention program in the country. He went on to do training and consulting for the federal departments of Defense, Justice and Homeland Security, and that evolved into Safe Hiring Solutions.
The technology: Safe Hiring uses a system called Safe Visitor, a cloud-based visitor-management system that creates a virtual fence around clients' buildings. Approved visitors with an active mobile app automatically send a request to enter to the front-office staff or security as they cross the virtual fence with their mobile device. SafeVisitor also logs all approved visitors who cross the geofence.
Working faster: Safe Hiring also offers an "arrest alert" technology that notifies employers almost immediately if one of their employees has been arrested. Traditionally, McCarty said, if a school employee is arrested, there can be as much as a 90-day gap between the arrest and when the school is notified. The Safe Hiring Solutions arrest alert sends a real-time warning and lets schools remove the employee's access.•
Check out more of IBJ's ranking of Indy's fastest-growing companies.
Please enable JavaScript to view this content.