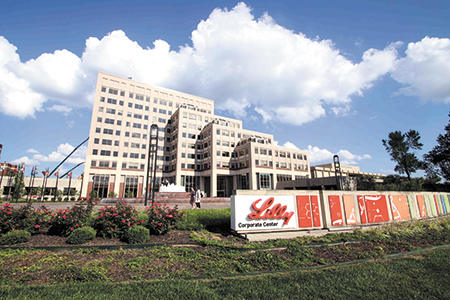 A federal judge in Illinois has tripled the damages in a jury verdict against Eli Lilly and Co., ruling that the drugmaker must pay $183.7 million in a lawsuit filed by a whistleblower who said the company made false claims about rebates to the federal Medicaid program.
Judge Harry D. Leinenweber ruled that Indianapolis-based Lilly was liable for higher payments due to its behavior and federal law concerning penalties.
"Lilly's misrepresentations affected the significant portions of its public dealings over several years, and as such a grave impact has favored maximum penalties elsewhere," Leinenweber wrote in his May 3 ruling.
Lilly spokesman Tarsis Lopez told IBJ the company plans to appeal.
"Lilly is committed to upholding high standards of corporate conduct in our business dealings," he wrote in an email. "While we are disappointed with the Court's ruling, we intend to appeal it and are confident that the Seventh Circuit will reverse."
The case was brought by a whistleblower, Ronald J. Streck, a former executive of a network of regional drug wholesalers. Streck and his lawyers argued that Lilly engaged in systematic misconduct for more than a decade (2005 to 2017), acted knowingly and expressed no remorse.
Streck accused Lilly of miscalculating drug rebates under the Medicaid program by leaving retroactive drug price increases out of it calculations.
Judge Leinenweber ruled in February 2022 that Streck's legal team had established that Lilly made false statements to the Centers for Medicare and Medicaid Services about the prices it charged distributors for its drugs.
A federal jury found 43 federal violations before November 2015 and nine violations afterward. The jury last summer ordered Lilly to pay $61 million in damages
The jury award was the latest in Streck's series of successful False Claims Act lawsuits against drug manufacturers for alleged misconduct involving the Medicaid Drug Rebate Program.
Those legal actions include a $75 million settlement with Bristol Myers Squibb and an $18 million settlement with Astellas Pharma U.S.
The judge, while tripling the damages against Lilly, denied Streck's motion for unspecified prejudgment interest on all other state and District of Columbia claims and on federal False Claims Act claims.
He added: "Ultimately, while Lilly could have, of course, behaved better, it could have acted far worse."
Please enable JavaScript to view this content.