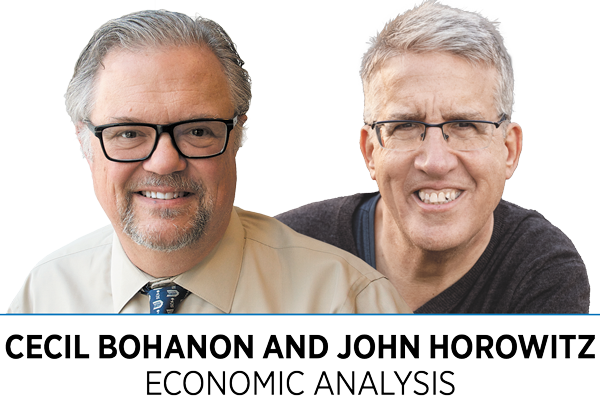 The United Nations expected the world population to reach 8 billion this past Tuesday. The population increased because rising wealth, better living conditions and improved health care reduced child mortality and increased life spans. In the 1960s and '70s, many experts were worried about a population explosion that would generate war, famine and pestilence, and many suggested draconian policies to reduce population growth. Today, few experts are worried about overpopulation. The People's Republic of China recently abandoned its one-child policy. The world population is now growing at the slowest rate since 1950.
Until the 1800s, Americans depended on their families to provide for them when they were older, and having more children was a way for parents to provide for themselves when they were old. People without family, friends, or assets to support them depended on local poor houses, which often had appalling conditions.
After the Civil War, the United States started providing pensions to veterans and their families. In the late 1800s, some private employers began to provide pensions. From 1883 to 1895, California had the first state cash assistance for the poor elderly. In 1935, Social Security was passed and started providing cash benefits to many retirees. State-guaranteed pensions reduced seniors' dependence on their families to provide for them in old age. They also kept many seniors who didn't have assets out of the poor house.
Did old age pensions reduce the number of children people have? The answer seems to be yes. In a recent article, Pauline Rossi and Mathilde Godard examined the effect in Namibia, Africa, of expanding the number of people receiving pensions. They found that cash benefits to retirees reduced the number of children that women had and caused them to stop having children earlier. Their data show that when people were not as dependent on having children to provide for them in old age, they tend to have fewer children.
The law of unintended consequences is one of the fundamental concepts in economics. It implies that the actions of people, companies and governments always have unanticipated and unintended effects: sometimes unfortunate, sometimes fortuitous. Female fertility rates have plunged in the developed world and are declining quite rapidly in the developing world. Few business or government leaders designing old-age pensions imagined it would lead to fertility declines. Although many factors undoubtedly account for this decline, old-age pensions appear to have contributed to the trend.•
__________
Bohanon and Horowitz are professors of economics at Ball State University. Send comments to ibjedit@ibj.com.
Please enable JavaScript to view this content.