Residents of a 60-year-old Carmel neighborhood are fighting against a $133 million redevelopment project that would extend up to their backyards.
Indianapolis-based Pure Development Inc., Carmel-based Merchants Bank of Indiana and Indianapolis-based developers Buckingham Cos. and Third Street Ventures plan to redevelop the site of the former AT&T building at 210 3rd Ave. SW.
The project would include a six-story building with 244 luxury apartments, an 80,000-square-foot Merchants Bank corporate headquarters expansion, a 15,000-square-foot headquarters for Pure Development and a 10,000-square-foot headquarters building for a company that has not yet been announced.
The apartment building would include a 443-space parking garage, and the project would include a solar component.
Two new single-family homes would be constructed, at 449 and 451 Emerson Road in the Johnson Addition neighborhood, which was built in the late 1950s and early 1960s. The new residences would replace houses Pure Development purchased for double market value, according to Carmel Redevelopment Commission Executive Director Henry Mestetsky.
"We're going to make sure that [the project is] integrated into Midtown," Mestetsky said.
The Carmel City Council on May 16 approved a $20.5 million TIF bond for the project, which will next go before the Carmel Board of Zoning Appeals on June 27.
Residents living in Johnson Addition have expressed opposition to the plans at the former AT&T site. They are against the six-story apartment building, worry about increased traffic and housing costs, and fear for the future of their neighborhood.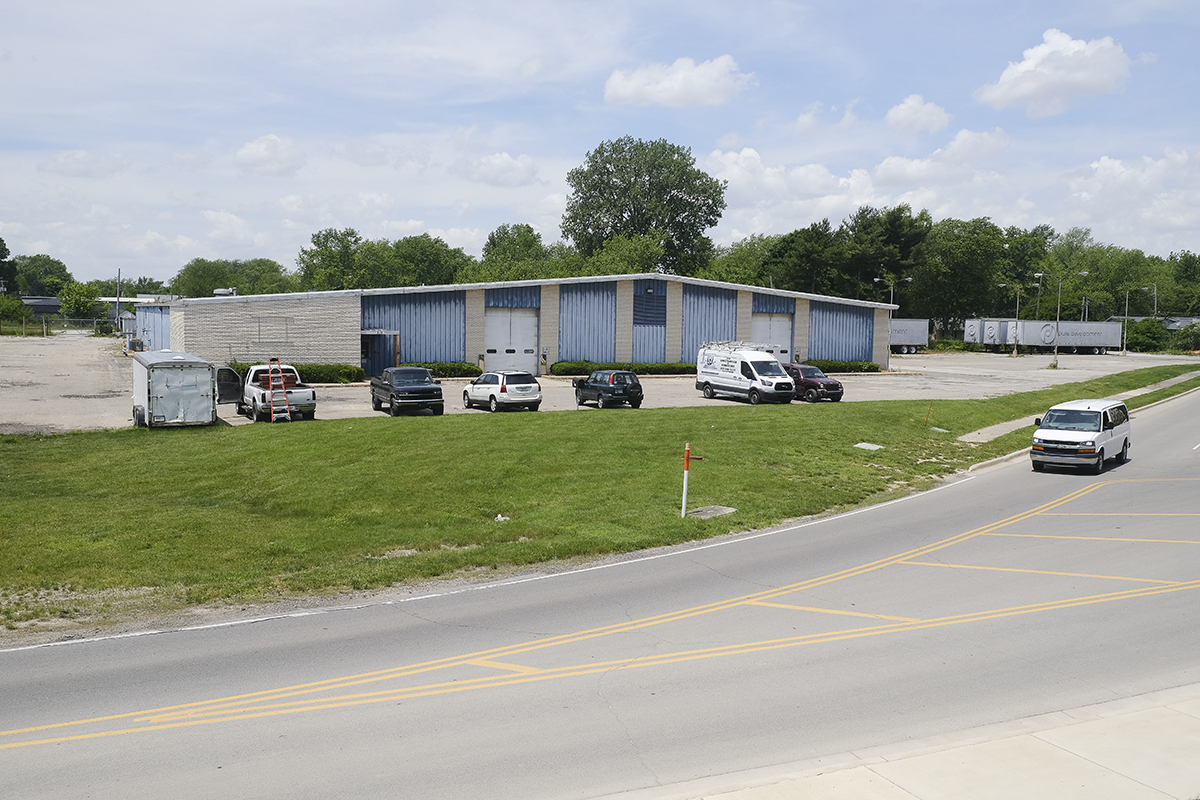 Charlie Demler, a Johnson Addition resident for 42 years, is unhappy the two houses directly east of his home were purchased and will be demolished. He doesn't like that multiple trees will be cut down and that the two lots will be split to make room for buildings that will house Pure Development and the second undetermined company.
He also worries about his privacy given the height of the 70-foot-tall apartment building that will be more than 100 feet from his property, according to a diagram provided by the city. Current zoning rules allow for a building up to 75 feet tall to be constructed on the site.
"They'll look directly down into my backyard and into my pool," Demler said. "It will affect me more than anyone else."
Demler is an unofficial neighborhood leader who runs Facebook groups for Johnson Addition and the neighborhood to its south, Wilson Village. He's a constant presence at Carmel city meetings when the redevelopment project is on the agenda.
"I raised my kids here," Demler told IBJ. "It's a great neighborhood. It's very family-friendly. It's affordable. It's just one of the last few really great, affordable neighborhoods in Carmel."
A bigger Midtown
Carmel officials, however, tout the project as a continued extension of the bustling Midtown area.
"Clearly, Midtown is a place [where companies] want to be and everybody else wants to be," Mestetsky said. "It's pretty exciting because we get to turn an old AT&T building and a bunch of empty land into the continued growth of this vibrant area that we have."
Adam Seger, a principal with Pure Development, told the Carmel City Council on April 16 that Midtown is the "place to be."
"We're excited to be there," Seger said. "We're excited to relocate our Pure headquarters there with numerous jobs along with Merchants Bank as well in their expansion."
Pure Development officials did not return IBJ's calls seeking comment.
Mayor Jim Brainard pushed to transform the area from abandoned buildings into multistory, apartment, office, retail and parking structures. The project has helped connect City Center and the Arts & Design District into a seamless walkable urban environment.
"What I heard from people, they wanted a downtown," Brainard said. "They wanted a walkable, pedestrian-friendly area."
Midtown has grown over the past decade into a massive mixed-use development. A place to live, work and play, it's now home to Allied Solutions LLC, Carmel Midtown Flats and Sun King Spirits.
The AT&T site redevelopment is one of four apartment-dominated projects totaling $324 million that are currently in the works for Carmel's central core.
The other three projects include:
◗ The Concourse, a $55 million mixed-use development that would be built by Carmel-based Pedcor Management Corp. just south of the water tower in Midtown near the Monon Greenway. It would feature 99 luxury apartments, 23,000 square feet of office and commercial space, and a 229-space public parking garage.
◗ A $76 million development by Carmel-based Edward Rose & Sons at the corner of Old Meridian and Main streets that would replace Eastridge Plaza with 266 luxury apartments, 22 for-sale condo units, 9,720 square feet of office and commercial space, and a 581-space public parking garage.
◗ Old Meridian Apartments, a $60 million project being developed by suburban Dallas-based Cross Development between Bru Burger Bar and Home2 Suites on Old Meridian Street. It would include 263 luxury apartments, 10 for-sale condo units, 9,000 square feet of office and commercial space, and a 395-space public parking garage.
If all four projects are developed according to their plans, they would add 872 apartments and more than 1,600 parking-garage spaces to the city.
"Carmel's downtown used to be this industrial area that wasn't very attractive, and it's just really cool to see this continued transformation of these things," Mestetsky said. "Usually, people don't buy old warehouses and put $130 million into them, but because of what Midtown has become, it's just really exciting to see that kind of investment."
Mestetsky added that, once the AT&T site project is complete, assessed value at the site is expected to increase from $300,000 per acre to $15 million per acre, which he said will benefit everyone in the area.
But residents living in Johnson Addition, which existed long before the city began developing a downtown, say they fear the project might be the first of many encroaching into their neighborhood.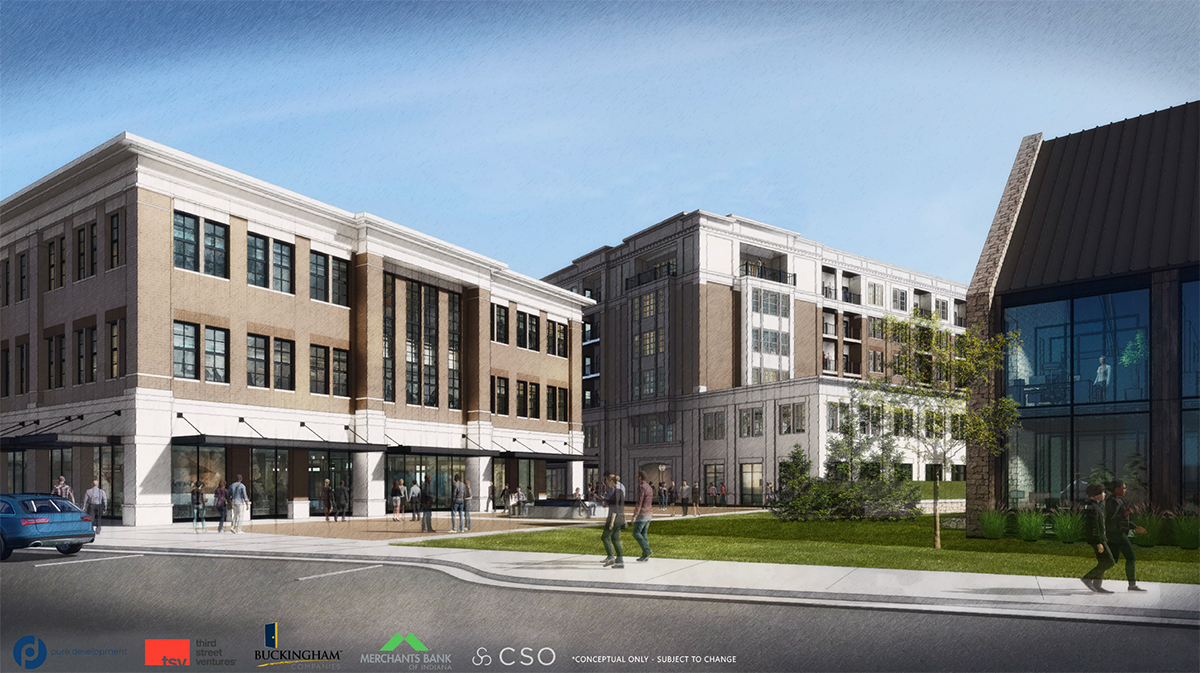 Not their first fight
Demler said he is not against redevelopment, but he expects it will continue farther down Industrial Drive—which runs east-to-west along the AT&T site—and inside Johnson Addition.
"It's going to continue happening anywhere if there's property available," he said.
Demler and his neighbors for years have attempted to stave off redevelopment to keep the area both quaint and affordable as other older homes near the Arts & Design District, Midtown and Carmel City Center are redeveloped.
In 2014, when they feared Johnson Addition was in danger of being redeveloped, they began fighting for it to be designated a conservation district, which would have prevented property owners from moving, demolishing or significantly renovating a house there without gaining permission from Carmel's Historic Preservation Commission.
The proposal narrowly passed the City Council that fall, but it was later vetoed by Brainard. The City Council never voted to overturn Brainard's veto, and the protections residents sought never went into effect.
Some neighbors in 2015 unsuccessfully attempted to work with staff at the city's Department of Community Services to create an overlay zone, which would have offered protection similar to a conservation district.
Residents achieved a victory in 2019 when they successfully fought to prevent AZR Haver LLC from demolishing a house at 7 Sherman Drive to turn the property into a four-unit town house, a contentious project that didn't gain the support needed from city leaders to come to fruition.
Mestetsky said the goal of redevelopment in Carmel is not to disrupt established neighborhoods.
"We're not here to get into the neighborhoods," he said. "We want to protect the neighborhoods, but no one's going to miss a one-story warehouse."
'A losing battle'
A sticking point now for Demler and his Johnson Addition neighbors is a lack of direct representation for the Central District on the City Council.
The Central District's representative, Bruce Kimball, has been away from the council since he suffered a stroke in December 2020.
The City Council in December 2021 passed an ordinance that adopted a procedure for declaring a seat vacant if a member is unable to perform his or her duties. The ordinance requires a resolution, a bill of impeachment and a two-thirds supermajority vote to remove a member.
City Councilor Sue Finkam said situations like that of Johnson Addition are why she introduced a resolution at the May 16 City Council meeting to begin the process of declaring Kimball's seat vacant.
"We have several-hundred-million-dollar projects coming in right in the backyards of Central District residents, and although they're getting support from all of us on the council, there's no one that can vote specifically for what they want or don't want," Finkam said. "I firmly believe it's a disservice to those residents."
The resolution to declare Kimball's seat vacant failed when the council split a 4-4 vote. Finkam said she plans to return to the issue this fall.
Demler is frustrated with the lack of representation as he attempts to seek answers about the redevelopment next door.
"The fact that [Kimball is] not there is sad on his part, his family's part, but we felt that we are taxed without representation," Demler said. "[It's] $133 million of money being negotiated here, and we have no one to talk to as our direct representative."
Most of the people in Johnson Addition are retired, he said. Many have lived there 20 to 30 years, and children have taken over homes from their parents.
"We love our neighborhood," Demler said. "We're fighting a losing battle. Unfortunately, we feel it's just stacked against us and it's not fair." •
Please enable JavaScript to view this content.