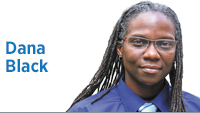 It has been interesting listening to my fellow Americans express their frustrations with finding a reason to celebrate Independence Day. Their frustrations with our elected leaders, on both sides of the aisle, have them believing there is no hope.
They believe if the majority of citizens want a policy in place, our elected leaders should do everything necessary to make it happen. Instead, they are watching legislators create policies, or not create policies, that are counter to what the majority would like. They hear Republicans say they want small government but then attempt to use that government to restrict the privacy of Americans. They watch Democrats not be aggressive enough in stopping them. In addition, no community is safe from gun violence, and people still support the "Big Lie." They are looking at our nation and questioning the validity of who we are and what we stand for.
Since 1973, it's been established that a woman had a right to privacy and to make a choice regarding her reproductive health. The arguments on both sides have been articulated over and over again, and, depending on whom you speak with, scientists, educators or religious leaders, many offer different understandings of when life begins. But the one thing we do know is 61% of Americans believe abortions should be safe and legal.
U.S. Supreme Court Justice Samuel Alito's majority opinion in Dobbs v. Jackson's Women's Health makes us question how holistically he regards the U.S. Constitution and his ability to see it as a living document. He wrote, "The Constitution makes no reference to abortion, and no such right is implicitly protected by any constitutional provision." Really? As some may or may not know, unenumerated rights are legal rights that are inferred but not expressly written, or "enumerated," within the Constitution—such as the right to travel. Can you imagine a majority opinion suggesting it is up to the states to determine one's right to travel because it is not explicitly stated in the Constitution? Some of you reading this are laughing, but a Missouri lawmaker, state Rep. Mary Coleman, introduced a policy amendment that would allow private citizens to sue anyone who helps a Missouri resident have an out-of-state abortion or whoever helps transport a person across state lines. She was crafting a policy to restrict travel.
Also, according to Alito, if a right isn't explicitly mentioned in the Constitution, it must be "deeply rooted in this nation's history and traditions and implicit in concept of ordered liberty." How shortsighted, racist and sexist is this opinion from an older white male? Certainly, Alito is an intelligent person, but did he not consider our nation's complicated history when he wrote this? Or maybe he did and would like to return to a time when women and people of color were relegated to second-class status.
Land of the free? It appears we've returned to a time when that question depended on how you pray, what you look like and whom you love. But what is relatively the same as days gone by? There will always be plenty of Americans who are not intimidated and will not be terrorized into submission. You would think those who want to cling to the past would recognize how being on the wrong side of history turns out.•
__________
Black is former deputy chairwoman for engagement for the Indiana Democratic Party and a former candidate for the Indiana House.

Click here for more Forefront columns.
Please enable JavaScript to view this content.